Toyota Avensis D-4D 2003 Long Term Test
Tue, 30 Sep 2003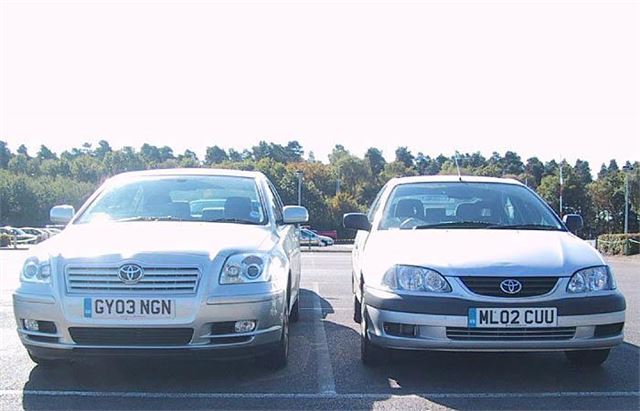 Toyota Avensis D-4D Long Term Test Fourth Instalment:
I'm up to 3,000 miles in the Avensis now. (I know I don't get out much. I spend too much time driving a keyboard.)

I've learned how to use the 'TNS 200 GPS Navigation system with electronic traffic avoidance' (no instructions in the car: apparently a common omission). And I can tell you it's far from brilliant at traffic avoidance.

On a particularly horrific return from Stansted to Weybridge, the M25 was blocked by multiple accidents, which the satnav kindly informed me of. But when I chose to deviate by the A41-Chesham-Amersham-Beaconsfield-Slough-Windsor-Staines-Chertsey route, it kept trying to send me back to the M25 which it cheerfully told me was still blocked. So it's best used to find an unfamiliar destination rather than to take you around a jam.

In spite of this, miles per gallon has improved considerably: up to 44.53 on that particular tankful, which has lifted the average to 41.53.

The car remains the same amiable old friend to drive. Good company but never likely to get into an arm wrestling match with a Porsche. There's the usual torqueless turbodiesel flat-spot under 1,000 rpm which means driving in 3rd or 4th in 30 and 40 limits. But out on the road, if you pick your ratios properly, you can get the car to shift a bit. And, though the steering is an inconsistent mix of good feel at times yet overlight and feel-free at others, the front can be made to grip tenaciously. However, you know the back will never, ever let go or even assist you to tighten your line whatever you try to do.

And there was a rattle from the back. Eventually I traced the culprit to the scissor jack wobbling around in its cradle. So I tightened it up only to find that the cradle is so flimsy it bent and the jack fell out. So I bent the cradle back with my fingers, wrapped a pair of old socks around the jack and screwed it back in place. Hardly 21st Century, though. I think Toyota is going to have to re-think and spend 5p on a slightly better jack cradle. Or some foam rubber between the jack and the boot floor.

I know the new Avensis is a big car. But I hadn't realised how much bigger it is than the old Avensis until I parked it next to one. See for yourself in the photo. It makes the old model look like a kiddie car.

I've mentioned the sound system before. It has a standard eight-speaker radio/cassette/single CD player and Nora Jones comes over almost as well on it as she did in my Leon. But even though Nora's good, you get sick of the same old songs and since Christina Aguillera isn't exactly Avensis appropriate I've wound up listening to Radio 2, which could be fitted as standard.

I'll recap from previous reports that the driving position is fully adjustable with electric lumbar support and is very comfortable for a wide range of sizes of people. It has a huge boot. There is also bags of space in the back seat for two but, though piggy in the middle gets a proper three-point seatbelt, he sits higher than the other two and doesn't have much headroom. Actually, this could be a plus point because it gives a child a better vantage point to see what's going on outside the car, thus making the child less likely to projectile vomit down the back of your neck.

The top T-Spirit version is loaded with goodies, as it should be at a list price of £19,500. You get leather seats; cruise control; and the 'TNS 200 GPS Navigation system with electronic traffic avoidance', which tells you about traffic on your route, but doesn't avoid it. It has a brilliant double cubby front armrest which should be compulsory on all cars. I don't intend to test the car's "best ever" NCAP crash test results in which it gained a total score of 34 points and 5 Star rating. But I can confirm that the whole front is very soft and friendly to people's knees.

The first end-of-summer rain revealed that the rear wiped area stops about 6" short of the top of the rear screen, but the rain sensitive front wipers are excellent, reacting immediately to deluges thrown up by trucks and even giving the screen a once over if the residue from someone else's screenwash hits it.

And, oh yes, despite running-in, it hasn't used any oil.

Finally, I'm getting to see an awful lot of new Avenses on the roads. Far more than I ever noticed of the old model.

Since they can't all be on long-term test in the hands of people like me, they must be becoming very popular. For the next report I'll try and include some comparative sales figures.