Suzuki Splash 2009 Road Test
Sat, 31 Jan 2009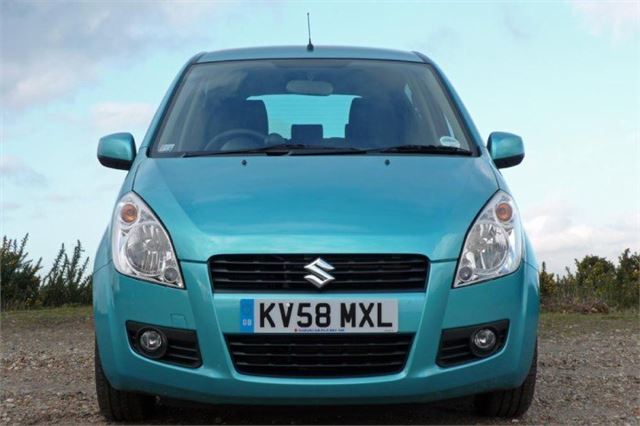 The Suzuki Splash represents a change of thinking both for Suzuki and for Vauxhall. The old Suzuki Wagon R and Vauxhall Agila were archetypal old people's cars. They had upright seats and were easy to get in and out of, but looked like shoeboxes on wheels.
Consequently, very few people who weren't getting on a bit bought them. 
Then, last year, Suzuki and Vauxhall ditched their square cars for squares and launched the Splash and new Agila. Possibly even taller than their predecessors, but at least with a bit of style and design flair about them.

Now, with everyone watching the pennies, Suzuki has introduced a 119g/km, £35 tax version of its Splash, as well as the £35 tax 1.3 diesel and the £120 tax 1.2 and 1.2 auto.

It hasn't thrown away any worthwhile spec apart from the alloy wheels, and even the base 1.0GLS has aircon, electric front windows, a dash-top rev counter in a pod, and 60/40 rear seats that neatly fold flat in one easy movement.

Under the boot floor there's a huge, removable 'wet bin' for wellington boots, poached salmon, road kill, or whatever you may care to throw in it. And, under that, a spare wheel. A space saver, yet nevertheless a wheel rather than a can of shaving foam.

You sit so high it's a bit like driving a kitchen table. But the huge advantage is access. As I demonstrate in the video you can literally walk straight into the car.

The 3-cylinder 1.0 65PS petrol engine is actually quite a perky little thing, destined to soon find its way into the forthcoming new Suzuki Alto, where, like Toyota did with its one-litre three-pot, they might eventually get it emitting less than 100g/km CO2 and therefore UK 'road tax' free. But with its vertical body I very much doubt that the Splash will ever achieve this.

It's geared at 20mph per 1,000rpm in 5th, so 4,000rpm at 80 (on the clock). It is quite happy at this speed, with a bit in reserve, so is perfectly adequate for motorway use. And round town it romps along with as much alacrity as anyone really needs. You have to watch it a bit when the wind is blowing a gale, but it's still far from unacceptable. And though it loses a bit of feel on fast bends, this isn't the sort of deficiency its target market is remotely likely to worry about.

While we were filming the 1.0GLS, Suzuki's driver rang to tell me he had delivered its successor, a turquoise 1.3GLS+ diesel. So we did a quick part-exchange and carried on.
The diesel immediately felt a lot noisier and rather more sluggish. 5th is geared at 25mph per 1,000rpm, which is quite low for an oil burner. So it's not significantly quieter at speed either.

It does have more torque from 2,000 – 2,500 rpm, however, and this and the extra weight of the engine seem to give it better front-end grip. And it is a better middle lane mile eater.

But if I was in my eighties (won't be long now), I would be far more concerned about the extra £2,000 the diesel costs than the minimal benefits it offers over the 1.0 petrol model.

That, to my mind, represents a very serious rival to the class-leading Hyundai i10. The main problem here being that the i10 not only has a better motor in the same £35 tax bracket, aircon, and a 5-year warranty, it now starts at £6,795.

On the other hand, if you judge a car by the height of its seats, the Suzuki Splash certainly has the edge. And the 1.0 GLS will make perfect sense for a lot of people.

Including my mum.

For prices, availability, specifications, powertrain details, dimensions, and performance figures please click the tabs.
See also Jackie Violet's Road Test of the virtually identical Vauxhall Agila
More at www.Suzuki4.co.uk