Suzuki Jimny 1.5 2019 Road Test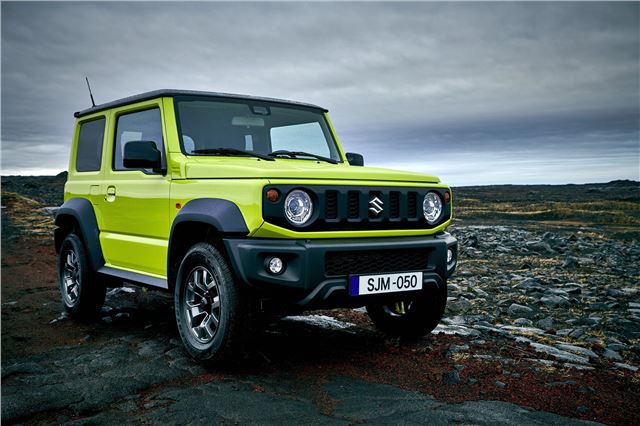 For a 'niche' car the new Suzuki Jimny attracts an extraordinary amount of interest. That doesn't translate to sales though – the roughly 1000 per year Suzuki UK has been shifting for the outgoing car's latter decade is about the same as the number of crossovers sold here on a Tuesday lunchtime.
This 2019 model Jimny probably won't change the trend. Why? Because as wonderfully lovable as it is, it remains unashamedly an off-roader. It sits on a steel ladder frame chassis, has rigid axle suspension front and back, has a four-wheel drive system incorporating a lever-selected low transfer gear, and has hardcore departure, approach and breakover angles. All of those things are at odds with making a refined runabout. 
Sure enough, on the road the Jimny is subjectively a bit of an anachronism. The body lean during cornering borders on hilarious at times, the steering rack's lethargy makes quick manoeuvring a proper effort, while the five-speed manual gearbox's movement is in the tradition of a long-gone era – the shift stick visibly vibrates when idling, and the travel between each gear notch can be measured in inches.
Couple all that to a driving position that's flawed by lack of adjustment (fixed height seat), as well as ride quality that's over-soft and easily unsettled, and the picture we've painted looks like a dynamic nightmare. We'll come back to that.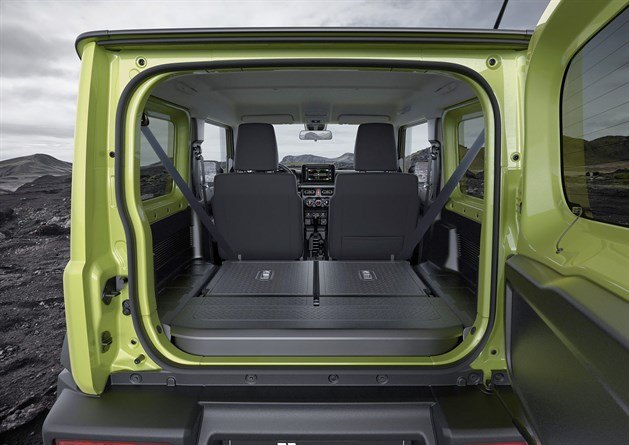 Matters don't improve much on the practicality front. Suzuki quotes a Volkswagen Golf-like 377-litre luggage space but that's with the rear seats folded. With them in place, there simply isn't a boot. Similarly interior storage. The only way you'll get your can of Carabao into the wafer thin door pocket is by pouring it in there.
As for the cabin itself, despite featuring far more safety and comfort tech than the outgoing car, it's still aggressively utilitarian – all flat surfaces, 90-degree angles, big knobs and chunky grab handles. Where you might prod the dashtop of a SEAT Arona and enjoy the softness of the slush moulding, in the Jimny it feels more apt to kick the centre console just to confirm the robustness of it all.
All this is because Suzuki has refused – admirably, we think – to cave in to a market that didn't exist 20 years ago, but which it's tempting to shoehorn the Jimny into today: the compact crossover one. The Jimny might not have the slick refinement of any of them, but it has more joy and personality than them all. It's also fantastic off-road, of course.  
The problem with all this is that most people buy small crossovers to go to the shops in, via a series of normal roads, and sometimes with more than one other person with them. Then when they get there, they buy things. The Jimny simply doesn't allow this to happen very easily.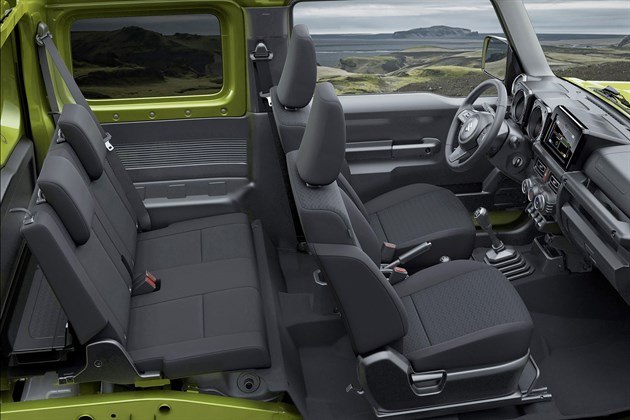 It's still a car that you might be able to justify, though – and we hope you can. None of the criticism above is catastrophic, but rather speaks of a little car that treads its own path, literally and otherwise. It's not short of highly praiseworthy attributes either. For a start there's the look of the thing, which has all the hallmarks of a future design classic.
We mentioned the lack of driving position adjustment, but in fact it's set up in a way that accommodates tall and short no problem. And visibility all around is excellent because it has the thinnest pillars you'll find in any modern car, plus you're sitting high. Rear leg space is a little tight, but overall the cabin does feel four adults spacious, partly thanks to a tall roof. The sense of space is especially impressive given this Jimny is actually a few mm shorter than the last one. Another trend-bucking trait.
In two-wheel drive mode it's the rears being driven, which is a big part of the Jimny's deceptively well-balanced handling. It's pretty surprising (and quite funny) to discover that this bouncy, roly-poly, slow-to-change-direction son-of-G-Wagon off roader doesn't succumb to understeer anywhere near as readily as you thought it would. And you might scrape 40mpg out of it, if you're careful. And it's well-equipped, with only two grades coming to the UK, called SZ4 and SZ5. Click the specification tab above for more detail on that.
And so, while we absolutely recommend the Jimny to anyone that can make it work for them, the caveats are admittedly many and varied. And one of those is as yet unknown: the price. The Jimny doesn't launch in the UK until January 2019 and as of today you can still buy an outgoing one for £13-£15,000. Should this one be priced in that ballpark then it'll prove an immensely compelling leftfield runabout. Any higher, though, and the compromises may prove too much for most buyers. We'll let you know as soon as we find out...