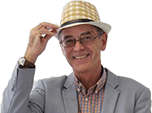 Suzuki Baleno 2016 Road Test

The 2016 Suzuki Baleno bears no relation to previous Suzukis with the same name. Instead of a bland 3-box saloon, the new car is a spacious 5-seater hatchback selling in the same size sector as the Polo, Fiesta, Fabia, Corsa, Clio, 208, Mazda 2, Nissan Note and Honda Jazz.
At projected UK prices from £12,000, all will come equipped with aircon, 7" touch-screen controlled satnav, 16" alloy wheels, parking camera and split-folding rear seats. Top versions get adaptive cruise control with city braking and climate control air-conditioning.
The UK range consists of the 1.0 111PS 'BoosterJet' 5-speed manual; a BoosterJet 6-speed automatic; and the 1.2 82PS DualJet SHVS 'mild hybrid' with an integrated starter/generator that works a bit like the old 'Dynostart' systems to assist the engine in circumstances that might otherwise be wasteful of petrol.
With a cd of 0.299 and a weight of 905 to 950kg it's impressively aerodynamic and comparatively light, meaning less work for the engine and better fuel economy. Figures from 57.6mpg to 70.6mpg are close to credible.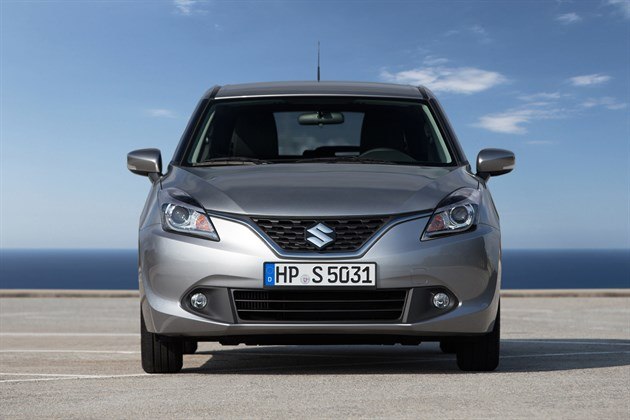 Seen from the front, the grille is vaguely reminiscent of the Kisashi. The body flares outward from the cabin, resulting in a low, wide and sporty profile and a high window line complemented by a wide bumper, grille, distinctive LED DRLs, and wraparound windows. From the side, character lines that begin at the front and sweep toward the rear create flowing highlights, while a forward-sloping rear hatch caps a stubby tail with a subtle chromed spoiler beneath the rear screen.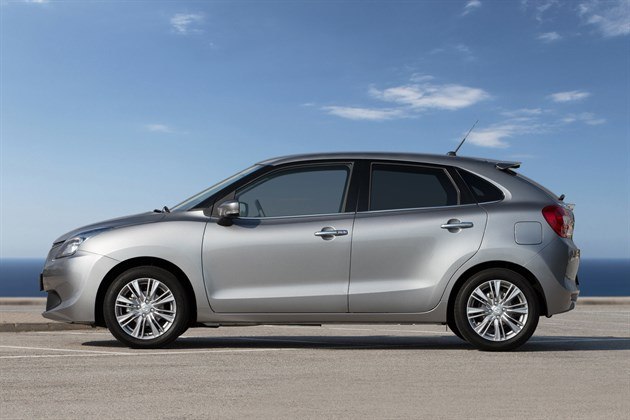 Advantages over other cars in the same class are a wide rear seat that genuinely takes three adults, significant rear legroom, and a large load area of 355 litres that is actually bigger than in a Focus. Sadly, the rear seats no more than flop their backs onto their squabs, so you don't enjoy the practicality and versatility of a Jazz.
We drove the 1.0 BoosterJet first. With 111PS and 170Nm torque from 2,000 rpm (90% delivered from 1,500rpm) and manifold in head design, it goes like a Fiesta 1.0 EcoBoost and has a characteristic 3-cylinder growly roar. Unfortunately, it doesn't steer and handle like a Fiesta, or even like a Suzuki Swift, but it's more alive than a Nissan Note or Honda Jazz. What spoils the fun is a long-throw gearchange that precludes snappy shifts and makes keeping it on the boil difficult. But driven more sedately it's fine.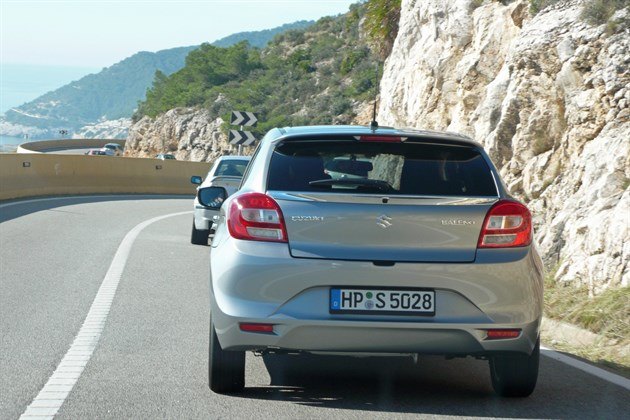 The Baleno SHVS is what Suzuki calls a "mild hybrid". It uses a 2.3kWh/50Mn ISG (Integrated Starter Generator) to assist the 4-cylinder 1,242cc DualJet engine to re-start without using any fuel after stopping in traffic and also provides a small degree of assistance during acceleration and when climbing hills. It stores the power for this through regenerative braking in a separate 12v lithium-ion battery that sits under the passenger seat and is expected to last for 10 years.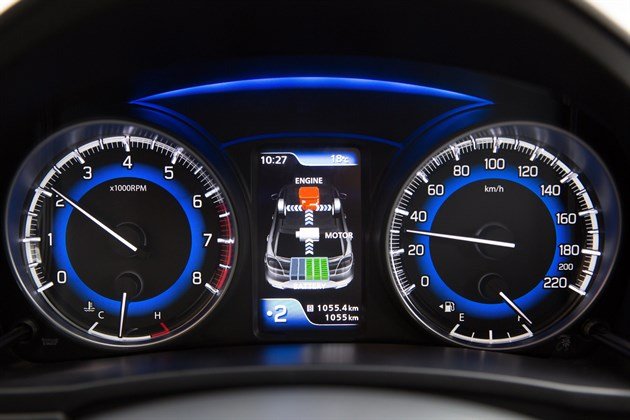 The belt drive of the ISG to the crankshaft makes this smoother and quieter than conventional stop/start systems. The entire system adds just 6.2kg to the weight of the car. Benefits are an improvement in refinement, performance and fuel economy that Suzuki hopes will result in 70.6mpg and 93g/km CO2 in the NEDC tests.
Our pre-production test car has slightly sticky steering that Suzuki knew about and which will be fixed before any cars are sold. But any buyer expecting a hybrid in the ilk of a Toyota Yaris HSD will be disappointed that it does not give pure EV drive in any circumstance and also that it's a manual, not an automatic.
The surprise and delight came in the form of the last version of the Suzuki Baleno we tried: the 1.0 BoosterJet 6-speed automatic. A bit more weight over the front wheels helped the steering feel more positive, the extra gear helped with the acceleration, the steering wheel paddles gave quick shifts and higher overall gearing, equivalent to around 25mph per 1,000rpm, made the whole business of driving less frenetic and more relaxing. It picked up speed to 120kmh (75mph) very quickly for a 1.0 litre engine and proved to be a good autopista cruiser.
Rival choices to the new Baleno include the Fiesta and Suzuki's own Swift, both of which drive and handle better, but lack its passenger space. Pitched against a Nissan Note or Honda Jazz, the Baleno is more fun to drive but less versatile. You can't have everything.
But as a small, yet spacious automatic with decent performance, and economy, nothing else does the job quite as well as the new Baleno. So five stars for the automatic; only three to four stars for the others.
More at Suzuki