Subaru Forester 2.0i e-Boxer 2019 Road Test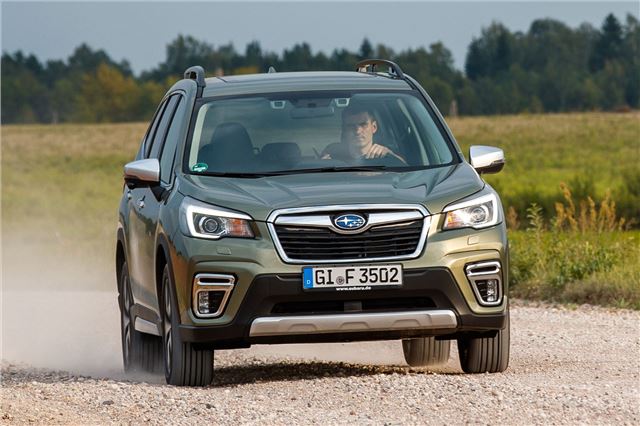 Competent and robust, the new Subaru Forester is designed for SUV buyers who value substance over style. Some might question its dull styling and noisy hybrid powertrain, but the Forester remains a likeable and honest family car.
It might look like the old model but the 2020 Subaru Forester's actually been redeveloped from the ground up. There's a new platform, designed to accommodate batteries without eating into interior space. While Subaru isn't going as far as offering an electric model or a plug-in hybrid, it's making a bold statement by selling the new Forester in the UK solely as a 2.0-litre petrol combined with an electric motor.
While the electric motor is a fairly small one producing 13.5kW and providing only minor improvements to efficiency (officially the Forester's good for 34.9mpg), it does provide a useful boost of torque. It works with the petrol engine to provide fairly linear acceleration throughout the rev range, while it can be driven at low speeds under electric power alone.
Although Subaru claims the Forester can be driven for up to a mile under electric power alone, that's assuming you don't exceed 25mph, and you'll have to be very light with the accelerator to prevent the petrol engine kicking in. When the petrol engine has charged the battery, it'll start and creep forwards in electric mode, making for a gentle getaway. Unlike a plug-in hybrid (like the Mitsubishi Outlander PHEV), you can't plug the Forester in for an extended electric range.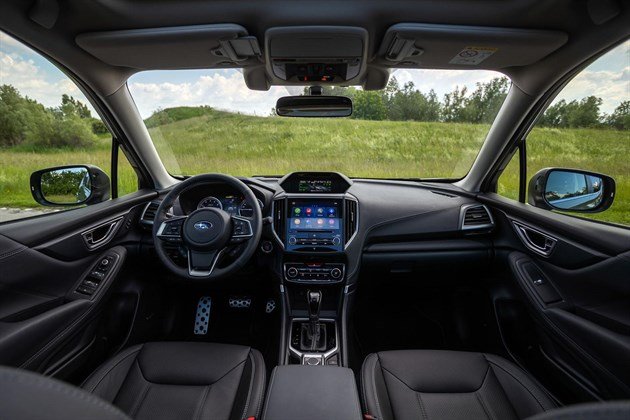 It's quite a refined car - there isn't a huge amount of grumble as the petrol engine starts up, only losing its serenity when you accelerate hard and the linear CVT gearbox creates a din. And because the hybrid setup uses such a small battery, it doesn't add much in terms of weight - which means you'll barely notice the extra mass during cornering or when braking.
Indeed, the Forester's chunky sidewalls and softly-sprung suspension means it copes with bumpy roads and pot holes surprisingly well. It's nicely judged too, transferring little in the way of discomfort into the cabin without being too floaty.
While it's not as sharp to drive as a Mazda CX-5, it's more eager to turn in than its predecessor, and it remains relatively composed during sudden direction changes at high speed. There's some body roll, as you'd predict, but nothing too concerning.
Of course, where the Forester really impresses is off road. There's an X-mode system which lets you select from two off-road modes (Snow/Dirt and Deep Snow/Mud). This primes the four-wheel-drive system, with the electric motor on hand ready to provide extra torque if required. It provides a huge amount of confidence when tackling rutted terrain and, we suspect, it'd feel unstoppable in poor weather.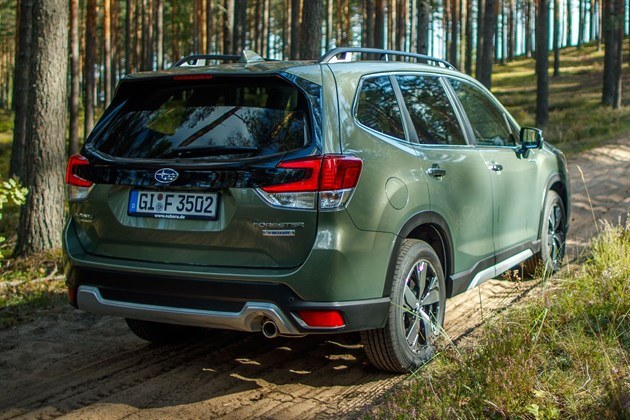 The Forester's cabin isn't as plush as its premium alternatives, with a slightly cluttered layout and a few harsh materials here and there, but it feels well made and it's very practical. The 509-litre boot is wider than before giving you plenty of room for carrying golf clubs, while large rear door openings help when fitting a child seat. A flat, wide sill provides a useful step for loading things onto a roof rack - yes, Subaru's thought of these things. Other handy features include a washer for the reversing camera and a faster-opening electric tailgate.
It's a safe car for carrying the family, too. Subaru's latest EyeSight system acts as a second pair of eyes, alerting you to hazards ahead and applying the brakes if required. While it can be a little too eager to draw your attention to potential issues, it's not as irritating as similar systems used on other models.
A new facial recognition system is pretty clever, too. Not only can it detect and alert you when you need a break (or simply need to keep your eyes on the road), it can also automatically adjust settings for the seat position, door mirror angles and climate control preferences as soon as you get into the car.
Unfortunately, the Subaru Forester still lacks the showroom appeal of mainstream rivals like the Volkswagen Tiguan. Its new hybrid-only engine line-up isn't special enough to attract new buyers, either - with a very limited electric range and only a small improvement in fuel economy. But it remains a very competent family SUV, capable of tackling tough conditions and with plenty of space for the family.
The Subaru Forester is on sale in November 2019. Prices start at £33,995.