SsangYong Korando 2013 Road Test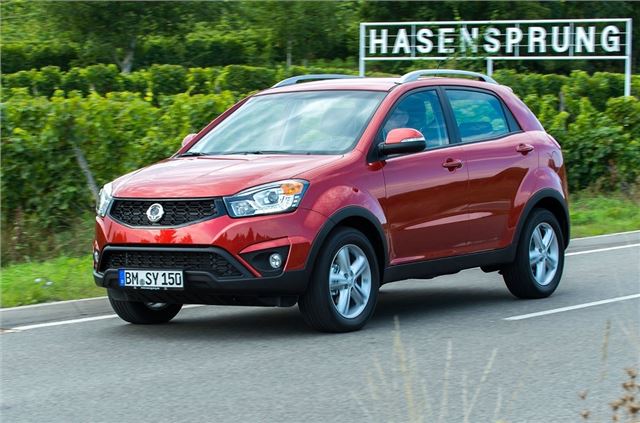 SsangYong may not exactly be a household name in the UK, but the Korean firm isn't aiming to be the next Kia or Hyundai. Instead it's happy to be a niche brand, specialising in 4x4s and crossovers with a reputation for building value for money cars. At the moment its sales in the UK are rather modest, but SsangYong is hoping to change that with its updated Korando.
Launched in 2010, the rarely seen SUV has now been facelifted with a new look on the outside and an overhaul inside, as well as minor changes under the skin to improve refinement. Of course there's plenty of choice in this market with the likes of the Kia Sportage, Nissan Qashqai and Hyundai ix35 to name but three, so does the Korando offer anything different?
Well in terms of styling, there's not much to get excited about. It's a fairly generic and inoffensive design that seems reminiscent of lots of other SUVs, but at least the new front end gives it a bit more character, even if it does look a bit like a Qashqai. Top models do come with 18-inch alloys in a gloss finish, which at least lift the appearance.
The interior is much improved from before and SsangYong has at least tried to give it some upmarket feel with details like the metal effect dials for the stereo that bear a striking resemblance to those you'd find in an Audi. There's a soft touch dashboard top and the seats are pretty good too; however, as with much in the Korando, it's a case of close, but must try harder. Things like the dated column stalks look like they're off a 15 year old car, while cheap-feeling plastics on the door tops and the flimsy centre armrest-cum-cubbyhole remind you that this is still very much a budget SUV.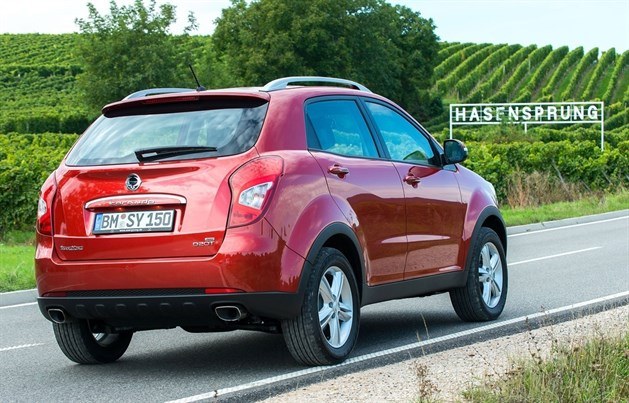 It is fairly practical though. The narrow door pockets aren't great, but the rear seats recline more than most other SUVs and they also fold flat in one movement to create a usefully large boot with 1312 litres of storage. Importantly the mechanisms feel robust too so you get the feeling they'd last well. Compared to previous SsangYong models, the new Korando feels a lot better finished overall.
It also has a decent engine – a 2.0-litre common rail diesel that comes in two versions. The standard model has 149PS while the top version, which comes only with an automatic gearbox, has 173PS. It's a reasonably refined and quiet engine, although as with most diesels it can become coarse at high revs. But both versions have the same maximum 360Nm of torque which means you rarely have to put the engine under any stress.
Unfortunately the Korando is still let down by the handling. The steering is slow, lifeless and requires more lock in corners than you'd expect, while there's a fair amount of bodyroll too. As a result, it's not a car that inspires confidence on a demanding road. On the plus side the ride is good and it's a comfortable motorway car with decent refinement, it's just that overall the SsangYong feels dated to drive compared to other SUVs.
The standard manual gearbox isn't bad with a reasonably positive shift albeit quite springy. It's better than the six-speed automatic which tends to hunt around for gears and is much happier when it's not being rushed. You can at least change gear yourself, although this means using rather odd steering wheel mounted buttons which you could easily mistake for the stereo controls.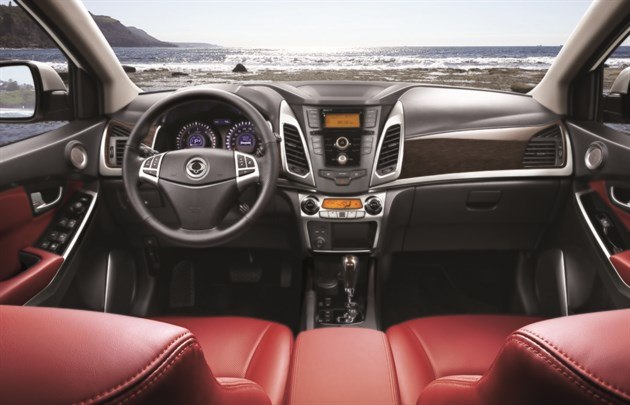 The four-wheel drive system is your typical on-demand set-up which means that in everyday driving it's running as a front-wheel drive car, meaning better economy. But if the car detects a loss of traction it will divert power to the wheels with the most grip. As with many other 4x4 systems you can lock it in 4WD at up to 30mph which is useful if you're towing across slippery terrain, like wet grass.
In fact the towing fraternity - particularly caravanners - are a key target for the Korando with a 2000kg braked towing capability on all versions. That's more than an equivalent Qashqai or Sportage. There's also a two-wheel drive version with the lower powered engine which offers decent economy of 48.7mpg with CO2 of 147g/km.
But perhaps the biggest attraction of the new Korando is the price. It starts at just £14,995 for the SE model and that's not too much of a poverty specification either, with 16-inch alloys, cruise control and a leather steering wheel. In contrast the cheapest diesel Qashqai is £18,590. Even the top ELX4 with the automatic gearbox is a reasonable £21,495 and gets things like heated front and rear seats, climate control and 17-inch wheels.
That makes it a decent amount of car for the money, especially with the added bonus of a comprehensive five-year warranty. Yet, despite its strong and well-built appearance, the Korando lags behind the competition and for some its cheap price tag may not be enough to forgive its shortcomings.