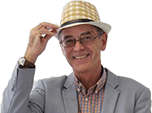 Smart Roadster and RC 2003 Road Test
Thu, 30 Jan 2003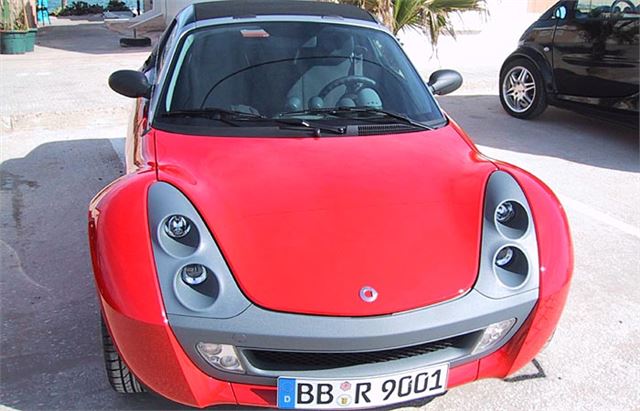 The Smart Roadster is a gorgeous little toy really. Ever since I went to Berlin in August 2002 for the unveiling I'd been looking forward to the launch of this car. The low stance, the mid engine, the paddle change gearbox and the huge tyres sticking out of the sides all say "fun, fun fun". 
So is it? First impressions were from the passenger seat of a Roadster, after we'd got the roof off. This is a slightly involved procedure, a bit like dropping the top of a Mk 1 Lotus Elise, but without the broken finger nails. First, you press a button to fold the soft-top onto a shelf between the cabin and engine. If you're out on the road, there's no need to stop to do this. But obviously you will need to stop to unclip the roof's side rails and stow them in the front boot. That still leaves a bit of room for soft bags and maybe a make-up case. Certainly more than in a Toyota MR2. But this is a 'don't forget your toothbrush car' because you'd better forget your suitcase. You can lay a few suits, dresses, or valises in the shallow compartment over the engine. And Smart does some custom luggage for the car. But if you want to take any more than that, you have to buy the Roadster Coupe, have a van-driver's rearwards view, and leave the removable roof panels over your head.

Okay, back to the driving impressions. It would be nice to be able to recline the backrest of the passenger seat, but you can't. Only the driver gets this luxury. He also gets an optional (and essential) paddleshift for the six-ratio electric-clutch gearbox, which is itself both a burden and a benefit. You can treat it like a conventional auto and not bother to change gears yourself. Or you can leave it to upchange at around 6,000rpm while you tell it when to downchange. Or you can upchange as well, if you want.

At first, my driver was distinctly underwhelmed. He thought it went quite well for a 700cc turbocharged roadster. But it didn't feel like a sportscar. And this guy is a real driver who knows his cars. He was getting understeer when he wanted neutrality. And nothing like the feel of a roadgoing go-kart at all. He warmed to it a bit more once he got into the countryside and switched off the ESP. And he managed to pull 100mph, overtaking on a shortish straight. But there was no silly grin on his face.

Then I got to take over. Lucky me, because I got the twisty part of the route. With the ESP off, left-foot braking into third gear corners, the car started to come alive. I still got understeer, but could easily kill it with a dab of brake. Oversteer was just as easily controlled. And once I'd got the message what happened when, the fun really began to start. Very importantly, it was safe fun. These days, as the company's CEO told me, Mercedes makes cars which above all else are safe. That's why ESP comes as standard on every Smart, whether you want to leave it switched on or not. Even if you do switch it off, while it doesn't interfere with acceleration, it does continue to balance the braking so the inner front wheel doesn't lock up if you brake half way round a bend. You'd have to do something totally bonkers to crash this car.

Someone else mentioned something I hadn't thought about: The ride quality. It's so good you don't notice it, even on the biggest wheels and lowest profile tyres. Probably the best ride of any small sportscar anywhere, and about as far from a rock hard bone-jarring go-kart as you can get. Much better than a MINI's ride. The reason is quite a lot of suspension travel, but well damped and with lots of resistance to roll.

Nevertheless, the 6-speed electric clutch gearbox remains the car's Achilles' Heel. It's nothing like as good as an MR2 SMG. It's just not snappy enough. Sure you get used to it. And you're not going to drive the car quickly all the time. But I'd have liked just a little more positive control. And maybe a head-up display in the windscreen to tell me what gear I was in, even if it just showed for 3rd and 4th. I'd also like Smart to re-think the forward up, back down floor-shift, which to my mind is counter intuitive.

For the UK, the left down, right up paddle-shift, together with bigger 16" wheels and 205/45 tyres is going to be an optional extra. On top of the not inconsiderable prices of £13,495 for the RHD Roadster or £14,495 for the RHD Coupe Roadster. That's a lot of money for a 700cc car, and £500 more than the top level Ford Street Ka. Right-hand drives get to the UK in September.

Meanwhile, to get things rolling, and to discourage parallel imports, Smart is going to import 200 slightly lower spec LHD Roadsters for £12,495 and Roadster Coupes for £13,495 from June. They'll lack the standard power steering and radio/CD of the RHD UK spec cars. And, to keep people like me happy, there will also be 100 stripped-out base model LHD cars at just £9,995. These will be Roadsters on steel wheels with grey plastic clip-on roof panels rather than convertible tops, a lower-powered 60bhp engine and the most basic electric clutch 6-speed sequential gearbox with no fully automatic function.

So did I expect too much? Yes.

Did I still like it? Loved it.

Will it take over from the MINI Cooper as the most fun small car you can buy? Maybe. But not definitely.

Will it be become a style icon? You can bet your life it will.