Smart Fortwo 2014 Road Test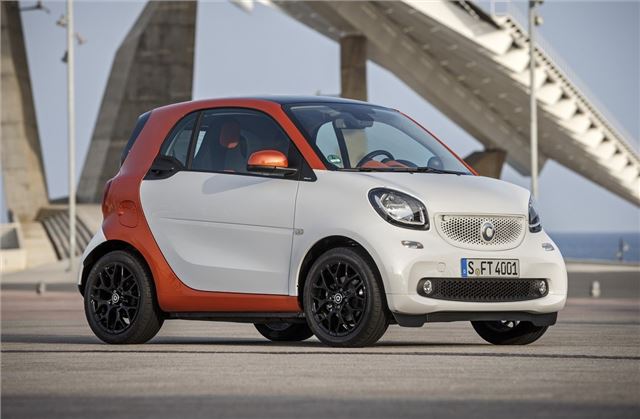 You'd be forgiven for thinking that Smart had disappeared. After all, the small car brand from Mercedes-Benz hasn't had a new model since 2007 and has been conspicuously quiet for the past few years. But now Smart is back. And it's back with a bang, with a new Fortwo and a new Forfour. That's right, no new cars from Smart for seven years and then two come along at once...
This time though, the Fortwo and Forfour make more sense as a duo. With similar styling, inside and out, plus only a £300 price difference between them, it's no surprise that the more practical Forfour will account for the majority of sales out of the two models. So that begs the question, is there still a place for the Fortwo? Smart certainly thinks so and is pushing the same 'small on the outside, big on the inside' notion as the original model - indeed it's the same length as before. But there are some significant changes. And some big improvements too.
In terms of looks, the new Fortwo evolves the trademark Smart design, retaining the cute appeal of the original. But it's inside where Smart has really evolved. Gone are the scratchy plastics and budget feel of the previous model, replaced by a far smarter and more inviting design. The quality has vastly improved, not just of the materials used but of the fit and finish. As a result it feels a more solid and upmarket car.
Some things remain, like the neat rev counter pod that sits to one side of the dash. The instrument cluster is very simple with a large speedo and a colour trip computer display in the middle. Elsewhere features like the rotating air vents and simple-to-use air conditioning controls add a touch of class to proceedings. We also like the dashboard covering which is inspired by the fabric on trainers. The central seven-inch colour touchscreen you see in these pictures is an impressive system and includes navigation, but it does cost £795 as part of the Premium Package.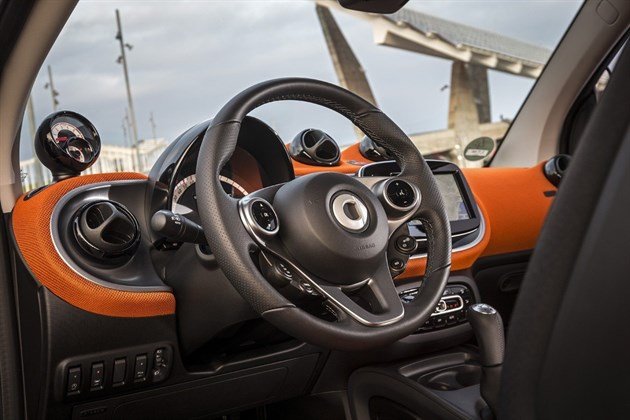 Of course it's still a two-seater, Smart can't work miracles, but it's now slightly wider than before and that's very noticeable with two on board. There's more elbow room and it feels less cramped. Boot space is nothing to write home about with just 260 litres, but as before there's still the useful flip down tailgate. In fact it's surprising what you can actually fit in the boot. A standard cabin-size suitcase will slot in with ease. There's even a little tonneau cover.
The big news with this Fortwo is the availability of a manual. Smart has finally ditched the woeful automatic gearbox of the old model, replacing it with a five-speed manual as standard. Fear not if you still want an auto though, a new dual-clutch six-speed automatic, called DCT, will be launched in Spring 2015. We got to quickly drive a prototype version of this model and it's much better, with smoother changes and no big pauses between shifts. Expect to pay an extra £995 for it when it arrives.
There are two engine choices from launch, both three-cylinder engines. The entry model is a 1.0-litre petrol with 71PS but the stand out engine is the 0.9-litre unit. It may be smaller in size but as it's fitted with a turbocharger, it has more power with 90PS. Combined with the new five-speed manual, both models are perfect in town, with rapid performance from a standstill to around 30mph. An entry-level 60PS engine will arrive next year.
The new engines are far quieter than before and more refined than those found in the latest Citroen C1, Toyota Aygo and Peugeot 108 trio. You get that enjoyable three-cylinder feel with plenty of get-up-and-go from low down, making the Fortwo fun to drive when nipping in and out of traffic. In everyday driving, there's little to choose between the two engines - but out of town, the lack of turbo on the 1.0-litre model becomes noticeable. It's far from slow, but does need to be worked hard. Fortunately the manual gearbox has nice short and positive shifts.
The 0.9-litre engine on the other hand, nips along superbly, helped by its 135Nm of torque and the fact it weighs just 900kg. Smart has also worked hard on the ride and handling of the new Fortwo. It no longer pitches and dives under acceleration or braking and while the ride is still firm - hardly a surprise given the tiny wheelbase - it's far better than before. As a result there's far less vibration through the cabin.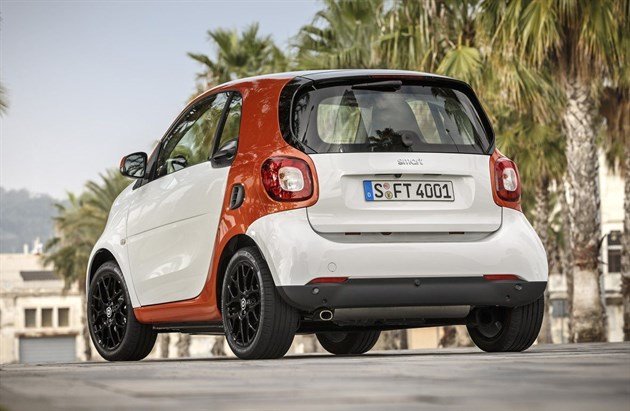 Thanks to a new rear axle and new suspension, the Smart is far better in corners, feeling more stable and giving you confidence. At motorway speeds it's also a big improvement. Not only is it quieter but it feels more planted, helped by the fact all models come with crosswind assist as standard along with ESP. Running costs will be low too thanks to CO2 emissions of less than 100g/km for all models plus economy of more than 67mpg, according to the official figures.
Like most small cars, Smart is going big on bright colours and customisation - there are 40 colour combinations available and a range of funky colours for both the exterior and interior. The Fortwo will be available with a folding fabric roof while the Fortwo Convertible will be launched later in 2015.
As a city car, the Fortwo still excels thanks to its tiny dimensions, amazing manoeuvrability and the fact you can park it in spaces no other car can fit it. In fact, Smart has fitted a reflector to the side of the rear light clusters so you can now legally park nose onto the kerb. Its low weight means its nippy but the plastic panels and doors have other advantages as they're more resistant to parking dings than conventional metal panels.
Prices start at £11,125 for the passion version which isn't especially competitive when compared with something like the Volkswagen Up - a city car we rate very highly. But there are few natural rivals for the tiny two-seater Smart, especially since the Toyota iQ was discontinued. If you want something incredibly compact, the Fortwo is it.
Of course with plastic panels and tiny dimensions, there will always be concerns over safety. As before, the Smart uses a tridion safety cell as the basis for its structure. It also comes with five airbags. If you're not convinced then look at the photograph below. This was a new Fortwo that was tested in a head on collision with a Mercedes-Benz S-Class at a closing speed of 62mph. An amazing test which proves just how strong the Smart is.