Skoda Superb 2015 Range Road Test

Looked at in isolation, the third generation Skoda Superb is everything you could possibly want in a large, sensibly priced car.
It has more legroom and luggage space than anything else. It offers a choice of Volkswagen Audi Group's latest generation petrol engines or diesel engines. You can have manuals or automatics. It comes with two-wheel drive or four wheel drive. It's well put together with high quality materials. It's comfortable, handles well and is decent to drive. It's available with all of the latest generation electronic knick-knacks, including a gizmo that stops you running people over.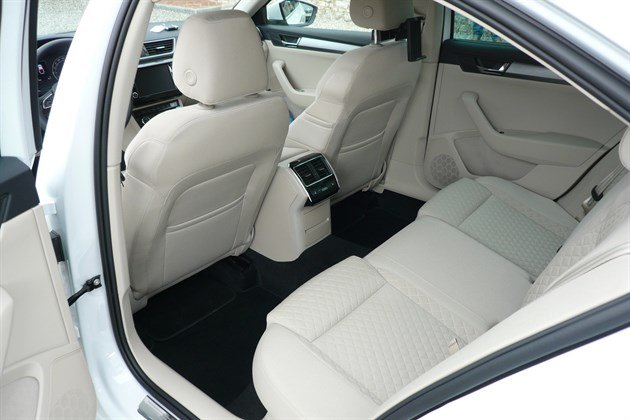 But, of course, it's still a Skoda. And VAG can't afford to give you a car that's actually better in many ways than an Audi or a Volkswagen without making it clearly identifiable as a Skoda. That's why it has a great big moustache of a radiator grille on the front.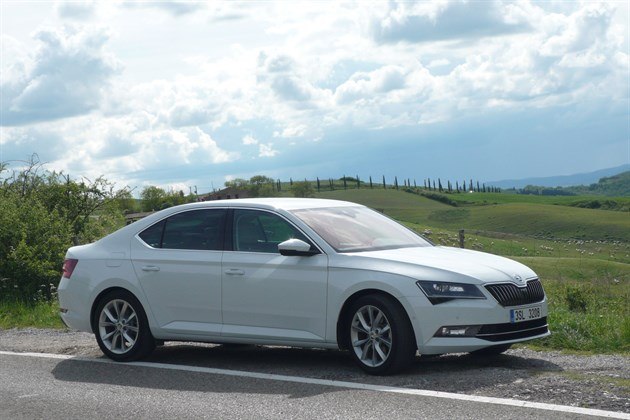 The problem VAG has is that people out there could cotton on to this. People might start to realise that hiding behind all that facial hair is a car every bit as good as others costing twice as much and that badge snobbery is as foolish as burning bonfires of money.
Not only that, they could lose out. What if the smart money in the company car park suddenly shifted to Skoda Superbs? That would make everyone who had hammered their PIIDs with an E Class look like yesterday's men? It could happen. And on the strengths of the new Skoda Superb it might well happen.
We first drove a £30,640 Superb 2.0TSI 220 DSG Laurin & Klement with pleated leather upholstery and all the creature comforts you'd get in a Mercedes S Class. But for half the price.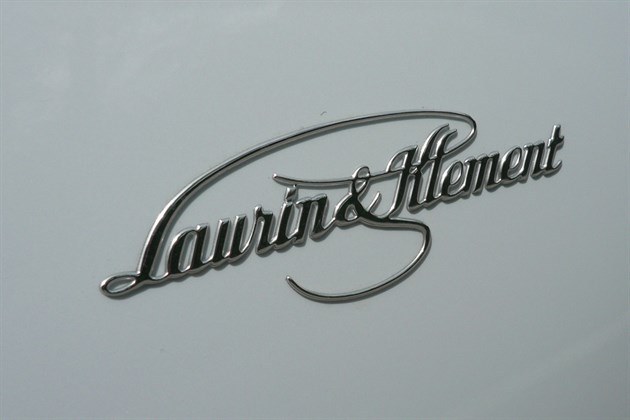 Its 220PS EA888 Golf GTi engine yowls its 1,500kg body up to 60mpg in 6.8 seconds and on to 152mph, so it's certainly sporty enough.
The adaptive suspension gives you a genuine choice between pillowy, normal and sporty. The wet clutch 6-speed DSG has paddles and works well enough for a DSG with less reluctance to pull away from standstill, but still a bit touch and go to reverse-park, even trusting the camera system.
As well at obvious luxuries, such as triple zone climate control giving back seat passengers some choice in the matter, it has thoughtful touches. Karakuri rear seatback releases in the load area sides. Folding bag hooks. One simple bit of brilliance is Velcro luggage retainers that you fold around the corner of a case to pin it in place in the boot.
We switched from that to a £25,620 1.4TSI 150 ACT DSG SE L Executive that had interesting cloth seats, pleated Louis XV style, that looked lovely but would need some serious Scotchguarding to child-proof.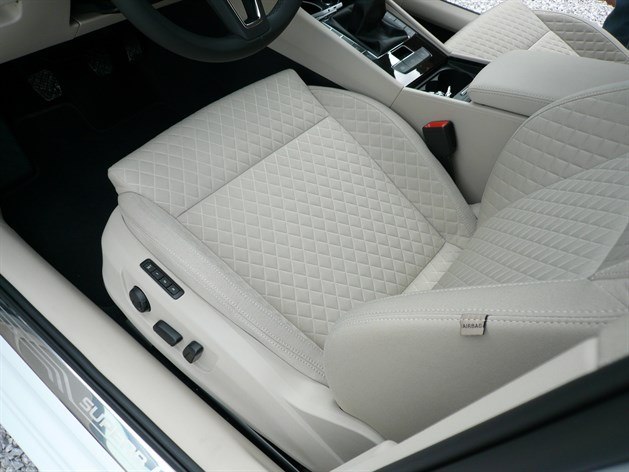 With its 7-speed dry clutch DSG it went well enough, without the alacrity of the 2.0TSI 220, but 0-60 in 8.5 is hardly shabby and CO2 of 117g/km is not to be sniffed at. We didn't try the £18,640 1.4TSI 125, which as low as you can go in a Superb and which will be very interesting to compare with the new Ford Mondeo 1.0 EcoBoost 125.
Lastly we took out a £26,620 2.0TDI 150 SCR SE L Executive 4x4 in which we had to change gears by ourselves, but that was no hardship with change quality identical to the latest Passat. This, too, hauled the car up to 60 mph in 8.5 seconds, with the dual benefits of 119g/km CO2 and an optimistic ECDC mpg of 62.8.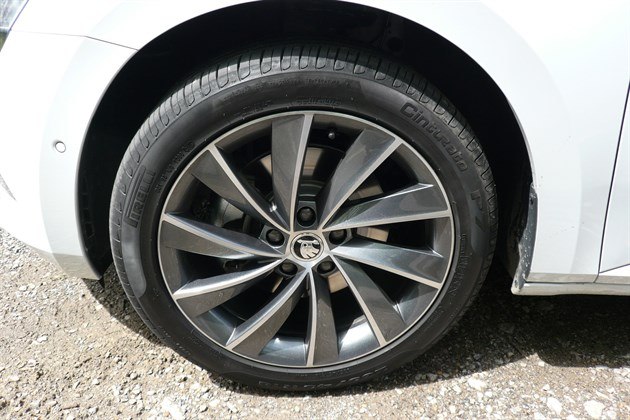 Specifically interesting about this car was that although it was on the same 235/45 R18 tyres as the others its ride quality on the same rutted roads seemed to be better, even with its adaptive suspension set to Sport. (Skoda had been very fair about this because the Italian roads we drove on were in a worse state than UK A and B roads.) Significantly, the 4x4 can tow a bit more than the front-drive 2.0 diesels: 2,200kg rather than 2,000kg so that makes it a very good caravan tug.
In conclusion, if you're not bothered about badge snobbery there's no better big saloon under £50,000.
Skoda will sell most in Yorkshire and Scotland.
Floating voters in Passats and E-Class might make the switch.
The carriage trade will be tempted out of E-Class, but company policy and contracts might stop them.
Audi drivers will be tougher nuts to crack
More at Skoda