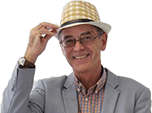 Skoda Rapid Spaceback 2013 Road Test

The Skoda Rapid Spaceback is a nice surprise.
When Skoda launched what we now have to call the Rapid Notchback, they promised there would not be a Rapid estate.
And there isn't. A Rapid estate would have been the same length as the Notchback. But while the Rapid Spaceback is more estate car shape than hatchback, it's actually 180mm shorter than the Rapid Notchback.
It's created a new size of family car, mid-way between a Fiesta or Polo and a Focus or Golf.
Significantly, at 1,706mm it's also about 3 inches narrower than a Focus or Golf. So, while providing the same amount of passenger and luggage space (actually a lot more luggage space than a Focus), it's a car that will still fit your garage.
The list prices are appealing, too. They start at £14,300 for the same 86PS 1.2 turbo petrol engine you get in a basic Golf that costs £3,000 more. And they stop at £18,900. No creeping up into the £20,000 area like Focuses and Golfs and everything else in that class.
And you get a decent car. 415 litres of luggage space with the seats up and excellent legroom front and back. Modern, efficient petrol and diesel engines, most under 120g/km CO2 so in the £20 or £30 tax bracket. (A 'free VED' 99g/km 'Greenline' model arrives in mid November.)
The steering and suspension have been improved over the much-criticised original Rapid Notchback (that now shares the improvements). It's more compliant but better damped at the back, and switching to pure electric steering rather than electro-hydraulic gives the impression of much better front end 'bite' and 'feel'.
All the cars we drove were on top spec 215/45 R16 tyres rather than 185/60 R15s of lesser versions. Yet they rode the few ruts and bumps we managed to find on EU subsidised Italian roads very well.
The 1.6 90PS diesel didn't have a lot of puff and was hampered by a mere 5 speeds in its gearbox.  But the 1.2 TSI 105 petrol engine with 6 ratios to play with really sparkled.
All Skoda Rapid Spacebacks offer some bright ideas likely to please owners without costing Skoda more than a few buttons. 
The rear load mat is reversible: carpet one side, waterproof rubber the other; there's an ice scraper inside the fuel filler cap, two bag hooks inside the load area, an aircraft style pocket under the driver's seat for a high-vis vest, and a simple, size-adjustable double bottle holder in the rear armrest.
As an optional extra on the Elegance you can have a full length 'panoramic' glass roof, which gives the interior of the car a nice, bright, airy feel and enables the kids in the back to plane-spot.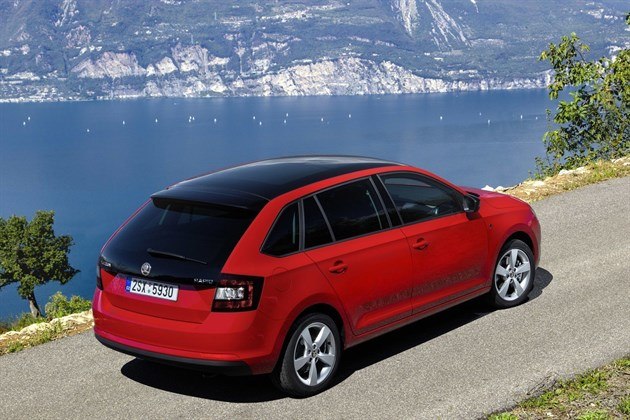 All drivers seats are height adjustable, while on top versions the front passenger seat is too. All steering wheels are adjustable for height and reach. Really, the cars lack nothing apart from a spare wheel, and Skoda dealers are told to offer one to customers at minimal cost as part of the buying process.
True, the standard load deck is not level with the rear sill unless you set the deck at its highest level.
But that doesn't alter the appeal of the Skoda Rapid Spaceback. It has all the ingredients of an excellent family car for people who don't aspire to the sheer size that the next class of car has grown to.
Easier to park. Easier to garage. Easy on the eye. Decent to drive. And lacking nothing that sensible buyers really want.
More at Skoda