Skoda Citigo-e iV 2019 Road Test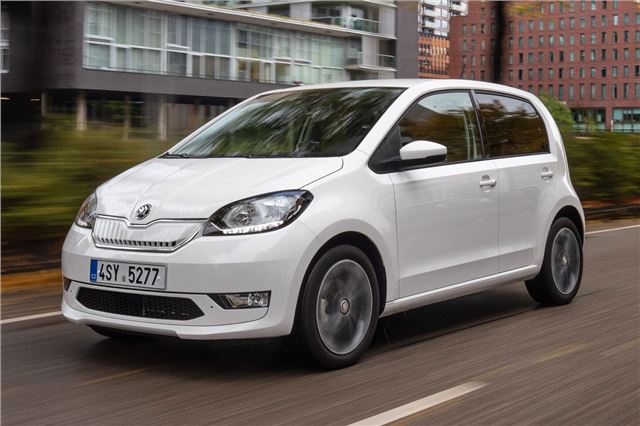 Proving that electric cars don't have to be expensive, complicated or look like they're from the year 3000, the Skoda Citigo-e iV is the EV that city dwellers have been waiting for. Capable of covering 170 miles on a single charge and starting at under £17,000, we reckon the battery-powered Citigo has 'gamechanger' written all over it.
One of the biggest preconceptions buyers have with electric cars is that they can't travel far enough for their needs. But the average car commute in the UK is around 10 miles, and how often does the average city car driver travel more than 170 miles in one day?
If you do want to travel further, the Citigo-e iV SE L comes with CCS charging capability which means you can plug it into the kind of rapid chargers found at motorway services. Charging at a rate of up to 40kW, these will add up to 80 per cent of charge in around an hour. Stopping for an hour after 150 miles might seem a chore if you're driving from Land's End to John o'Groats, but it does give you the option if the occasional long journey is necessary.
One of the most admirable things of the electric Citigo is the packaging. The standard car arrived in 2012, in a pre-Dieselgate area when electrification seemed a distant fantasy for the Volkswagen Group behemoth. It's impressive, then, that Skoda (like Volkswagen with the e-Up and SEAT with the Mii Electric) has managed to cleverly fit the batteries into the floor pan and the electric motor where the engine would be, without hindering the Citigo's practicality.
It's a small car, but you can just about fit four adults in, with the Citigo-e iV's boxy dimensions providing a reasonable amount of headroom in the rear. Five doors are standard, meaning access to the back seats is easy, while the 250-litre boot is big enough for several shopping bags. The rear seats drop near-flat if you need more space, providing up to 923 litres of space.
Unlike the very similar SEAT Mii Electric, Skoda's offering the electric Citigo with two trim levels - SE and SE L. The main difference is the aforementioned CCS charging, which will be pretty important if you're planning to cover long journeys, while other desirable features of the SE L include heated seats, rear parking sensors and 16-inch alloy wheels.
In both specs, the interior looks broadly identical to the petrol Citigo. Despite only receiving the most minor of updates since 2012, it still feels modern, although there are clear areas where cost-cutting measures have been made. Parts of the doors, for example, are finished in the same paint as the exterior, while there isn't a conventional touchscreen infotainment system. Instead, there's a bracket on the dash to hold your phone. An app can be downloaded to show vehicle data as well as maps and a media player, although you'd probably be better using third-party services like Waze and Spotify.
Things are more noticeably different on the move. If you've never driven an electric car before, you're in for a treat - there's no engine noise, obviously, and the Citigo-e iV's entire 212Nm of torque is available the second you hit the accelerator. There's no waiting for the gearbox to drop down a gear or for the revs to build - it just goes.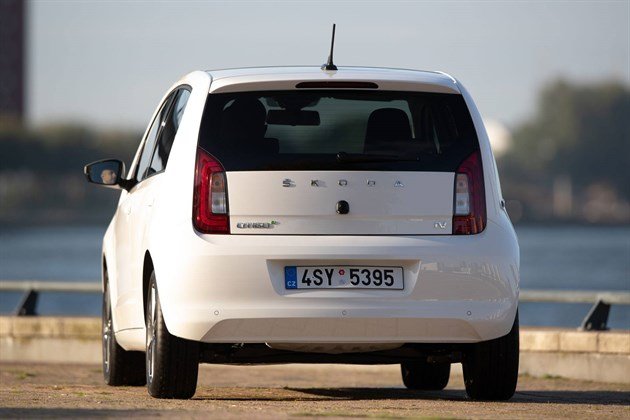 As such, it feels nippier than its 12.5 second 0-62mph second figure suggests, eager to dart in and out of gaps in city traffic (helped by its compact dimensions and excellent visibility). While we've barely driven the electric Citigo out of town, we suspect it'll soon start to run out of breath compared to more powerful (and expensive) alternatives like the Hyundai Kona Electric, but no one trading up from a petrol Citigo will be disappointed.
Like most electric cars, its ride is noticeably on the firm side, thanks to around 300kg of extra mass provided by the batteries. Again, we'll have to wait until we've driven the Citigo-e iV on UK roads before we can decide if that's a deal-breaker or not.
There are three driving modes to choose from: Normal, Eco and Eco+, while you can also select from five different levels of brake regeneration. With this in its most extreme setting, the Citigo-e iV will lose speed the second you lift off the accelerator, recuperating energy and pumping it back into the battery. A lot of the time, during city driving, you can rely on this to slow down, meaning you'll barely have to touch the brakes.
If there's a car to convince the most sceptical of drivers to switch to an electric car, this could be it. By offering two trim levels, its price undercuts in-house rivals like the Volkswagen e-Up and SEAT Mii Electric, as well as alternatives like the Renault Zoe and Honda E. But the best thing about the Citigo-e iV is its similarity with the petrol car that it replaces. It's just as practical, doesn't look too futuristic and is even easier to drive.