Renault Twizy 2012 Road Test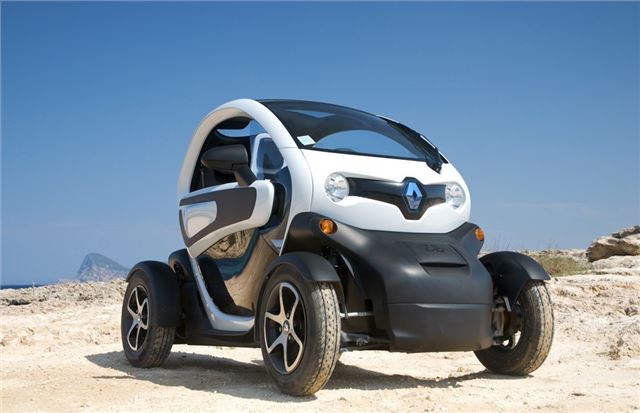 The Twizy is a car that could only come from Renault. The French brand occasionally goes a bit loopy, giving the world cars that look more like concepts than production ready models. The Avantime and the Vel Satis are prime examples. They may be hit and miss but you could never accuse the firm of following the norm. So the Twizy is in good company.
So what exactly is it? Well it's sort of a mix between a moped, a quad bike and a small city two-seater like the Smart ForTwo. You need a full car licence to drive it, it's not classified as a motorbike but a quadracycle so you don't need a crash helmet, but it does carry two people - just about anyway - with the passenger sitting right behind the driver.
You have to treat it like a motorbike in some respects though. It doesn't come with any doors (they are a £545 optional extra) and even with them there are no side windows, so you're always open to the elements. In wet weather, suitable clothing is essential. The gullwing doors open upwards which adds to the funky feel of the Twizy, plus it also makes getting out in tight spaces easy.
You can't 'lock' the Twizy either so it's best not to leave anything valuable on show. Although there is a lockable cubby on the dash top and a larger one behind the back seat. Inside it's best described as 'basic'. There's a steering wheel and a digital speedo with a trip computer but not much else. No heater or stereo, although a Parrot Bluetooth hands free system is available as an option and lets you stream music with speakers integrated into the roof.
Renault describes the Twizy as 'out of the ordinary' and it's certainly that. It looks like something from of a sci-fi film or a theme park. You could easily imagine it zooming around the Olympic village this summer. Complete with its odd cyclops light at the back. It really is a diddy little thing at less than 2.5 metres long and 1.5 metres wide while it weighs around 475kg. A Range Rover weighs six times as much and is double in length. Those small dimensions mean you can park the Twizy nose on to the pavement (like a Smart) and with a tiny turning circle it fits into the smallest of small spaces.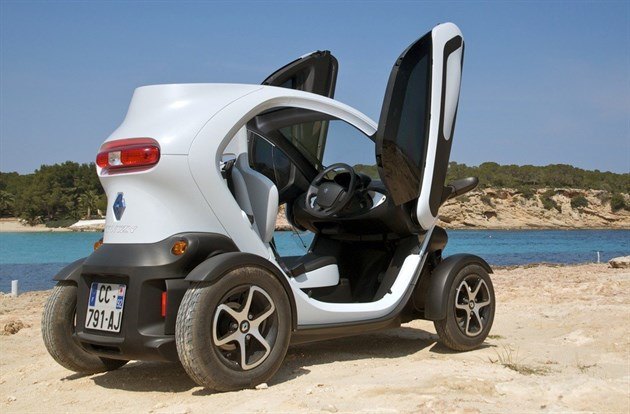 As you'll have guessed it's designed for urban commuting, so rather than a petrol engine the Twizy has an electric motor powered by a lithium ion battery. This means no engine noise, no CO2 emissions, no annual road tax and no charge for going into the central London congestion charge zone. The system produces 17PS which doesn't sound much but with 57Nm of torque available from a standstill, the Twizy is actually nippy over the first 50 metres with similar performance to a 125cc scooter, so it's ideal for busy cities. There's enough get up and go once you're up to speed too.
It's also simple to drive. You turn the key, push the D button on the dash, release the handbrake and off you go. There's just one gear so you always have power available and the steering is nice and responsive so it's easy to nip round tight corners. You actually sit right on top of the battery - the single heaviest part of the car - which means a low centre of gravity and good stability. Even at its top speed of 53mph, which feels very fast in such a small vehicle, the Twizy is stable and reassuring.
The big problem can come from other road users. Some drivers don't see it as a bona fide car and will simply drive around you, even if you're at the speed limit. Others don't realise how fast it is and will simply pull out in front of you on main roads. Despite that it is still great fun to drive and every journey feels like an event. It really is unlike anything else and attracts huge amounts of attention thanks to its futuristic design.
Of course that's easy to say having driven it around Ibiza on a nice warm spring day. Whether it will still seem appealing on a wet and cold February morning in the UK is another matter. It certainly makes you hyper aware of other vehicles. Sitting in traffic with buses and trucks, you suddenly feel very vulnerable. That said, while it is open to the elements, it's not at all blustery on the move. In fact even at top speed there's only a gentle breeze.
Charging the battery is simple. There's a flap on the front of the car and inside a three metre cable with a standard three-pin plug on so you can charge it from a normal household socket. A full charge only takes three and half hours and costs around £1. And when at 100% the Twizy has an official range of around 62 miles, although in everyday driving you're looking more at 50 miles.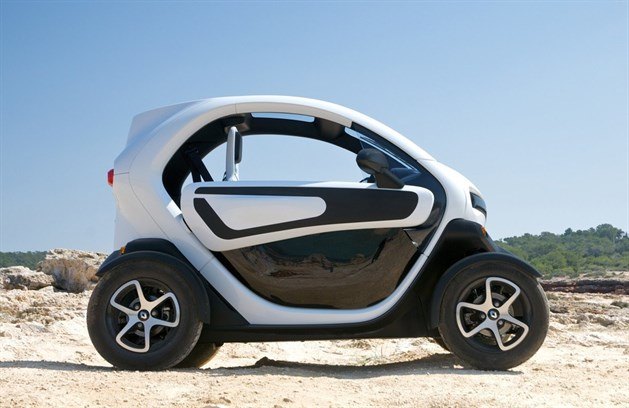 The one main concern for buyers will be safety and it's something Renault is keen to highlight. Like the electric motor, the main structure of the Twizy was developed by Renault Sport, with influence from F1 technology, so it's light and strong. There's a driver's airbag, seatbelts for both people and disc brakes on all four wheels.
Prices start at £6,690 plus you'll want the doors which are £545. That's still affordable as a second or even third car if you live in London while the top model is £7,400 and gets the neat alloy wheels. You do have to factor in the cost of leasing the battery though. Prices vary depending on how many miles you want to cover each year and the length of the contract. But an average price is £54 which is for 6000 miles a year on a two year contract. It doesn't however qualify for the £5000 government electric car grant scheme as it's not classified as a car.
It will no doubt prove popular in its home market - and not just because it's a Renault. In France, if you are banned for drinking driving, you can still drive a vehicle that's limited to 45km/h. Which is why Renault has the Twizy 45, a lower powered 5PS version which, as its name suggests, has a limited top speed. There are no plans to bring this to the UK but there have been recent changes to UK driving licence categories that could alter that.
From January 2013 a new category comes in which means 16-year-olds can drive a vehicle weighing up to 350kg that's limited to 30mph. Details aren't clear at the moment but it will require a driving test including both theory and practical parts. If this is the case then Renault would no doubt work to make the Twizy 45 meet the requirements.
So who's going to buy one in the meantime? Well the obvious customer would be someone living in a busy city who wants a dedicated vehicle for a short commute to work. Or maybe even university students. It's safer and more comfortable than a scooter but then you can't nip in and out of stationary traffic. Plus you can't park in motorbike bays or drive down bus lanes either.
The Twizy may be more suited to Spanish beach resorts than UK roads and as a result the firm may only sell a handful here, but it's reassuring to know that cars like this are being built. Nothing is as innovative or matches it for sheer quirkiness and the motoring world is definitely a richer place for it.