Renault Kangoo Express Maxi 2010 Road Test
Sat, 13 Mar 2010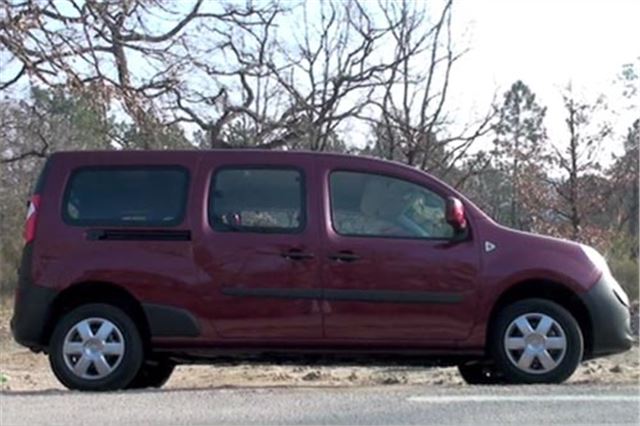 The Renault Kangoo Express van now comes in three lengths, or will from June 2010. These are 'Compact', at 3,928mm, normal, at 4,213mm, and now 'Maxi', at 4,597mm.
You might ask why?
The answer is that the 'Compact' is much more manoeuvrable in town and more easily parked by, for instance, a courier delivering small packages and files.
The standard length competes directly against the Citroen Berlingo and Peugeot Partner, offering one thing they currently don't: a four speed, torque converter automatic. And, if specified with rear seats (either as a panel van for VAT purposes, or as a windowed MPV), these have a simple cantilever that enables them to be folded very quickly and easily. Another advantage over the Berlingo and Partner is that instead of adding the extra length behind the back wheels, Renault adds it to the wheelbase, which makes the Kangoo Maxi both better looking and more stable.
The main engine options for all three are Renault's well used, belt cam 1.5dCi with outputs of 85PS or 105PS and torque of 200Nm at 1,900rpm or 240Nm at 2,000rpm. EU5 versions with diesel particulate filters and outputs of 90PS and 110PS will be available by the end of 2010.
The version I took out was a windowed Maxi 'combi' with 66/33 split folding rear seats. This would be special order in the UK, but you can get a VAT friendly van version with rear seats and a very clever moveable rear load guard that shifts to protect either all five passengers or just the driver and front passenger.
Maximum load length at floor level is 2,210mm to the backs of the two front seats, or 1,328mm to the backs of the rear seats. The two seater version can be ordered with an optional folding passenger seat enabling extremely long loads up to 2,886mm (9 feet) such as ladders and kayaks to be accommodated inside.
That makes it ideal for surfers, plumbers, cyclists, joiners, decorators or anyone who needs to carry long loads and may occasionally need to transport 3 or 4 people and a long load, or 5 people and a lot of kit.
The rear opening height is 1,190mm, width 1,219mm at floor level and 1,141mm at the top, with 1,149mm between the rear wheel arches. Access to the rear is by twin side hinged doors with stay releases to get them completely out of the way for forklift loading as palette into the back
The long wheelbase gives it surefooted handling. The 6 speed manual gearbox gives you about 28mph per 1,000rmp in 6th. It can be specified with cruise control together with speed limiter. And the 105PS version I drove came in at 146g/km CO2 with a combined economy of 51.4mpg. Performance figures are 0-60 in a respectable 12.7 seconds and a top speed of 105mph.
Go for the 85PS version and the figures are 140g/km, 53.3mpg combined, 0-60 in 15.5 seconds and a top speed of 98. The extra length means a turning circle of 11.9 metres between kerbs.
A special version with drop down rear floor and swivel out, lifting passenger seat will also be available for the disabled.
Prices, exact UK spec and options will be announced closer to the UK sale date.
All Renault vans come with a 3-year, 100,000 warranty in the UK.
More at www.renault.co.uk