Renault Kadjar II 2019 Range Road Test

The New Kadjar for 2019 is essentially a revamp of the original 2015 Kadjar with a new 1,332cc 4-cylinder chain cam alloy block petrol engine shared with Mercedes Benz, Nissan, Dacia and other Renault models. In the new Kadjar, outputs are 140HP with 240Nm torque and 160HP with 260Nm torque. A 6-speed manual transmission is standard, while a 7-speed EDC dual clutch automatic is optional.
Diesels are a lower emission belt-cam 1,461cc 4-cylinder with an output of 115HP and 260Nm, and the manifold in head, chain-cam 1.6 now bored out to 1,749cc with 150HP and 340Nm. The 150 can be had with 2WD or 4WD, 6 speed manual only for the time being but an automatic is expected later.
Outside there are minor quite clever styling tweaks, while more significant improvements have been made to the interior to keep it up to speed with the technology expected in a 2019 car. A lot of thought has gone into the detail.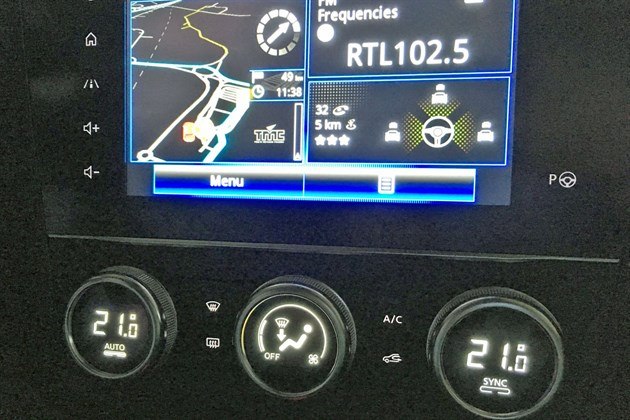 For example the new flat screen touch panel, with simple climate control knobs underneath that show the temperature selected.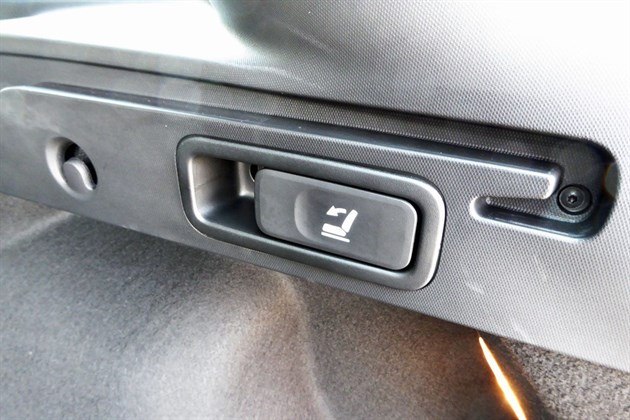 The rear seatback release with Mazda 'Karakuri'-like catches, and the side moulding includes supermarket bag hooks.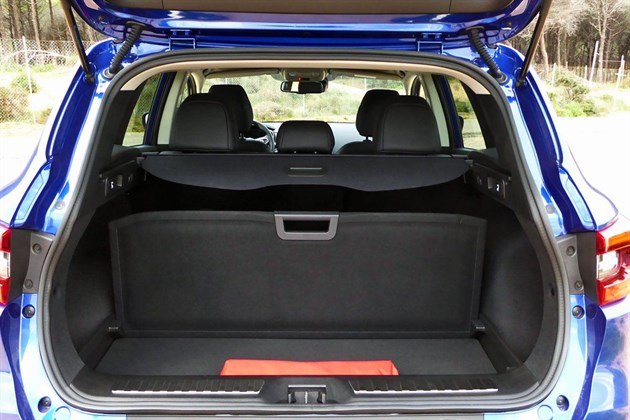 To stop stuff flying around in the load area, there are movable dividers.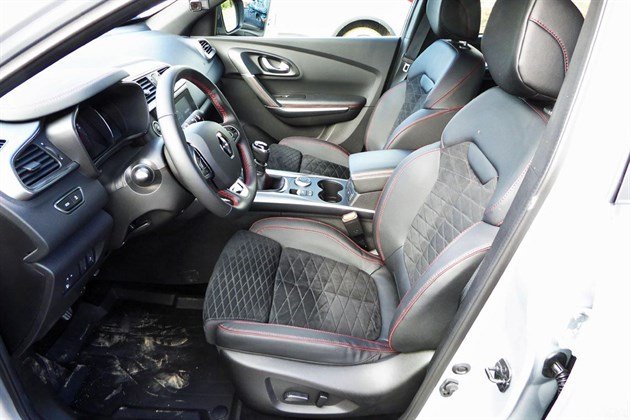 And the 'Black Edition' Alcantara diamond pattern trim that the UK may get at a later stage is both classy and comfortable to sit on.
You'll find more about this in our pricing and specs section.
On the day, we drove a TCe 140 6-speed manual, a TCe 140 7-speed EDC, and a dCi 150 6-speed manual with four-wheel drive.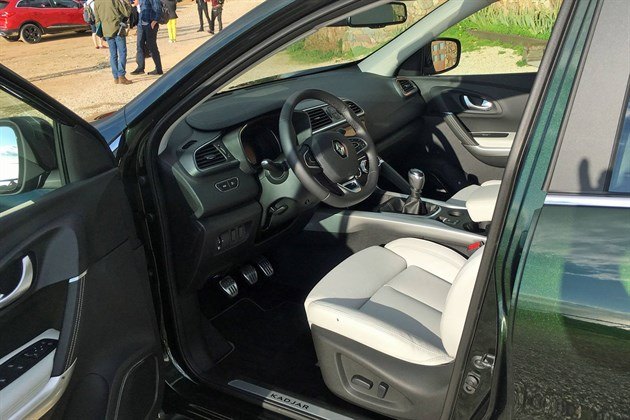 Wide opening doors and low sills to step over mean the Kadjar remains one of the easiest 'Crossover' SUVs to get in and out of (an important consideration for older people.) The driving position is good with plenty of adjustability and nice big mirrors.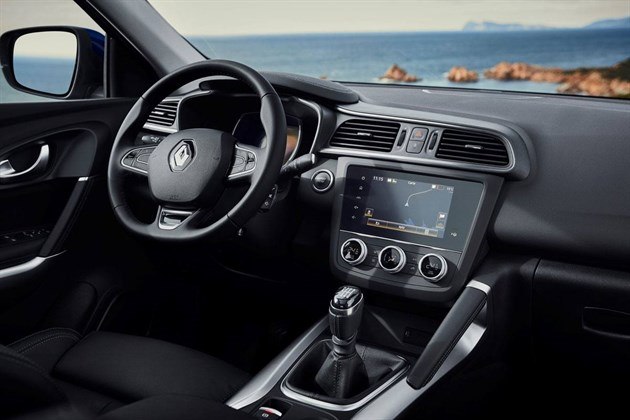 What is immediately apparent over the previous 1.3 litre 4-cylinder petrol engine is the significant improvement in torque. Though peak torque of 240Nm is developed at a low 1,600rpm, there's still enough at 1,000rpm to pull away from low speed in third gear. Very sweet. The engine is also a bit of a revver, pulling 6,000rpm no trouble at all, but the ample torque at much lower revs makes this completely unnecessary.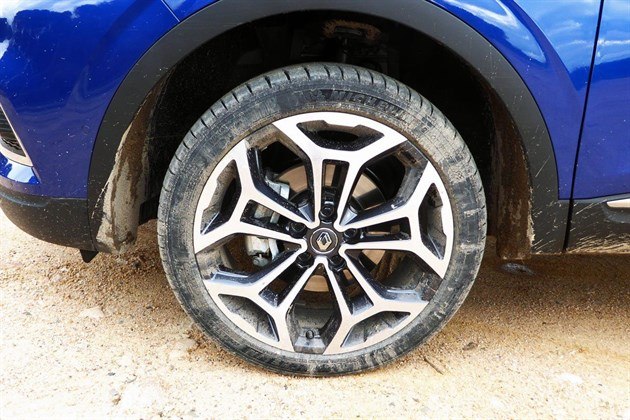 Renault was keen to show us that, even on 225/45 R19 Michelin Pilot Sport 4 tyres, the updated Kadjar can handle rough, bumpy and muddy tracks.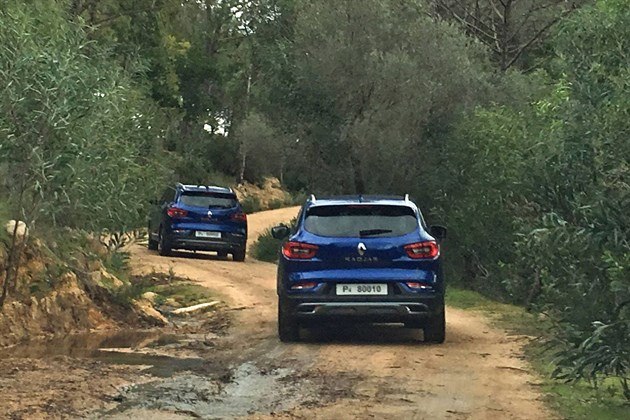 We actually lost our way on part of the route, so took it on an even muddier, rougher, bumpier track than Renault had intended and it posed no problem. The ride quality was surprisingly good.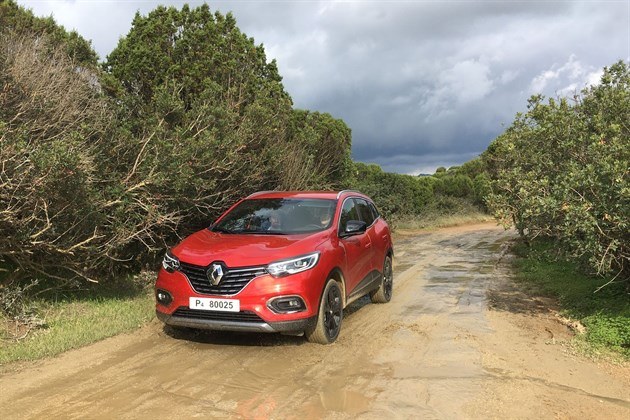 Next up, the TCe 140 7-speed EDC, and, if you need an automatic, it's one of the better dual dry clutch boxes. There are no paddleshifters, but the wrong-way-round manual shifter works fine if you want to take over and can remember to shift forward to change up and back to change down. The route also took this car off road, on mud and gravel tracks awash with water, but nothing it couldn't handle with aplomb. Main road handling was fine though with just a little less bite at the front than I'd like from the 2WD versions.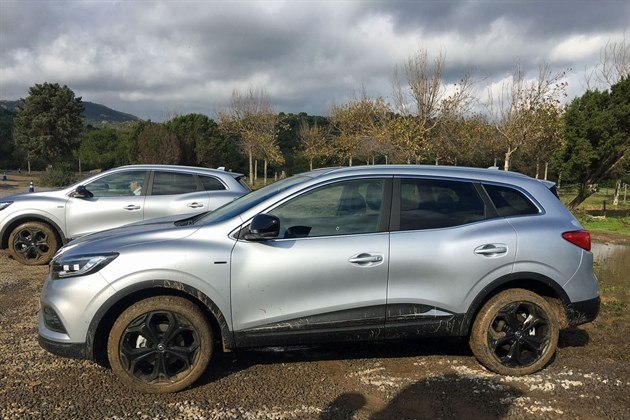 Lest we think all you need in a Kadjar is two-wheel drive, Renault had also built a fairly demanding off road course with angled ramps, sharp crests, tight corners, muddy pools, 'elephant steps': the lot. The dCi 150 4WD has a 1,749cc development of the manifold in head chain cam 1.6 that Renault introduced in 2010, now fully WLTP compliant with An AdBlue SCR system. Unlike my long-term Kadjar dCi 130 of 2016/2017, the 4WD on this now has three settings: 2WD, Auto 4WD, plus a 50/50 centre diff lock that it didn't have before. The centre diff can be used locked at speeds up to 30mph. At a fiver under £30,000 it's a proper 4x4 also capable of towing 1,800kg with the optional foldaway tow bar.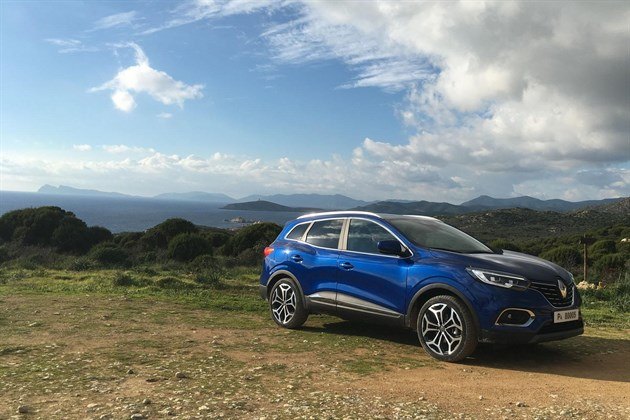 There are now scores of 'C Sector' SUVs and Crossovers competing for this still growing sector of the car market. Renault sees the Kadjar's nine main competitors as the Vauxhall Mokka X, VW Tiguan, Nissan Qashqai, Hyundai Tucson, KIA Sportage, Ford Kuga, Peugeot 3008, Toyota C-HR and Citroen C5 Aircross. To my mind, the 3008 is still streets ahead of everything else in terms of comfort, style, tech, handling, practicality and 'feelgood' factor. But I lived with the previous generation Kadjar 4WD for a year, was very happy with it and the New Kadjar is definitely much improved.
So if you're considering any of the ten competitors on Renault's list, definitely give the New Kadjar a chance. Renault dealers will start taking orders on 3rd January 2019, with the first new model Kadjars arriving in the UK in February.
 More at Renault