Renault Clio V 2019 Road Test

The UK gets the 'all new' fifth generation Renault Clio V in November. From next year there will be a 1.6 litre petrol Mild Hybrid with two electric motors, a multimode clutch, a 6-speed gearbox and a 1.2kWh lithium ion battery that can run for a lot of the time in the city on electrical power alone.
But, from launch this year, the range is a 75HP 999cc 3-cylinder petrol; a 100HP 999cc 3-cylinder turbo petrol; a 130HP 1,333cc 4-cylinder turbo petrol and an 85HP 1,461cc litre turbodiesel. The direct and indirect injected chain-cam petrol engines are closely related, as you may have spotted, by dividing their CCs by the number of cylinders.  
A massive investment has gone into developing the Clio, which remains the best selling 'B' sector car in Europe, second only to the VW Golf in total sales. 30 million have been sold since 'Nicole' first spotted papa's little indiscretion. So Renault wanted to get it right.
The new Clio is marginally shorter and slightly lower than its predecessor, but wider, and all the internal measurements are greater, giving more space for occupants. Rear seat passengers will particularly appreciate 25mm more knee room. And it is actually quite comfortable to travel in the centre of the rear seat.
There are some lovely styling touches like this swage line ahead of the front doors.
It boasts a best in class 26 litres of front interior storage space and there is enough room in the glove locker for a large handbag or a small dog.
We drove the TCe 100 999cc 3-cylinder model, which is the same Alliance motor as in the Nissan Micra, driven here, and it acquitted itself very well. 160Nm torque is enough. The five forward gear ratios are sensibly spaced. The steering is decently weighted. The the seats are very comfortable. It rides well.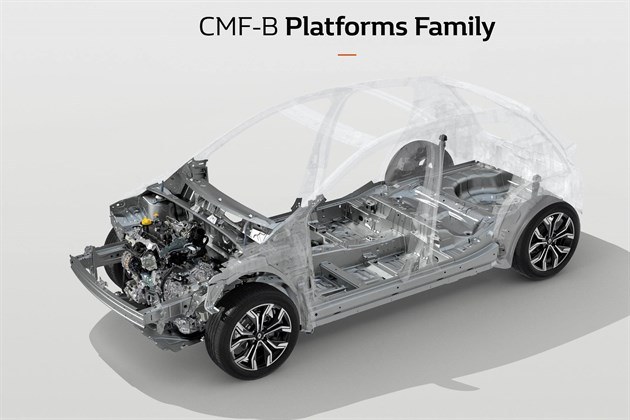 The new CMF-B modular platform isn't quite as fun-loving as the Fiesta's, but there's nothing to complain about. Clio Vs with the 100HP engine are likely to start at around £16,500, and that's very similar to Fiesta pricing. Significantly, its emissions of 100g/km will help to lower BIK for company car drivers.
The TCe 130 EDC adds an extra cylinder, 30 more Horsepower, 80 more Newton Metres of torque and a 7-speed 'Efficient Dual Clutch' gearbox. That's the same combination as we drove in the Renault Kadjar II here, but, of course, the Clio is smaller and lighter, so it's a fair bit perkier. Even on 17-inch wheels with 45 profile tyres, the car rode well. Steering and handling were indistinguishable from the  TCe 100. And, though a dry clutch transmission, the EDC is refined and viceless with very few reports of problems in the past.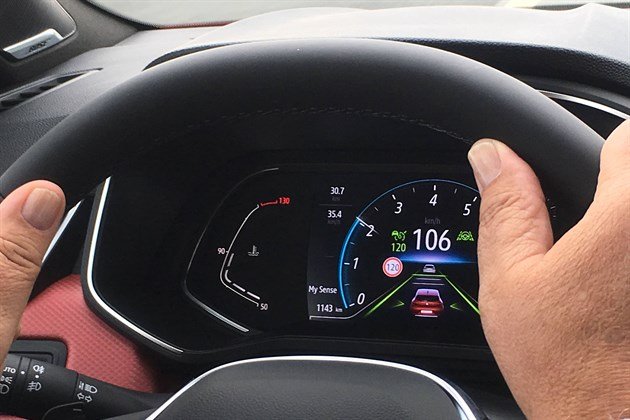 To achieve best in class Euro NCAP score, all new Renault Clios have lane departure warning between 43mph and 100mph, lane keep assist, traffic sign recognition and speed alert, and active emergency braking with pedestrian and cyclist detection.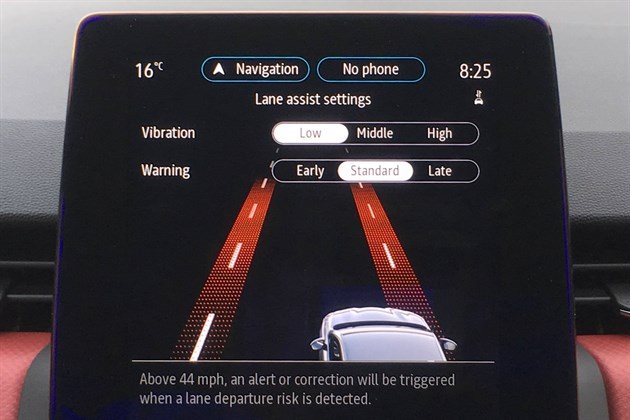 Taking that one stage further, Renault's complicatedly named optional 'Highway & Traffic Jam Companion' (let's just call it 'Driving Companion') takes matters a couple of stages further to Level 2 Autonomy. Active from 0-100mph, it controls the speed of the car (like Nissan Pro Pilot), maintaining safe distances from vehicles in front and keeping the Clio central to its lane. In heavy traffic, it stops and starts the car to follow the vehicle in front if it moves off within 3 seconds, otherwise the driver has to press a button on the steering wheel or touch the accelerator to re-activate it.
Lane centring allows the driver to relax his hands on the steering wheel, or take them off altogether momentarily and the car stays in the centre of its lane.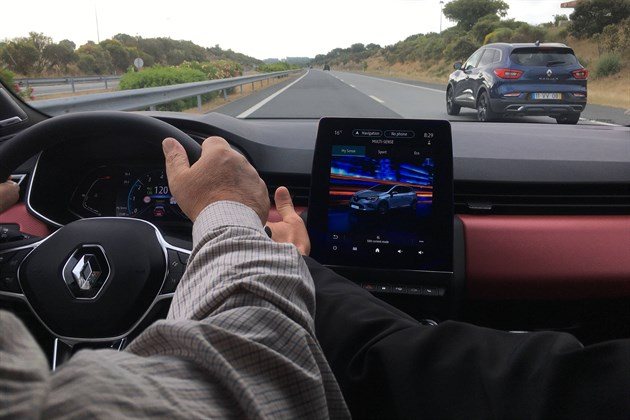 If you come up behind a slower car and start slowing to its pace, as with Pro Pilot you merely signal to overtake to disengage lane centring for the manoeuvre and the Clio quickly speeds up to its pre-set cruise control speed.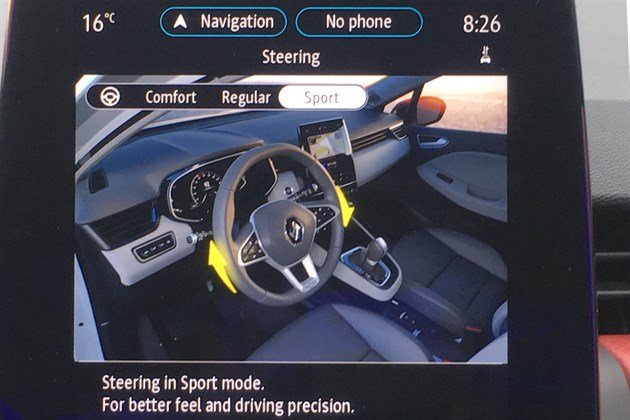 The system also enables you to customise the steering feel and responsiveness of the car. It's easy and intuitive to get used to with a row of piano switches underneath to control functions not best left to a touch screen, together with rotary knobs for the heating, ventilation and aircon.
There's a lot more to the new Clio, either optional or standard. Renault's all new Easy Link multimedia platform is compatible with Android Auto and Apple CarPlay. (More about that in the spec section on the next page.)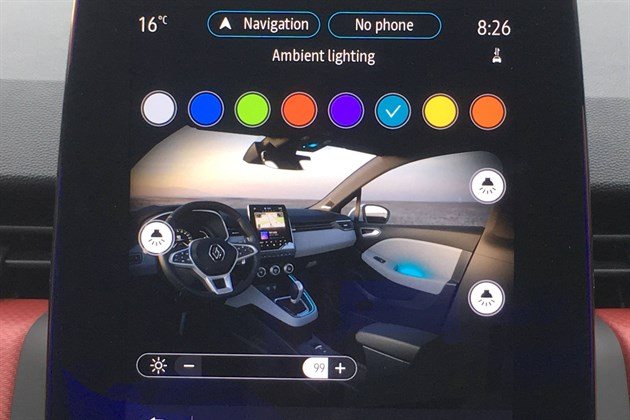 Interior lighting is easily customisable with the Multi Sense system via Easy Link.
There's an optional BOSE premium sound system.
Taken together, these are features you would expect in a car a class or two above the Clio and will bring the price of a TCe 130 EDC to well over £20,000. But because it's actually shorter than the previous Clio you can have them all in a more compact car.
I found three areas that won't please everyone. The seat height and seat reclining levers feel like fairly flimsy plastic. The strengthened back of the car makes it safer in rear end impacts but means a high load sill.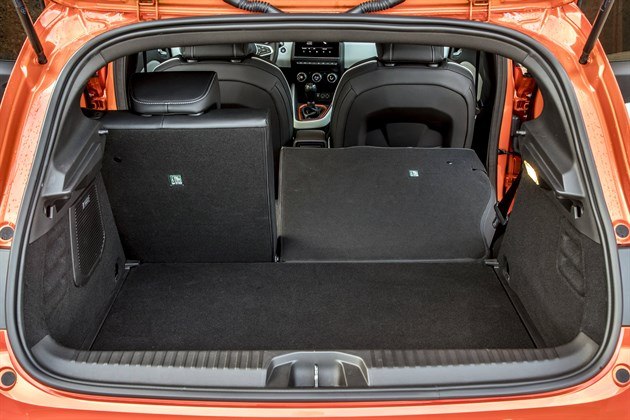 And some bad news for Golfers. While the Bose sound system tucked away behind the side panels of the load area is welcome to music fans, it means no indentations behind the rear wheelarches and therefore nowhere to stow a bag of clubs across the back.
Nevertheless, the new Clio is well built, has a unique sense of style and remains the most fashionable car in its class.
We'll bring you more news and update this test as we get more information.
More at Renault