Renault Clio Renaultsport 200 2013 Road Test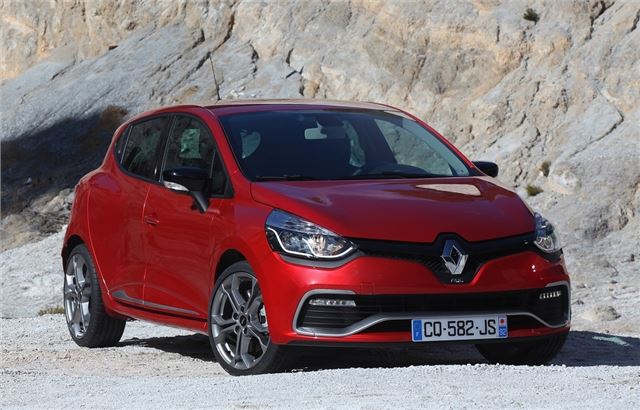 There's a real abundance of hot hatches right now. Ford has just launched the new Fiesta ST - a car it said it would never make - SEAT recently facelifted its Ibiza Cupra, there's the MINI Cooper Works GP and a Peugeot 208 GTI on the way.
But when it comes to small hot hatches one car has, in recent years, stood head and shoulders above the rest - the Clio Renaultsport. So this new version has some big shoes to fill. It's no exaggeration to say expectations are very high.
On paper it all looks good. The performance Clio may have had to sacrifice its 2.0-litre engine for efficiency reasons, but it has been replaced with a new direct injection 1.6-litre turbocharged unit which develops the same 200PS as the outgoing much-loved Renaultsport Clio. The fact that it's fitted with a turbo means plenty of torque - 240Nm to be precise which is the same as the new Fiesta ST - and it's available from just 1750rpm so you don't have to thrash the engine in order to unlock the performance.
To help transfer that power to the tarmac it's fitted with an RS Diff - an electronic differential like Volkswagen's XDS system. This can imperceptibly brake an inside wheel in a corner to help traction and makes the Clio feel sharp and agile in tight corners. The Clio is now quicker from 0-62mph than before taking just 6.7 seconds and is also the first production car to use rally-style hydraulic compression stops in the shock absorbers.
But the real highlight is the superb chassis. The Clio Renaultsport is beautifully balanced with amazing front end grip, minimal body roll and a superb ability to smooth out rough road surfaces, even through corners. That's not something that could be said of the old version. The handling is a real joy on a twisting road and it gives you plenty of confidence to push it to its limits.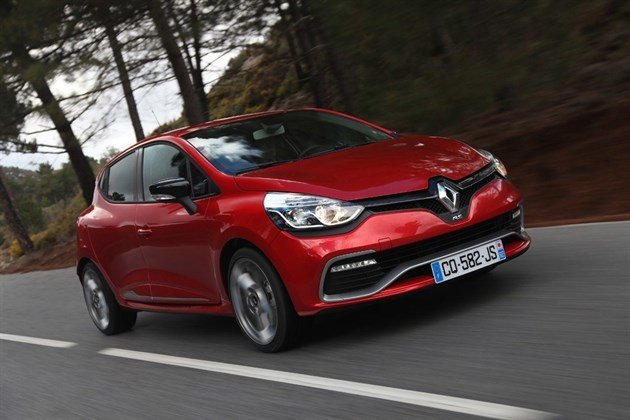 The hydraulic compression shocks not only help the handling, they also benefit comfort. The Clio is amazingly refined for a hot hatch and nothing like its uncompromising predecessor - you can happily potter around town in it without feeling every minor imperfection in the road, in fact it feels just like a normal Clio. Similarly, on the motorway the Clio is smooth and unstressed. This really is a hot hatch that you can use every day without needing ear defenders and a good chiropractor.
Of course there is a more race-focussed version. Alongside the standard chassis, there's the Cup chassis - a £450 option - which is 15 per cent stiffer and rides 3mm lower than the standard set-up. It also comes with a quicker steering rack and larger 18-inch gloss black alloys with red brake calipers plus Dunlop Sport Maxx TT tyres in place of the Goodyear Eagle F1 Asymmetric 2.
We were only able to drive the Cup version on track, never a good barometer of ride quality, but you certainly notice the extra stiffness and faster steering rack. Whether it's as comfortable on normal roads we can't yet say but it seemed fairly forgiving. On track you also get to see how well the RS Diff works and how impressively the Clio Renaultsport grips through fast corners.
So it all seems very good, but there's one big fly in the ointment. And it's a big gearbox-shaped fly. The new Clio Renaultsport comes with a new EDC (which stands for efficient dual-clutch) gearbox as standard. It's all inspired by Renault F1 so you get paddleshifts and even a launch control system. But here's the rub - this is the only gearbox choice - there's no standard manual.
Now for many hot hatch buyers this will be an instant turn off and it's easy to see why. There's no doubting the EDC gearbox is technologically advanced but it doesn't give you the same sense of involvement or satisfaction as a good old manual. True the shifts are very fast, but they're not especially aggressive and the ratios are set that you often find it lost between second and third gear in a no man's land. Stick it in second and it's at the rev limit but in third it's struggling for power.
On the plus side there are some neat features like the RS Drive system. This changes the mapping of the gearbox and engine, making the throttle more responsive and the gear shifts faster, plus it adds more feel to the steering. As with most of these system there are three settings - in this case Normal, Sport and Race.
Changing the RS Drive system certainly makes a big difference to the way the Clio drives. Put it in Sport and you get noticeably quicker gear shifts, more engine noise and the stability control kicks in marginally later, giving you a larger degree of freedom. That said the Clio still runs out of revs very quickly, hitting the limit at 6000rpm.
It's all too easy to inadvertently bounce off the limiter which is briefly preceeded by a very loud warning beep - something akin to my washing machine finishing. The engine and exhaust don't sound particularly special either and although there's a nice burble when you lift off the throttle, the overriding noise when accelerating is an unpleasant induction whoosh from the rear. While the engine doesn't feel stressed it's not very pleasant driving the Clio hard. You get the feeling it would be far more enjoyable with a manual.
True many people will point to the fact that the trio of the Volkswagen Polo GTI, SEAT Ibiza Cupra and Skoda Fabia vRS all have a similar twin-clutch gearbox in the shape of the DSG with no manual option. But they were never viewed in the same league as the previous Clio Renaultsport. It seems that while Renault is widening the appeal of the Clio to those who found the outgoing model too hardcore, it could be in danger of dilluting the much respected Renaultsport Clio image.
It's decent value though at £18,995 for the standard model while the Cup chassis is only £450 as an extra. Standard equipment levels are good with things like sat nav, Bluetooth and keyless start included but £1300 for the Liquid Yellow metallic paint - a trademark Renaultsport colour - seems extortionate when standard metallic paint is £495. The real challenge though may come from the new Fiesta ST. It uses a similar 1.6-litre turbocharged engine but has a manual gearbox as standard and is priced from just £16,995.
This may all sound quite harsh given how good the Clio is overall. After all, this is a hot hatch that you can live with every day which will have plenty of appeal to those who want performance but usability. But it's not a car that you'll get a real buzz from. The previous Clio Renaultsport set was a very pure hot hatch and all the better for it. This new version is a very good car, but unlike its predecessor it's not a great one.