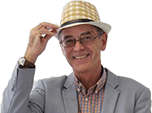 Renault Clio dCI 110 and TCe 120 2016 Road Test

The Renault Clio will be refreshed in September. Still the same classy and very attractive shape that differentiates it from other small hatchbacks. But now with the option of a more powerful 120PS 1.2 TCe engine with 6-speed manual or EDC transmissions and an uprated 110PS 1.5 dCI diesel.
There's also a more powerful 220PS Clio Renault Sport Trophy model, still the only small hot hatchback with an EDC 'automatic' gearbox.
Estelle Skornik has a lot to answer for. More than 13,000,000 Renault Clios have been sold throughout the world since her memorable commercials with 'papa' back in 1990.
Now, as well as the new engines, the Clio is up to date with the 'connected' tech expected in a new car these days. Even the most basic 'Expression' model from £11,555 comes with an 'R&GO' Navigation and infotainment smartphone connection and cradle as well as a DAB/FM/AM tuner, Bluetooth audio streaming, hands-free calls, and USB and AUX sockets.
An extra £1,400 buys you a 'Play' model with the essential extras of 16-inch alloy wheels, air-conditioning and front foglights.
The Dynamic Nav models from £13,995 add a 'MediaNav' 7-inch tablet style touch-screen integrated multimedia system that provides DAB radio, Bluetooth streaming, satellite navigation, TMC traffic information and SIRI 'Eyes-Free' operation.
We drove a top spec Dynamic S Nav dCI 110 and TCe, both with 6 speed manual gearboxes and also took a Clio RenaultSport 220 Trophy for 11 kilometres round a closed circuit. (That will be the subject of a separate 'test'.)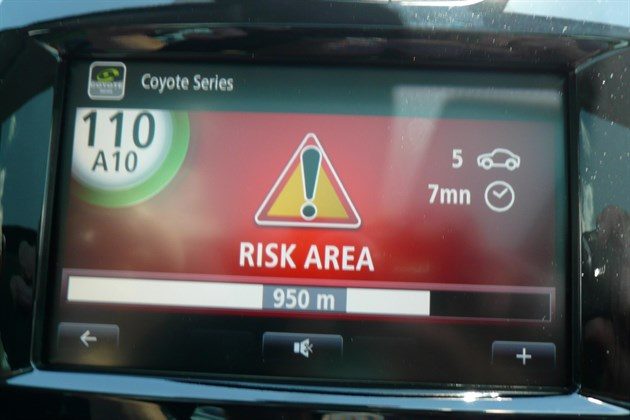 The MediaNav system works well with the added feature of 'Risk Area' warnings whenever the car is in the vicinity of speed cameras. A neat way round French law that bans satnav speed camera warnings. However, Renault is going to need to change the irritating English male voice that accompanies this and keeps repeating itself.
The new seats are very comfortable once you settle in to the multi adjustable cockpit. Ride quality is decent, even on uncompromising 17 inch wheels with 205/45 R17 tyres. But, though the dCI 110 is undoubtedly economical (we averaged 58mpg), it's a bit bland to drive, especially considering the £17,755 you're asked to fork out for the top versions.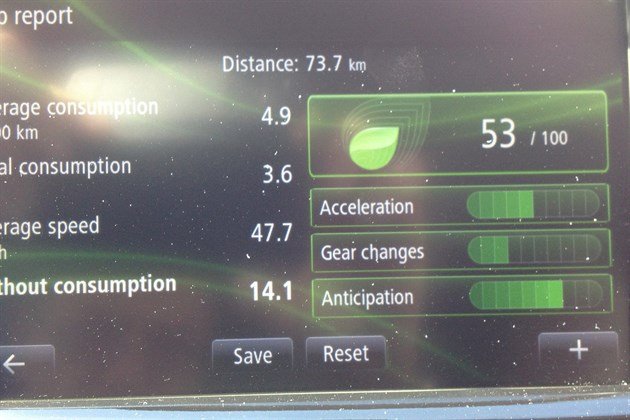 The same trim level with the 4-cylinder chain cam TCe 120PS engine is £1,100 cheaper, much friendlier to drive and ultimately far more satisfying. This is a car I could get on with. The engine is sweet at low rpm with plenty of torque and revs cleanly. The gear ratios are exactly right. The relationship between the steering, the pedals and the gearshift action is spot on. Pitched against its competitors in this class of car it's very hard to fault. (We averaged 48mpg.)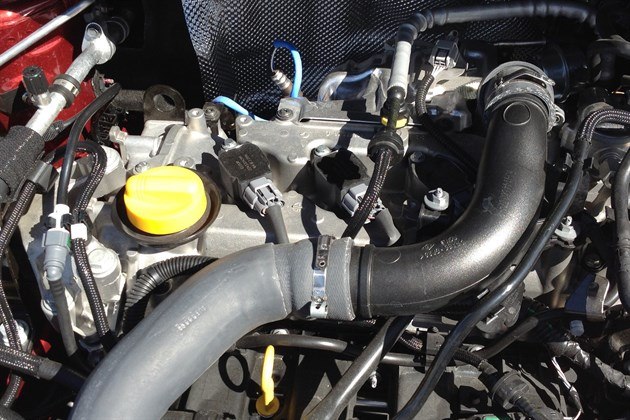 So far I've also driven this engine in the Megane and the Qashqai, where it had more weight to pull along yet was still impressively smooth. Soon, I'll also be driving it in the Dacia Duster TCe 120. And you can, of course, get it in the Nissan Juke where it replaces the distinctly unimpressive old 1.6 petrol engine. It doesn't quite have the grunt of Peugeot's phenomenal 3-cylinder 1.2 Puretech 130, but it beats VAG's 1.2 TSI that is now being replaced by VAG's 1.0 TSI.
£16,655 before any hard-fought negotiations buys you the model I'd chose, and, of course, there will also be PCP deals that make the Clio more immediately affordable.
If there's a classier, more stylish and better to drive small hatchback for the money I can't immediately think of it.