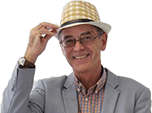 Porsche Macan 2014 Road Test

In the Porsche Macan Turbo with torque vectoring, Porsche has created an SUV you can happily take on track days.
It may be based on an Audi Q5, but developed out of all recognition. It truthfully is the first car that looks like an SUV, yet is really a proper sports car in disguise.
You sit high (actually an advantage on a track) but the weight is carried low because components such as the huge clamshell bonnet are pressed aluminium.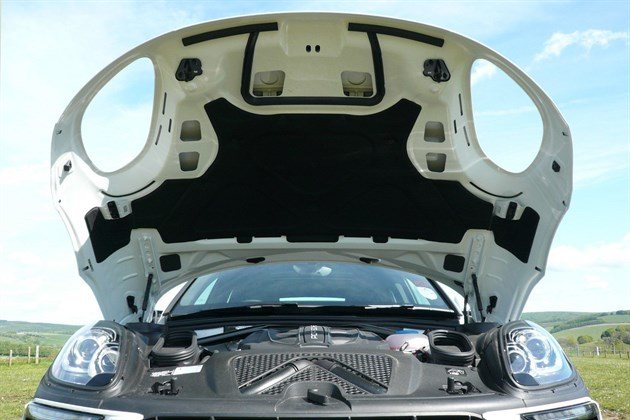 The 3.6 litre twin-turbo V6 engine pumps out 400PS at 6,000rpm and 550Nm torque from 1,350-4,500rpm.
Yet CO2 is a reasonable 208-216g/km (depending on wheels and tyres), and ECDC combined economy is just over 30mpg.
On the track (Goodwood, actually), the Macan Turbo is very impressive indeed. (It had to be a track when we were driving at speeds of up to 140mph.) The 7-speed twin-clutch PDK automatic transmission obviously responds better to the paddles than being left alone because that puts you as the driver into control. And the car seemed to quite like left-foot braking as well. It's by far the best handling SUV I have ever driven.
But it gets knocked into the shade by the same car with Porsche Torque Vectoring Plus. That not only sharpens the steering, giving a driver more confidence, but it ups the speeds through fast corners by at least 10mph. Then, because you're coming out of the corners quicker you can pull higher speeds on the straights. Once Macan Turbos with torque vectoring get onto the track day circuits they are going to astonish some drivers in dedicated track-day specials that they had to trailer to the event.
Porsche expects to sell 50,000 Macans in a full year, and has already sold out its 2014 UK allocation. (Still worth getting your name down in case there are a few drop-outs.) And it couldn't do that with just a 400PS/550Nm, 166mph, 4.3 second 0-60 hot rod.
So there is a range of Macans.
The 3.0 litre twin-turbo 340PS/460Nm Macan S that only does 159mph and 0-60 in 4.9 seconds.
And the very necessary 258PS/580Nm Macan S diesel that manages 144mph and 0-60 in 5.8 seconds, but importantly also just squeaks under company car 160g/km CO2 (on 'sensible' tyres) and returned 46mpg in the EC tests.
That is going to account for the bulk of sales. And while its presence at track days is more likely to be as a tow car than a track car, it's still mightily good on the road.
The Macan S diesel I drove was on possibly the least appropriate tyres for a diesel: 265/40 R21 fronts and 295/35 R21 rears. (These push it over 160g/km CO2, which is a no go area for company drivers.) But they did give it sharper turn-in than the 20" tyres I drove on the road in the Macan S and, while you could feel the cat's eyes, the overall ride quality was not too bad.
The main benefit of both of these cars is that they are excellent overtakers. On a two-way A or B road, the power is there to get past the typical 40mph restricted truck with a tail of two cars. Of course, on the motorway, a Macans is no faster than a determedly driven Ford Fiesta because you'll be concentrating on mpg rather than mph and everyone is subject to the great leveller of the 70mph speed limit even if you regard it as 80.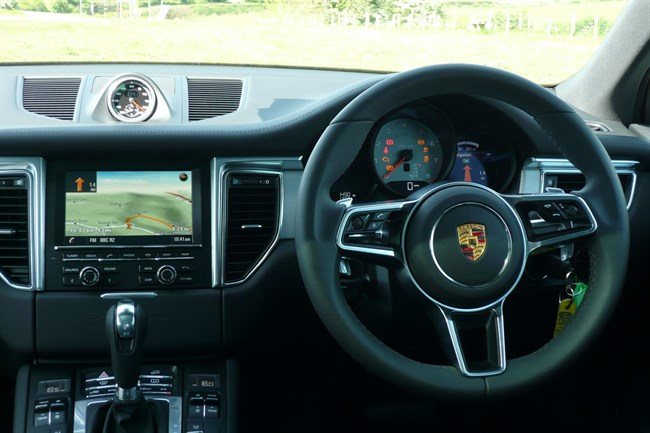 And now on to the attributes of the Macan as an SUV. It's not a '2+2 dwarfs', like a 911, or even a '2+2 adults', like a 4-Series coupe. Even though legroom in the back isn't as good as in an X3, there's enough space for five.
The rear seatbacks fold down 40/20/40, with ISOFIX tethers on the backs of all three. There's 500 litres of luggage space with the seats up, and 1,500 litres with the seats down. So it's a proper family car even when the family is gifted with a third child..
What it isn't is a Range Rover Sport. The Macan is a sports car that looks like an SUV. Though you can get air suspension that raises the ride height and squishy 55/60 profile 18" tyres, don't expect it to climb any mountain or ford any stream.
Do expect to tearfully trade in your 911 and not be disappointed.
More at Porsche