Porsche Macan 2.0-litre PDK 2019 Road Test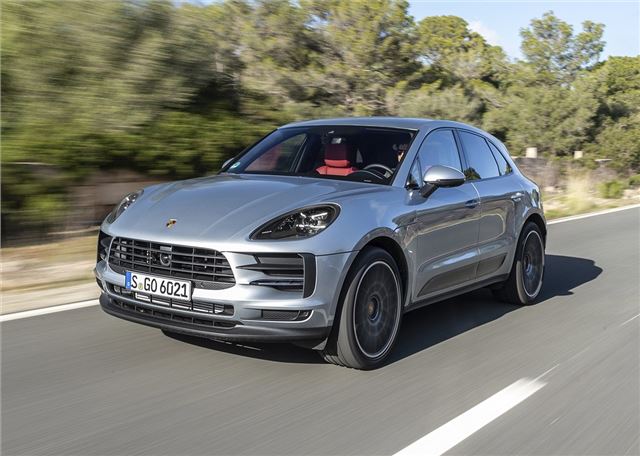 The Porsche Macan has always been an appealing high-end crossover, thanks to its blend of performance, equipment and build quality. It's impressed buyers so much, in fact, that it secured itself the top crossover spot in the Honest John Satisfaction Index 2018 – and this newly updated and redesigned version looks set to continue that trend.
For starters, this revamped version of the Macan benefits from an exterior overhaul that's designed to bring its looks in line with more recent Porsches. Out back, for example, it now features an LED tail light assembly that runs the width of the car, like the recently launched Panamera Sport Turismo and 2018 Cayenne.
Other revisions include a range of new wheels, while new standard-fit LED headlights further sharpen up the looks. Porsche has overhauled the Macan's media system, too, equipping it with a new 10.9-inch touchscreen and additional functions – while new options such as a heated windscreen bolster the already lengthy list of potential upgrades.
There are also some changes under the surface. Aside from suspension and braking system tweaks, which Porsche claims make the Macan "handle more like a sports car than ever before", the engine line-up has been overhauled. At launch, the entry-level Macan packs an updated version of the previous 2.0-litre four-cylinder turbocharged petrol engine.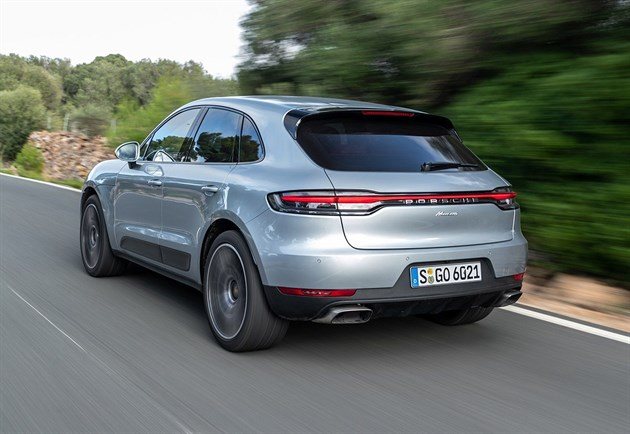 The high-performance S model, on the other hand, features a new single-turbo 3.0-litre V6 from the 2018 Panamera. There won't be a diesel in this new Macan range, either – as Porsche has dropped diesel in its entirety, due to changes in perception, falling demand and a move towards hybrids and EVs.
Picking the 2.0-litre version, at any rate, doesn't feel like the 'budget' choice. It puts out 245PS and 370Nm, which helps propel the 1870kg Macan from 0-62mph in a suitably swift 6.7sec. Those of you with a keen eye will notice that this is less power than before; this is due to a new petrol particulate filter, which restricts its output slightly. Still, the four-cylinder Macan's claimed capable of averaging a tolerable 34.9mpg, which grants a useful range of around 500 miles per tank.
What's pleasing is that, even without the sports exhaust option, the turbocharged engine sounds gratifyingly sporty at full chat. It admittedly has to be worked harder than its bigger brother but it's smooth and, when cruising, quiet – the 354PS V6 is predictably more muscular but sounds coarse and mechanical unless you opt for the costly upgraded exhaust system.
In either case, there are no gripes on the transmission front; the seven-speed dual-clutch automatic changes gears in a snappy fashion and complements the Macan's sporting nature. Slick, precise steering, plenty of feedback and impressive body control further serve to make the Porsche a compelling car to drive. It's only slightly wider than a Volkswagen Golf across the mirrors, too, so it's easy to manage on tighter roads or in urban areas.
On the interior front, it's hard to miss the large new media system – the screen of which has grown from 7.2 inches to a whopping 10.9. Besides notable improvements in both screen quality and interface, the big touchscreen has allowed Porsche to get rid of some buttons. This gives the interior a slightly cleaner look but not at the cost of physical climate controls or manually operated central air vents, to our delight.
The Macan's interior otherwise remains a plush, neatly finished and comfortable place to sit. There's plenty of adjustment, room for four six-foot-tall adults and a good climate control system. Visibility is good, too, and the boot is easy to access and spacious – with neat features such as four tie-down hooks boosting practicality. There's no standard space-saver spare, though, but you can get an 18-inch one for £161.
Being a Porsche, unsurprisingly, there's also an options list as long as your arm – with upgrades ranging from the genuinely useful through to the purely cosmetic. Among those worth considering is the air suspension, which costs £1860. It's more cosseting than the standard steel-sprung car but, usefully, even in its most sporting setting it doesn't become overly harsh.
Regardless, the Macan remains a well designed and immensely capable high-performance crossover – and one that's comfortable and practical, too. The gentle cosmetic overhaul and new features, such as the LED lights and updated media system, simply help make what was still an excellent car an even more appealing proposition.
The 2019 Porsche Macan is on sale now.