Porsche 718 Boxster T Road Test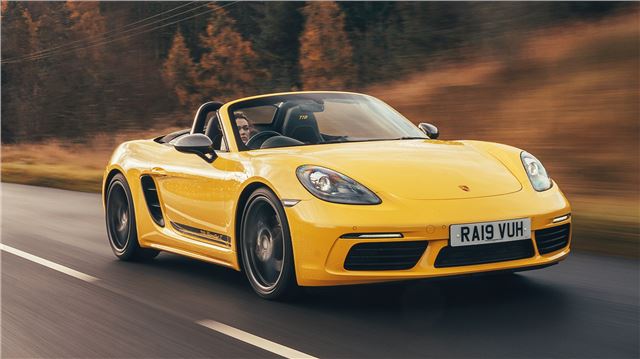 You might look at the name of this new 718, Boxster T, and assume it's another Targa top convertible from Porsche. But no, the T stands for 'Touring'. So you might then assume this is a softer Boxster, a grand tourer type sportscar designed to be less unyielding and more apt to top down sun-soaking times (or rain, more likely). But it's not that either. Instead it's a 2.0 718 Boxster but with, as Porsche puts it, "a tailored specification that further emphasises the renowned handling." 
A basic Boxster with some options ticked, then. In fairness there's a little more to it than that. And also, allowing Porsche to take its corporate ballpoint to the options list makes it a little cheaper than doing it yourself. So, what do you actually get ahead of a boggo Boxster for your circa-£7,000 premium? 
You get 20-inch wheels, a sport chassis with adaptable damping and suspension lowered by 20mm, a shorter throw gear shift for the six-speed manual (PDK auto is available), a mechanical diffrential for the rear axle, the Sport Chrono package (a raft of dynamic stuff including fancy engine mounts, an analogue lap timer and automatic downshift throttle blipping), and, erm, fabric interior door handles. Yep. They're a nod to racey Porsches and to the general the vibe of the car rather than an actual weight saving measure, obviously.
The result is a Boxster that's tightened up significantly, with the suspension changes and the Sport Chrono package in particular making a marked difference to the overall driving experience. In the former case it's a tauter turn-in with even less lean into corners and more feel, and in the latter a proper dramatic downshift experience from a short-throw manual that's truly one of the best there is. The standard Boxster is hardly a sloppy driving experience as it is, but the T makeover is like adding Lional Messi to Liverpool's front line. 
But the question you need to ask is just how much sharper do you need your Boxster to be? Because the trade-off for all this added dynamism is a two-seater that's even more compromising to live with. In any of its modes the suspension is unyieldingly stiff. Not catastrophically so, at all, but this is a car that facsimiles the surface of the road to 110%. You feel everything. That's fantastic when all you're trying to do is have the BEST DRIVE EVER, but of course not ideal when you're just off to get your botox jabs or whatever. 
But by god, there really are very few cars that feel as rewarding as this Boxster T, from the communication through the wheels to the sense of heft that the steering provides... even the sound is pretty good. Disparaging the engine note of the 718 generation's four-cylinder turbo is the in thing to do at the moment, and while it of course cannot match the depth of its six-cylinder predecessor, in its own deep, loud, burbling way it's still fairly epic.  
That aside, what remains great about the Boxster - and is exagerated in the T here - is that it's all at once quite forgiving but capable of dishing out raw excitement. In 2.0-litre form here it's powerful enough to feel genuinely quick (300PS and 62mph in 5.1 seconds), but not so powerful that it feels like too much throttle and a little steering lock will send the back end careering loose. You can do that if you like, of course, but it takes a deliberate effort. This is a car whose fun comes from leaning on its masses of grip and enjoying the raw feel and rear-wheel drive balance of the thing. 
That would probably be the case with a PDK twin clutch gearbox too. The Porsche six-speed manual, especially when augmented by the short throw option, is one is one of the very best there is. Possibly the best. It's a key part of the old school appeal of the Boxster T, but then again the PDK is also one of the very best automatic gearboxes, and in a car this good there's something appealing about letting that do the transmission work, leaving you to focus only on the steering and throttle.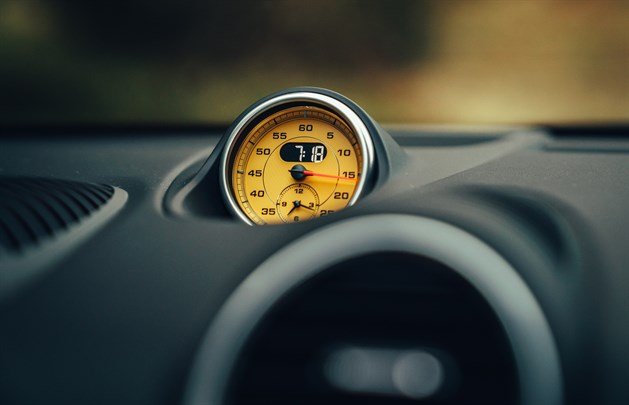 Either way you're still looking at a phenomenal driving experience, and also arguably the best value Porsche on the market bar none. It might be tempting to argue that it looks too close to the Boxster S in price, given there's less than £1000 between this and the higher powered S, but the T is the more rewarding drive of the two and, really, 300PS is enough. 
Whether your £50-60,000 should be spent outside the Porsche dealer network is another matter, though. And probably not as clear cut as you might assume. The main head-turner (in pure dynamic terms, at least) is the Alpine A110, which is just a fantastic thing: very, very nearly as good to drive as the 718, albeit in a different sort of way, while being much more rare and interesting. It can't match the Porsche for quality or equipment, but it's a genuine alternative. Click here to watch our video review of the Alpine A110.
Or there's the surprise candidate: the Toyota Supra. Far from being all blunt speed and bombast, the BMW-based Supra is wonderful to drive. A league below the Boxster's razor sharpness, ultimately, but much better than it could have been and involving enough for most. And all while being more comfortable and, again, more rare than the Porsche. Click play below to watch our Supra video revew. 
Still, it would take a brave person not to put their own money into the 718, and especially when it's as beautiful a blend of price and performance as the Boxster T is. There's still nothing that quite matches its combinaton of day-to-day useability and invigorating b-road ability. It's the one we'd buy. It's on sale in the UK now for £53,000.