Peugeot Rifter 2018 Road Test

The Peugeot Rifter is the kind of car that stupid British people won't buy. The stupid children of these stupid people wouldn't be seen dead in one (unless it was the coroner's). Stupid, status-obsessed wives of stupid, henpecked men threaten divorce  and the idiots don't realise they'd be better off without them. Oh no, it's about as far from their aspirational 'Sports Futility Vehicle' as a van with windows can get.
How wrong they all are.
Of course, in a society obsessed with image it says all the wrong things and for that reason might not hold its price as well as a ridiculous SUV on 22-inch wheels with 30 profile tyres. But the fact is, if you compare it to a Ford Kuga or something from VAG at £5k - £15k more, it actually makes a lot more common sense. And it only takes a tiny shift in fashion for the public to realise this.
Having offended the snobs and status-seekers who aren't interested anyway, we can now get into the Rifter's more practical attributes.
Here we have a van-shaped car with a load area of 3,000 litres, yet all the luxury you really want. Peugeot i-Cockpit. Satnav and infotainment with the latest tech like Apple CarPlay. EU6d TEMP / WLTP engine. 8-speed torque converter automatic transmission. 0-60 in just over 10 seconds. Top speed 112mph. Hang about a bit, it doesn't hang about.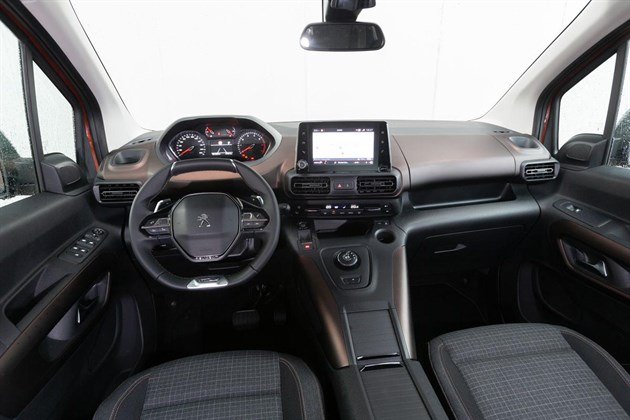 Inside, though you sit quite high, the wheel sits low and you read the entire dash over the top of it, as you do in the 3008, 5008 and new 508.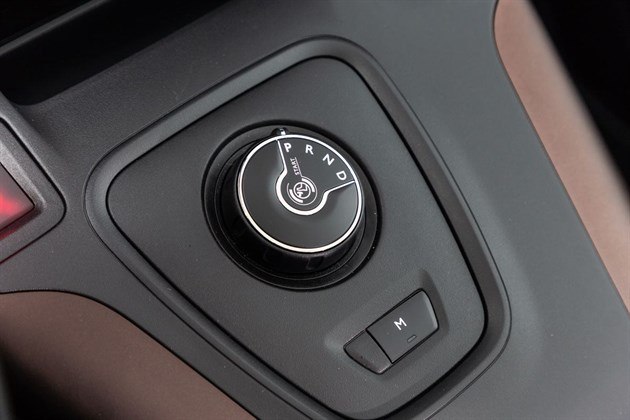 The gear selector is a rotary dial with an 'M' for manual button underneath so you can use the very un-van-like paddles behind the wheel. The huge screen makes it easy to place on the road despite its 6 foot 6 inch width. And it drives and handles much like a car.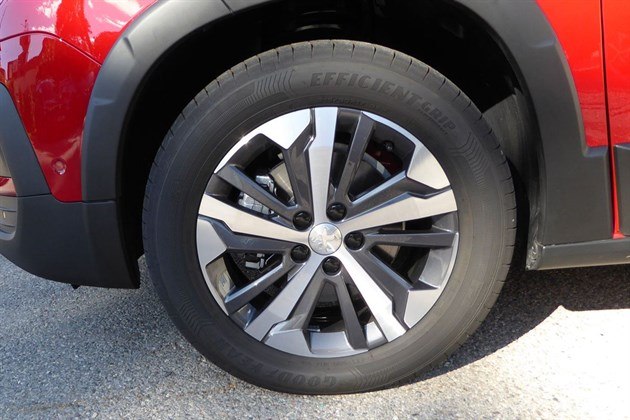 The chunky 215/60 R17 tyres absorb primary shocks, while decent suspension from the same EMP2 platform as the 3008 does the rest. How well it takes corners obviously depends on the weight of the torsos of the passengers. It's three inches taller than previous generation Peugeot Partners, so you look down on them and straight into the eyes of people in Range Rovers. Two up, though, despite eventual roll understeer, it handles properly and is good to drive. The gear ratios are well spaced for the torque of the engine so, though you have paddleshifters, you don't need them.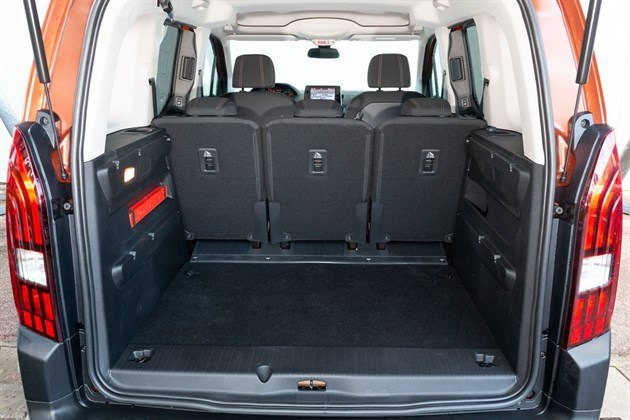 A low rear load sill makes it easy for small or ageing dogs to jump into the back, and, like the original Partner and Berlingo, the Rifter is ripe for Wheelchair Accessible Vehicle conversions. The optional 8-speed torque converter auto helps here, too.
A Rifter 1.2 PureTech 130 petrol EAT8 automatic will be arriving next year so should be even more effective than the Citroen C4 Space Tourer 1.2 PureTech 130 EAT6.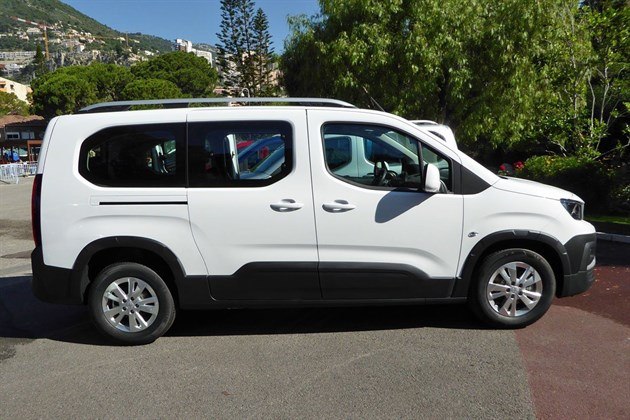 Eventually you will be able to buy a 'long' version with its extra length built both into the wheelbase and behind the rear wheels, giving space for seven inside as well as room for their luggage behind, which is non-existent in the 7-seat version of the standard length Rifter.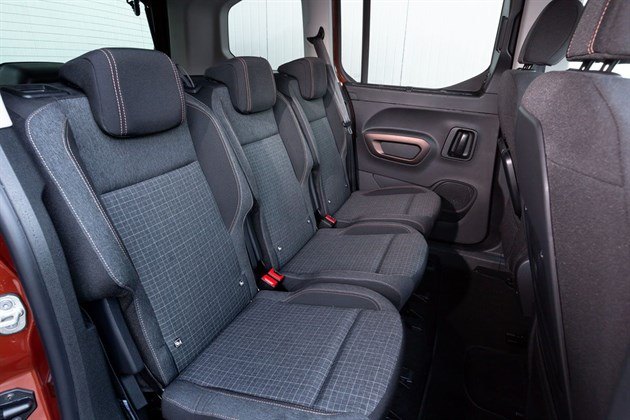 Practicality includes three separate full-sized centre row seats that fold into the floor and extends to a folding passenger seat that allows ladders and surfboards inside to a length of 2,700mm in the short version or 3,050mm in the long.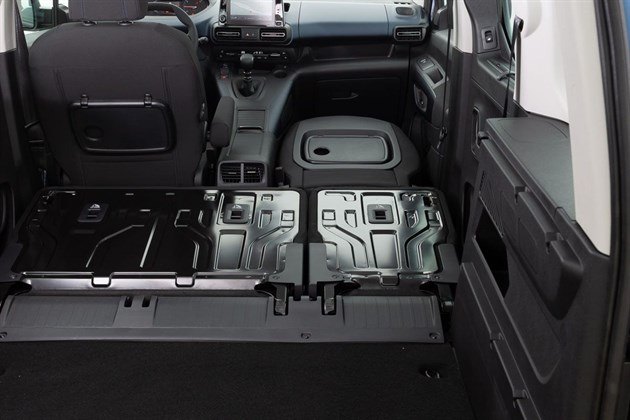 You can get optional Advanced Grip Control that combines a trick diff with 215/65 R16 Michelin Latitude Tour tyres and are likely to get you through most of what a British winter can throw at you.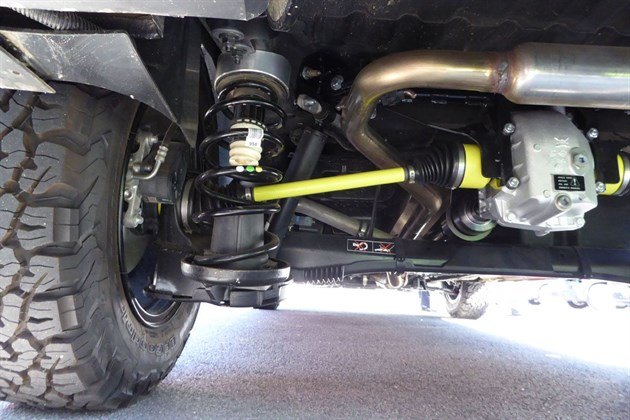 And if that isn't enough you can get a full 4WD Dangle conversion with big, chunky tyres and a significantly raised ride height. Perfect for  hauling guns over the moors on 12th August.
Before the Rifter you had a choice of a van or a much more luxurious MPV. The previous Peugeot Partner and Citroen Berlingo Multispace sat somewhere in-between.
But the Rifter offers all of the practicality of a high capacity van together with driving experience and luxuries of a very well equipped car.
Unfortunately to the Audi and SUV brigade, that message will fall on deaf ears.
More at Peugeot