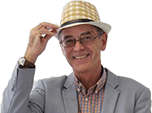 Peugeot 508SW 2019 Range Road Test

The 2019 Peugeot 508 SW enhances the theme established by its hatchback sibling. Great looking. Comfortable. Terrific to drive. Full of all the latest tech. And, for cynics of French cars, outstanding, almost unbelievable quality and refinement.
Peugeot said they wanted to rebuild their image: to become rated as makers of high quality cars to rival the Germans and the Japanese. And they have. They are even ahead of the game by a full year in WLTP emissions compliance. The hatchbacks are good looking cars. The SWs are sensational. Nothing else in the same class carries quite as much class.
The SW takes the qualities of the hatchback, adds greater rigidity and provides more headroom and loadspace in the back. A full 530 litres under the load cover and 1,780 litres with the seats down. That's possibly beaten slightly by one or two rivals. But nothing else manages to look anywhere near as good.
It's not just features like the gorgeous and distinctive lights front and rear, it's the sculpting of the sides, the elegance of the profile. We found ourselves comparing it to Volkswagens, Audis, Mercedes, BMWs: all good looking, but somehow rendered bland and unexciting in comparison. I don't usually blather on and on about styling, so enough said. I'll stop now and tell you about the interior.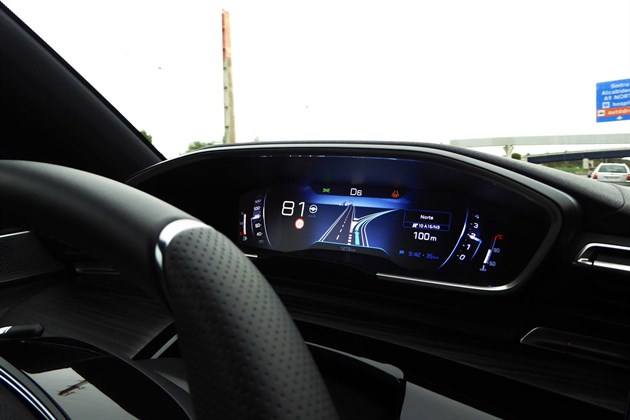 Like the hatchback, it's dominated by Peugeot's brilliantly ergonomic 'i-cockpit'. Small quartic steering wheel. Stunning information display seen over the top of it in the driver's line of sight. Big central 8-inch touch screen with a row of piano style keys underneath providing rapid access to essential functions. An 8-speed shifter, anthrompometrically designed so people with shorter legs and longer torsos can reach it as easily as those with longer legs and shorter torsos. It works simply, too. Stop at the lights and press P to put the brakes on. When you want to move off again, put your foot on the footbrake, squeeze the sides of the lever and shift back to D. No hassle. No blinding the driver behind with your stop-lights.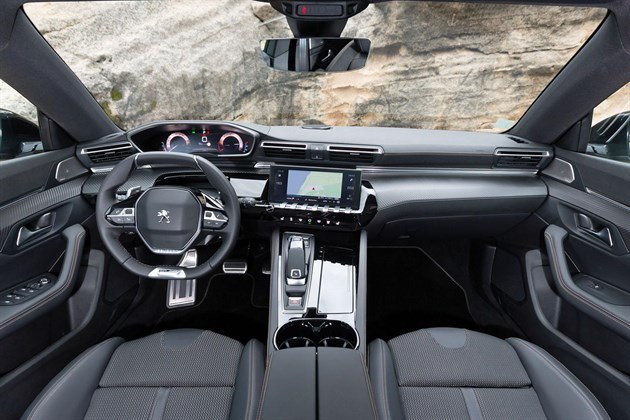 If you want to shift manually, select Sport or Manual in the drive modes and use the paddles. This is a torque converter auto, not a dual clutch jobbie. The shifts are smooth, quick and refined.
The ride quality is exceptional, despite low profile tyres on the test cars. Bumps are absorbed. No rattles. Super smooth. As you'd expect from an S-Class Mercedes, not a Peugeot.
We drove all three engine variations: the 1.5 litre 130PS HDI, a 2.0 litre 160HP HDI, a 1.6 litre 180PS Puretech, and a 1.5 litre 225PS Puretech.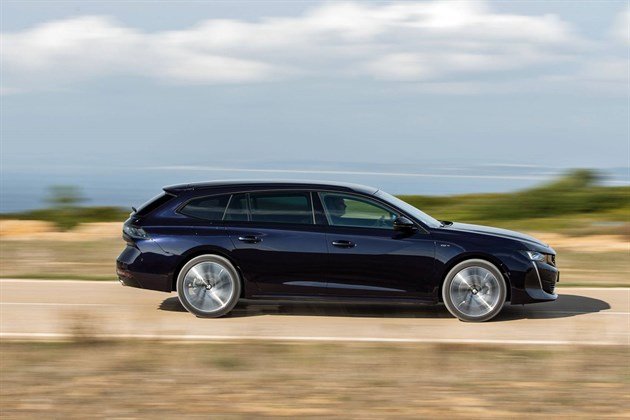 We had been impressed by the 130HDI in the hatchback, but it has a little more weight to haul along in the SW. No big problem for most drivers, though you might sometimes find yourself yearning for a little more torque. You get that: 400Nm of it in the supremely unstressed 160HDI.
If you prefer an altogether sportier feel, then you might have to opt for the 180 Puretech. And, if you want as much power as you'll ever need on UK roads, yet still with outstanding refinement, it'll have to be the 225 Puretech.
Trim combinations range from cloth to leather; various different dashboard trims including a driftwood effect and, on First Edition models, 'Zebrano' wood carried through to the load deck floor. Both front seats are height-adjustable with adjustable lumbar support. How much of that is electrical depends on the trim level.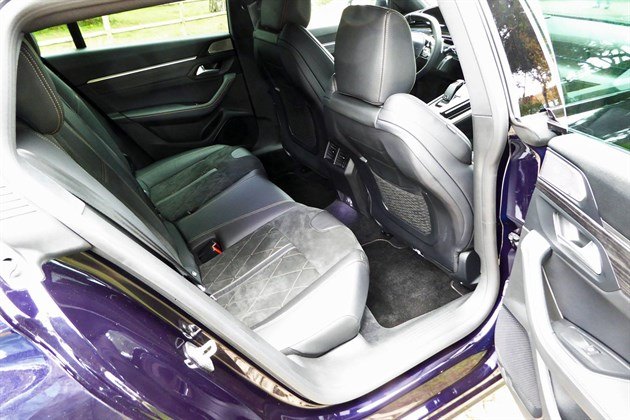 If partially sold by this eulogy, your next step should be to read the equipment levels on the following pages and decide how much you want to spend.
Flaws? The driver and front passenger seats are very low and could be awkward to get out of for the elderly (me). And the load cover of one of the cars sprung up on a speed hump to its loading position, but since this didn't happen with the other three cars it might not have been properly secured.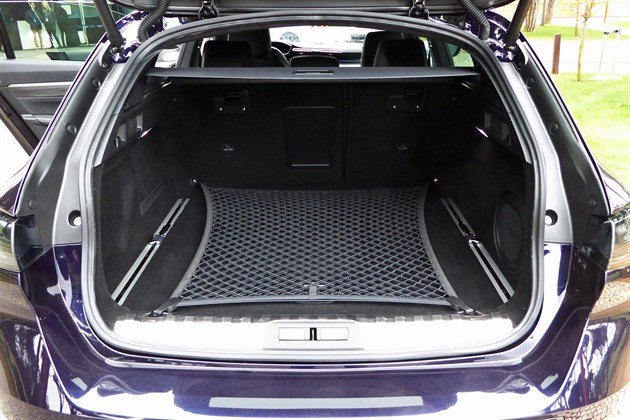 Most people will still follow the herd and go for an Audi A4 avant, a VW Passat estate, a C-Class estate, or a new model 3-Series Touring, There's no persuading them to try something different and distinctly rewarding.
But if this has made you even slightly interested in the Peugeot 508 SW, take a look at the Peugeot website, and at the 508s in Peugeot dealer's showrooms. Have a test drive. Preferably after driving the competitors. Decide if it's worth the wait until next summer.
You could find yourself surprised, delighted and convinced.
More at Peugeot