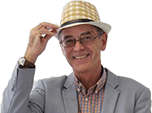 Peugeot 308 2017 Revamp Range Road Test

After being voted European Car the Year 2014, the Peugeot 308 has now reached another stage of continuous improvement. Having run a 308 1.2 PureTech 130 for a year and 12,000 enjoyable miles, averaging nearly 50mpg, I'm in the fan club. But even I was impressed by the latest developments.
The big news is three new EU6c engine developments, offering extremely low NOx and CO2 emissions from 82g/km diesel and 95g/km petrol. As well as that, there's a new 8-speed compact EAT8 automatic transmission jointly developed with Aisin in Japan. That gives 7% better fuel economy and is 2 kilos lighter than the EAT6.
EU6c itself requires cars to operate within 200% of the NEDC lab test fuel economy, CO2 and NOx emission levels in real life driving. Peugeot's new gasoline particulate filter brings this down to 150% in the 1.2 PureTech 130 and at the same time results in 4% better fuel economy.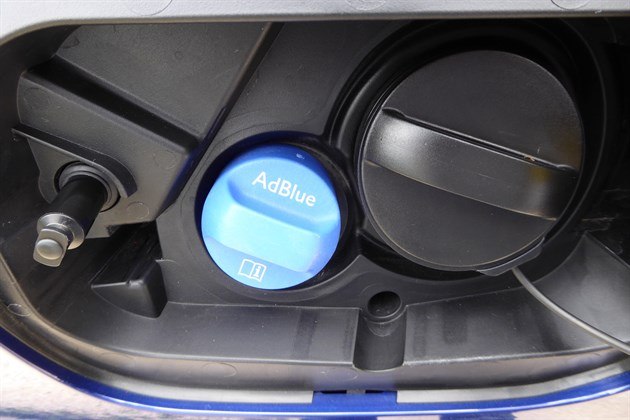 Diesels all now have a separate AdBlue filler under the fuel flap so that drivers can easily replenish AdBlue at a service station when the level starts to run low. Unfortunately, the AdBlue tank sits in the spare wheel well, leaving no room even for a space-saver.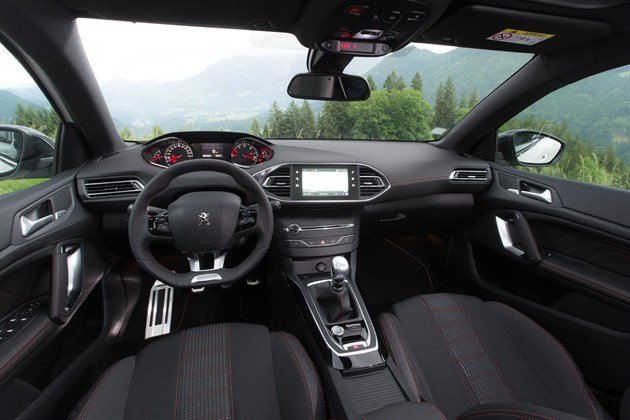 Cabin fit and finish is significantly improved, with i-cockpit connectivity and features first seen on the best-selling new 3008. And outside, all new 308s now come with rear daytime running lights as well front, making the cars more easily seen in all conditions and eliminating the problem of drivers mistakenly forgetting that DRLs at the front doesn't mean lights at the back.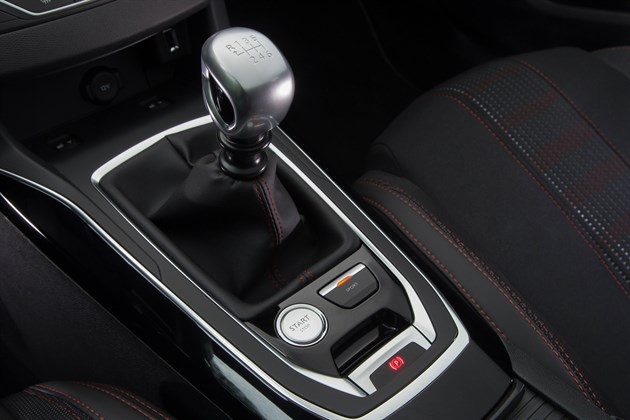 Elimination of a conventional handbrake has allowed Peugeot engineers to incorporate autonomous active safety braking, while a camera system linked to the cruise control can keep automatics to the posted limits if the driver so wishes.
We drove five different versions of the new 308.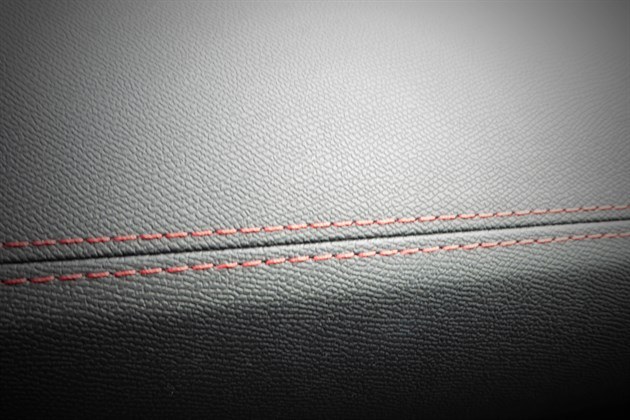 First, a 1.5 BlueHDI 130 SW manual in GT spec. This brings smart black cloth upholstery with red stitching and a Sport button that increases power at the same accelerator pedal position, engages an amusing display in front of the driver giving power, turbo boost and torque, and synthesises the exhaust note inside the car to a sportier tone without annoying anyone outside.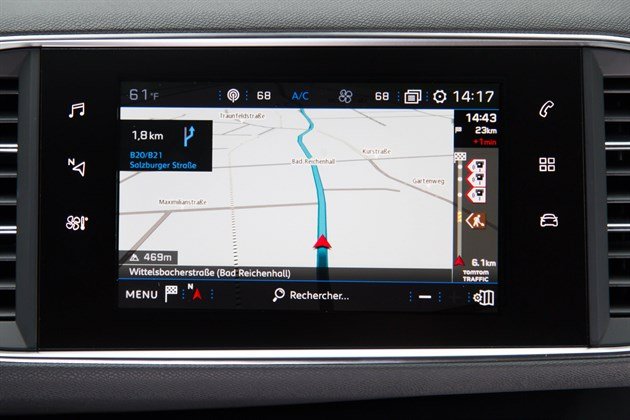 The excellent satnav is by TomTom with clear, accurate count down instructions that meant we never missed a turn.
There's no point in pretending that the new 16-valve 1,499cc engine makes it a sports car by any stretch of the imagination. It's still a diesel and you still run out of revs. But the level of front end grip, handling and roadholding on 225/45 R17 tyres is outstanding. All at no expense in ride comfort. Though most of the Bavarian mountain roads we were driving on were billiard table smooth, there were also some rough patches and they didn't cause any discomfort.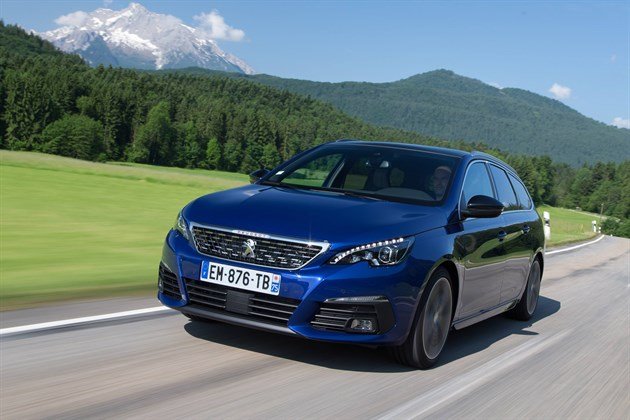 Worth noting here that this is a commodious station wagon. Its 2,000mm x 1,050mm load area compares well with the Skoda Octavia estate's 1,850mm x 1,020mm and the SEAT Leon ST's 1,870mm x 1,010mm. Flat folding rear seats too, so a level load area as well.
Next we drove the 308 2.0 BlueHDI 180 hatch with the new EAT8 automatic transmission. These were pre-production cars and we had a bit of trouble with the first of these sometimes refusing to release its electric parking brake and also bogging down occasionally on take-off and on corners. I have to mention it because it happened, but on our return we were quickly put into another 180 EAT8 that was completely fault free. In fact, the box changed so sensibly left to its own devices and held its gear through corners that it wasn't necessary to switch to manual and use the paddles. Doing this, in Sport mode, gave an even fruitier synthesised exhaust sound and 400Nm torque could be clearly seen coming up on the 'Dynamic' information display. We renamed this the 'Kimi' display in honour of Mr Raikonnen's frequent request to his pit crew for more power.
Another day, three more cars.
First, what we anticipated to be the dunce of the pack: a 1.2 PureTech 110 with 5-speed transmission. It turned out to be anything but, putting its modest power and torque onto the road to good effect and handling beautifully. Gearshift quality is vastly improved over the old PSA 5-speed slop-box. In GT spec, it, too, has a fun button giving sporty exhaust sounds inside while remaining as quiet as an ordinary car externally.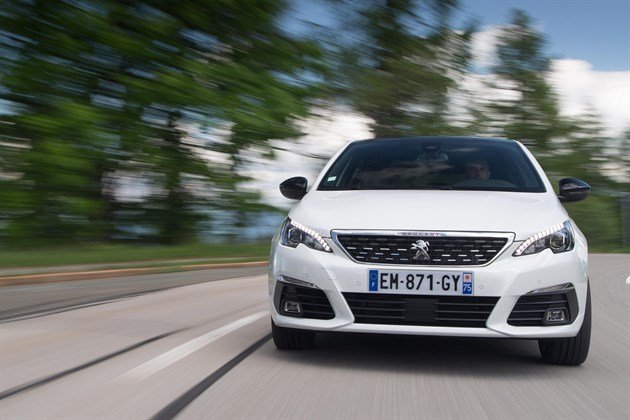 Then the Beastie Boy of the pack: the 1.6 PureTech 205. This had the revs to be more fun than the 2.0 BlueHDI 180, but not the torque, so it wasn't much quicker, but on 225/40 R18 tyres it hung on to the curves like Ed Balls did to his Strictly Come Dancing partner. 
Lastly, one I'd missed earlier that has all the new trimmings but hasn't been significantly improved under the bonnet. That'll be the 1.2 PureTech 130 EAT6 automatic SW GT. This is all the car I think I would ever need. Gutsy, economical engine, brilliantly matched to the EAT6 transmission. Paddles if I want to use them. Rorty engine sounds as required. And the same stunning handling and roadholding, this time on 225/45 R17s.
So Peugeot has done the job. VAG fans would never accept that the 308 beats the A3, Golf, Leon and Octavia. Yet, on the basis of our feedback, reliability of the 308 is better. And, given a decent chance to actually drive the new 308, at least some VAG enthusiasts could change their minds.
More at Peugeot