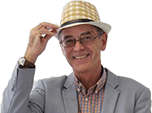 Peugeot 208 2012 Launch Road Test

The Peugeot 208 is the 6th incarnation of Peugeot's small, front wheel drive car.
We'd had the 203 and the 204, which hadn't been bad.
Then, 18 years ago, Peugeot's 205 showed the way a small car could be designed.
It was small, light, space efficient, agile, fun to drive and one of the first cars with a plastic front and back to eliminate rust traps.
The similar looking Ford Fiesta that followed was a very poor copy.
But since 205 days, the huge sales success of the Peugeot 206, (of which more than 7 million were sold) was not matched by the character of the car. And, while the 207 managed to recapture a bit of the magic of the 205, it was hardly a groundbreaker.
So now Peugeot has dumped the design and come up with an entirely new 208.
Smaller outside, bigger inside, lighter, more fuel efficient, with the promise of putting some Peugeot fun back into driving.
There are two all new 3 cylinder petrol engines, the smallest of which cracks the 100g/km CO2 barrier and comes in VED free. Maximum torque is developed at a low 3,000rpm encouraging drivers not to rev the nuts off the thing and making eco driving feasible. Its bigger brother, the 1.2, finds its peak torque even lower in the rev range at 2,750rpm, so in real life cut and thrust driving might actually prove to be more economical. But at 104g/km you're going to have to find £20 a year to tax it.
Top petrol engine is our old friend the THP 156, as found under the bonnet of the Citroen DS3 and promising 0-60 in 7 seconds, which is better even than a 205 1.9GTI. Treat it more gently and 50mpg should be regularly achievable.
Oil burners are reworked versions of as before. But pulling the lightweight body of the 208, all come in under 100g/km so are annual tax-free. The more powerful diesels adopt stop start to achieve this.
The headline figure of 87g/km CO2 is achieved by a 68HP 1.4 HDI with stop start, but a glimpse at the 0-60 figure of 15.9 seconds tends to indicate it could he hard work to drive.
On the launch, we got to drive a 1.6 VTI 120PS, a 1.6HDI 115 and, at the end of the day, the new 1.2 3-cylinder petrol. Apparently they had not made any of the 1.0 three poppers yet.
The cockpit is interesting. You look over the small steering wheel at the instruments, rather than through it, and there's a digital speed display as well as a dial.
But where Peugeot moves into the Apple age is with a large, centre dash, very easily reached touch screen that works like an i-phone or an i-pad.
And no need for techno-phobes to be scared. It's extremely easy and intuitive to use.
Sensibly, there's a volume knob for the sound and a menu button to bring up the main menus. £400 adds sat nav and a range of Peugeot apps, such as Michelin Red Guide, Michelin Green Guide, Michelin traffic information and the location of the nearest service station. I predict this is going to be very popular indeed.
To drive, out on the road, it's no 205 reincarnation. Even the 207 feels sharper. The braking and steering inputs feel somehow disjointed, making it difficult to drive both quickly and smoothly. But these were very much pre-production cars and it could be that Peugeot still has a few bugs to iron out. R56 MINI Coopers felt similarly strange on the launch, but were fixed by the time they went into production.
The 120PS 1.6VTi is as disappointing as it was in the 207 and 207SW. It just doesn't feel as if it has 120PS and it completely lacks any character. So step forward the splendid 1.6 eHDI 115 diesel that's basically the same motor that hauls my huge Mazda 5 along. It the lightweight 208 it feels even livelier, pulling from 1,000rpm. With the promise of over 60mpg as well as 99g/km CO2, that's the engine of choice between these two.
The characterful 3 cylinder 1.2VTi has lots of clever features, like a close coupled cat converter where the exhaust manifold would normally be, and a timing belt that, like Ford's 1.0 Ecoboost, runs in a bath of oil.
It drives fine, if a little noisily. But show it some bends and that same feeling of disjointedness between the steering, accelerator and brakes makes it hard to drive tidily.
Again, these were pre-production cars and the rough edges will hopefully be smoothed off by the time 208s reach UK Peugeot showrooms in June.
Let's just hope George Osborne doesn't have a fit when he realises that most of the 208 range is going to be entirely tax free.
More at Peugeot