Peugeot 208 1.6 BlueHDi 2015 Road Test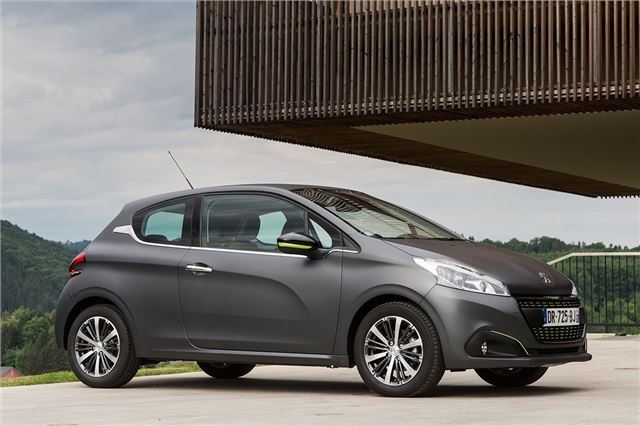 The updated Peugeot 208 is available with the most economical internal combustion engine on sale. That's quite an impressive claim to fame - and it's the biggest change to the revised model. Other tweaks include redesigned bumpers and lights, along with new paint finishes and some up-to-date safety technlogy. But it's under the bonnet where the really important work has been done. 
There is a new 110PS petrol, but it's the 1.6-litre diesel that has headline-grabbing figures. In 75PS form with stop/start it has a barely-believable official fuel consumption figure of 94.2mpg, with emissions of 79g/km. What's more, Peugeot used this engine to set a fuel economy record, averaging 141mpg over 1337 miles and one tank of diesel.
Impressive though that is, the car was travelling on a circular circuit at a constant speed of around 30mph - so you're unlikely to come close in real world driving. Even so it should prove tremendously frugal, plus it's good on the road. With 230Nm of torque on tap from 1750rpm, there is ample overtaking performance and it's quiet at a cruise. The BlueHDi is also offered with 100PS and 125PS, which are better options for long distance drivers.
Efficient though the BlueHDi is, you shouldn't overlook the new 1.2-litre three-cylinder PureTech petrol engine, which produces 110PS, emits 103g/km of CO2 and has official economy of 62.8mpg. With 205Nm of torque available from 1500rpm it's almost as flexible on the road as the diesel, plus it is available with a new EAT6 automatic gearbox.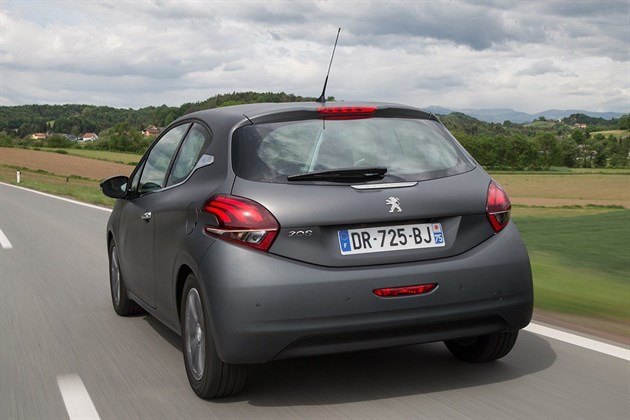 This six-speed automatic has no penalty when it comes to efficiency and only pushes up emissions by 1g/km. For stop and go town driving it's probably better than the manual, thanks to its smooth gear changes and responsive kick down – it's only let down by the ugly, old-fashioned gear selector which looks out of place in the modern cabin.
Peugeot hasn't changed the suspension or chassis of the 208 in any way, but it didn't really need to. There is a good balance between ride quality and safe handling, while the steering is accurate and nicely weighted. Unfortunately over more broken surfaces the ride does get a little unsettled, thudding and jiggling over potholes and bumps.
This is only a problem on the very worst of roads, though. In town there's nothing to fault - the 208 is right at home thanks to light controls and its tiny steering wheel, which makes tight turns not only easy but quite a lot of fun. The wheel is unusual at first sight – you look over it at the instruments rather than through it – but it takes no time to get used to.
The rest of the cabin layout is conventional yet neat and uncluttered.  If it wasn't for a few disappointingly shiny and cheap looking plastics here and there the 208 would feel very upmarket. This is partly down to a large touchscreen system offered on all but base spec models. It works fairly well most of the time, but we did experience a few freezes and hiccups on our test drive.
The functionality of the touchscreen can be expanded to include navigation and a reversing camera, but this costs extra. In fact there are plenty of extras on offer which can add hundreds to the list price, including leather upholstery, automatic parking plus collision mitigating braking, which can reduce the force of impact in low speed shunts or prevent them entirely.
Peugeot has expanded the range of customisation options, most notably with a new matt finish textured paint. It looks good in the metal (if you like that kind of thing) and is easier to care for than traditional matt paint or vinyl wraps. It is expensive at £645 but it really stands out, especially when paired with new white or green exterior personalisation packs.
The 208 is available in three and five-door body styles, the latter of which is more practical for a family. There is room in the back for adults in the three door, though obviously access is more restricted. Boot space is about average for the class at 285 litres – similar to a Vauxhall Corsa or Ford Fiesta - and the load area is a sensible, user-friendly shape. It's only let down by a high load lip, which would get in the way when unloading heavy items. 
The updated Peugeot 208 includes all the features most buyers want. It's stylish, easy to drive and should offer low running costs, thanks to impressive efficiency and Peugeot's competitive Just Add Fuel finance deals. If you're a keen driver the Ford Fiesta offers a better drive, while the Citroen DS3 has more customisation options - but there's plenty to like about Peugeot's most popular model.
The facelifted Peugeot 208 is on sale now.