Peugeot 208 1.2 PureTech 130 2019 Road Test
Nothing sums up Peugeot's transformation in recent years better than the new 208. It's a fashionable choice with stylish looks, a trendy interior and generous levels of standard equipment. While high-spec models like the GT Line model tested here are appealing, more affordable offerings are just as easy to recommend with prices starting at £16,250.
Peugeot is selling the new 208 with an engine to suit everyone - including diesel, petrol, and even electric options. The petrols are expected to make up the majority of sales, so it's the most powerful 1.2-litre 130PS model we're testing here. It might not be the choice for you if you're after outright refinement as it's quite a vocal three-cylinder unit, but it's characterful and packs plenty of punch.
The 130 engine is only available with an eight-speed auto which is one of the slickest automatic gearboxes on the market and, going by its use in other Peugeot models, should be a reliable choice. The mid-range (and likely most popular) 100PS version is available with a six-speed manual or eight-speed automatic gearbox, while the entry-level 75PS engine comes with a five-speed manual gearbox.
We've also driven the entry-level 75PS model and were surprised at what an eager little engine it is. That said, it's worth spending extra for one of the more powerful versions if you cover lots of motorway miles (if only for the extra gears) but don't dismiss the cheapest engine. It's peppy and fun, with plenty of performance for driving through city centres.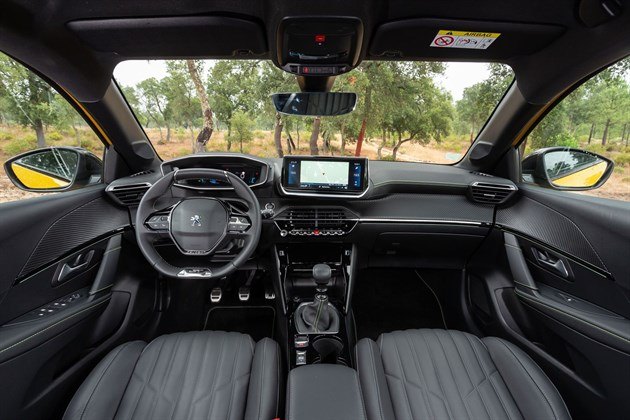 Whichever engine you choose, the steering is light, which is great for darting around town. It doesn't feel as sporty as a Ford Fiesta but it handles fairly well, remaining pretty flat and composed during high-speed cornering. The downside is the suspension, which is noticeably firmer than in-house rival, the Citroen C3. It's acceptable - just about - but you'll find yourself swerving to avoid potholes, especially in the GT Line model with its 17-inch wheels.
The interior of our high-spec test car feels just as upmarket as bigger and more expensive Peugeot models like the 508 and 3008. Not everyone will like the small steering wheel which will block the new 3D i-Cockpit instrument cluster if you don't set up the seating position just right. Said instrument panel is an acquired taste - we see how it adds to the modern feel of the cabin, but it makes our eyes feel a bit funny. What's wrong with conventional dials?
Another gripe - and it wouldn't be a review of a modern Peugeot if we didn't mention this - is the infotainment system. It's a clear enough screen although awkward (and a bit slow) to navigate, and having to go into menus just to adjust the climate control is infuriating. At least Android Auto and Apple CarPlay are standard across the range, allowing you to access your phone's features on the move.
Practicality wise, the 208 scores reasonably well. It's easy enough to get comfortable in the front, although we did bang our knee on the wide centre console a few times. There's a 311-litre boot which is pretty good for a small hatchback, although there's quite a lip for hoisting heavy items over. Dropping the rear seats is simple enough if you do need more space.
There's space in the rear for children and access is easy thanks to the wide-opening rear doors (there's no three-door model available), although adults will find it a little cramped for long journeys - not surprising for a car of this size.
It's worth noting, too, that the Peugeot 208 has just missed out on a five-star Euro NCAP rating, partly because of a missing head restraint on the centre seat on some trim levels and because some child seats won't comfortably fit in the rear. These are unlikely to be deal-breakers in a car of this size, though, and teenagers with power-hungry smartphones will be happy as there are two USB outputs in the back.
In terms of running costs, the Peugeot 208 should be very affordable day-to-day. Officially the PureTech 130 will return 46.0-51.9mpg while the lower-powered engines with manual gearboxes are marginally more efficient. Going by Real MPG reports of previous models, you shouldn't be far off seeing that. Insurance should be fairly cheap, too, while our Satisfaction Index suggests Peugeot owners are a happier bunch than they used to be.
With its stylish looks and superb interior, we think the Peugeot 208 is a car that will sell itself as soon as potential buyers enter showrooms. It's not perfect - the infotainment system is frustrating, there are more practical choices available and some will prefer how the Ford Fiesta drives - but it's a car that'll appeal to both head and heart. 
The Peugeot 208 is on sale now with deliveries expected from early 2020. Prices start at £16,250.