Peugeot 207GT THP 150 2006 Road Test
Thu, 16 Nov 2006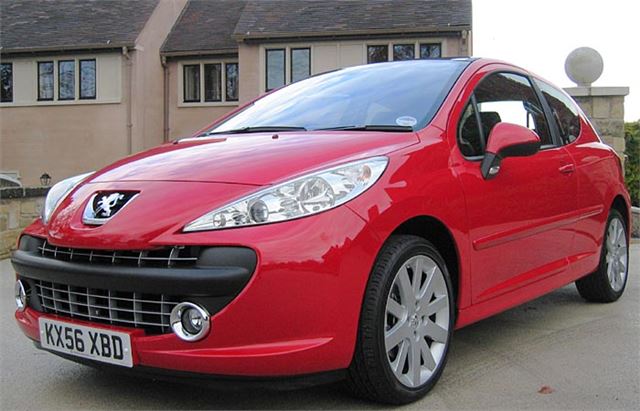 Peugeot has done it again. I loved the 205GTI and the 306GTI. I reckon they got close with the 206 GT HDI 110. And I could see the potential in the 207 from the way the lesser models handled. But now, hats off to them. They've come up with sharpest, grippiest front end with the most accurate and informative steering on any current small car. And, unlike the 205GTI, the new Peugeot 207 GT won't swap ends on you.
It's not tail happy at all. And even when the front end finally starts to let go it tells you exactly what it's doing and leaves you firmly in control.

Not only that, it's comfortable, it rides well, it's fuel efficient (40.3mpg), and it has a water-cooled turbo so you don't have to worry too much about idling before you switch off.

The engine is the same chain-cam 1.6 as used in the 2007 MINI Cooper and Cooper S. But in the 207GT it only puts out 150bhp at 5,800rpm and has a mere five gears in its box.

But the ace up its sleeve is strong torque of 240Nm from just 1,400rpm. This is achieved by means of twinning the exhaust manifold so the flow of gases "scroll" and start to provide turbo boost from just 1,000rpm. So it's not only punchy, it's incredibly flexible and pleasant to drive, like the BMW 335i, the Volvo S30 T5, and the Golf 1.4TSI and GTi 2.0T, and, of course, the 2007 MINI Cooper S.

The 207 GT has electronic ESP. You can switch it off to stop it preventing you getting any grip at all in snow. However, it automatically comes back in again at 35mph so unless you find a way of disconnecting it altogether you're stuck with it.

No point in doing that, though. It's very friendly, very helpful and also unobtrusive. Driving quickly you can push the car to move the front as much as you would ever wish before you sort things out. And it even makes you think you are being brilliantly skilful when the truth is the ESP is watching over you like a benign guardian angel. You can have as much fun as a mere mortal ever really wants to. And you would have to be remarkably stupid to get yourself into trouble with this car. The test route threw mud, rain-soaked roads and wet leaves in the car's path and it took all of it in its stride.

I enjoyed myself. I went as quickly as I wanted to (and actually worried a bit about how quick). And never put myself, or, more importantly, anyone else, in any danger, despite how it might have seemed to them. I really liked this car. So much, I hope to long-term one in 2007. If I can enjoy a car as much as this and still get 37 – 40mpg, I'll be very happy.

Later there will be a 207GTI with the full 175bhp of the Cooper S, but that's no reason to dismiss the GT150. The 205GTI 1.6 was always better balanced than the more powerful 1.9.

Suddenly the 2007 MINI Cooper has some real competition. The MINI has the looks, for sure and will be a huge success. But anyone looking for real driving fun will get more of it and feel much more confident in a 207GT.
Peugeot 207GT THP 150 Long Term Test 1
Peugeot 207GT THP 150 Long Term test 2