Peugeot 207 2006 Launch Road Test
Wed, 03 May 2006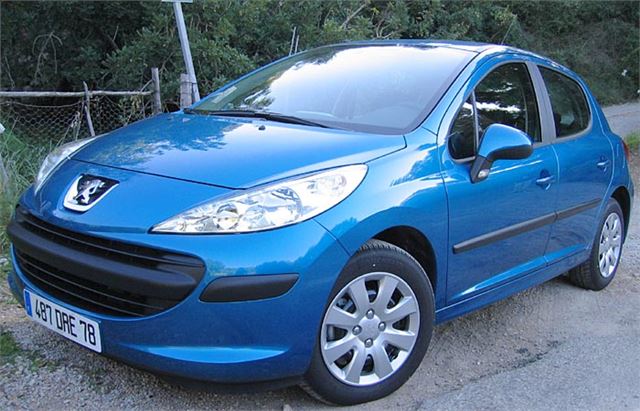 The Peugeot 207 has a big job to do. It has to follow Peugeot's best selling cars ever: the 206 and the 205. It has to be loved. Being bigger than a 206 (actually the same size as the old 306), it has to sell for more money. And it has to win hearts and minds of buyers who might otherwise have plumped for the new Clio.

There's no bargain basement 207. Though prices weren't set at the launch they later came in at "from £8,995", which is £1,500 more than the cheapest FUIAT Grande Punto. If you want a 'Two O' for less, the 206 will continue alongside for a while, like the 205 did after the launch of the 106.

At least you get a lot for your money in the base model 207. Dubbed the 'Urban' it comes equipped with unexpected kit like a switchable passenger airbag, side airbags, remote control central locking with deadlocks, three rear 3-point seatbelts with outer belt force limiters and a comfortable centre rear seat with adequate headroom.

You'll also get for your £8,500 a 1.4 litre 75bhp petrol engine, electric front window (driver's one-touch), split-folding 60/40 rear seats, three adjustable rear head restraints which disappear onto the seat-backs, a steering wheel adjustable for reach and rake, a stereo radio CD player, both driver and passenger seat height adjusters, ABS with EBD and EBA, a really nice, solid upper dash in non-reflective black, 15" steel wheels and trims with 185/65 R15 tyres, and a full-size spare.

And funnily enough the 1.4 petrol is the peach of the range. The engine itself is sweet as a nut; willing and free-revving. The gear ratios are well chosen. While the steering, ride and handling are spot on. It turns into corners well, grips like a homophobe's handshake, and puts a smile on your face.

With a height and reach adjustable steering wheel and height adjustable seats for both driver and passenger, everyone in the front can get comfortable. But some drivers will find the top of the steering wheel obscuring the top of the instruments when it's in the ideal driving position. Ride quality is excellent and even deliberately putting a wheel in a pothole hardly upset it at all.

The 110bhp 1.6 is a lot faster, of course. But that doesn't actually make it more fun, just faster fun. And you may occasionally find yourself hitting the rev limiter in 3rd, as we did on at least one occasion. Push it really hard and the electronics will finally wag their finger at you and put an end to the stupidity before any harm is done. But they are so far from rotten old spoilsports in the way the do this that you won't find yourself looking for the ESP 'Off' button.

In contrast, the two diesels we drove were mildly disappointing. This 110bhp 1.6 16v HDI would normally be my engine of choice because it's the most undiesel-like diesel I know. It revs to just under 5,000, which is further than most petrol car drivers ever go, and makes the 1.6 16v 206 HDI by far the most fun car in the 206 range. But the two engines were simply to young and too tight to joyfully release the power and torque they will later be capable of delivering. So, though they had more punch uphill than the 1.6 petrol, and on paper offer a slightly quicker 0 – 60, the diesels just weren't yet lively enough to offer the fun factor of the petrol engines.

They will eventually, though. Once they're properly run-in. And with nearly 30mph per 1,000 rpm in 5th will be a lot more restful and a lot more economical on motorways.

However, the conclusion about the 207 is where I began. You'll probably be able to pay around £13,000 for a 1.6 HDI 110 GT on 17" wheels with 205/45 tyres. But pay £8,500 for a 1.4 Urban and you'll easily have just as much fun.