Nissan Qashqai dCi 130 2017 Road Test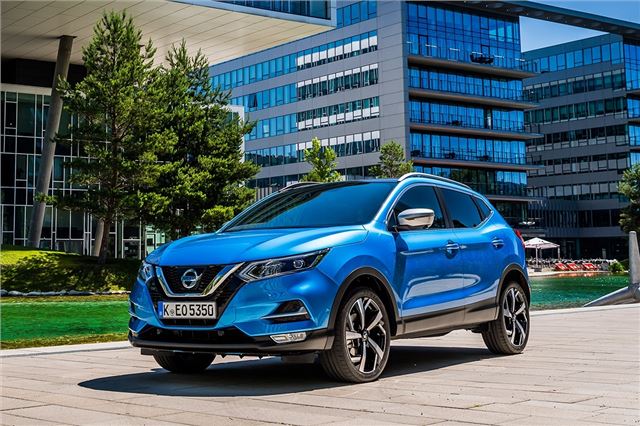 The Nissan Qashqai is Britain's favourite crossover. However, with every carmaker rushing to add a 4x4 or SUV to its ranks, Nissan has decided to sharpen the Qashqai's appeal, with a mid-life spruce up. This means 2017 crossover it gets more style, more tech and better refinement. 
It's not the usual, subtle change most car makers seem to make either. The new grille and lights make the updated model look quite a lot different to the outgoing car. But it's actually inside where the most important and obvious changes have been made, with improved materials, new seats and a new steering wheel.
Bizarrely, for a change that sounds very small and subtle, the new steering wheel makes a huge difference. It looks far more upmarket than the old one, plus it feels better to the touch and has a much more intuitive button layout for controlling things like volume or cruise control. Alongside a few other little tweaks to material quality and layout, it really lifts the cabin ambience.
Nissan has made a whole load of changes that can't be seen too, with lots of additional soundproofing and some aerodynamic tweaks, including little fins underneath the front of the car, to reduce the amount of wind noise. On the motorway there's very little noise full stop - roar from the tyres is well suppressed and engine noise is, on the whole, kept to a minimum unless you push the engine hard.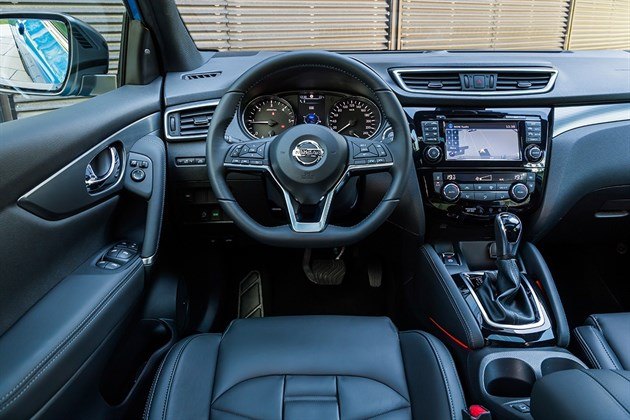 #
We tested the 130PS 1.6-litre dCi diesel and it remains a weak point for the Qashqai. It might be fairly quiet, but it lacks the low-down smoothness and punch of, for example, the 150PS 2.0-litre TDI diesel in the SEAT Ateca. Consequently, you have to work the gearbox a little harder than you might expect for a diesel engine, which is disappointing – though official economy is impressive at 64.2mpg.
There is also a 1.5-litre dCi 110 and a 1.6-litre petrol with 163PS – but the dCi 130 is the best choice for family car buyers. There are no real complaints about the rest of the driving experience - comfort is great, with impressive ride quality and supportive seats. Around town the Qashqai is as easy to drive as a hatchback, plus it copes well on country roads, with plenty of traction and light but accurate steering.
It isn't as fun to drive as a Mazda CX-5 or a SEAT Ateca though. Both provide an involving driving experience with more feedback from the steering and suspension. The Qashqai, on the other hand, just gets on with things in an unflustered, capable sort of way. For a lot of drivers, that's a point in its favour, rather than a flaw – but driving enthusiasts should look elsewhere.
If you're not a pro at parking, Nissan's 360 around-view camera system is a fantastic bit of kit that comes as standard from mid-grade N-Connecta upwards. It uses several cameras to provide a virtual birds-eye view of the car, so slotting it into tight spaces or garages and avoiding low, out-of-view bollards becomes effortlessly simple.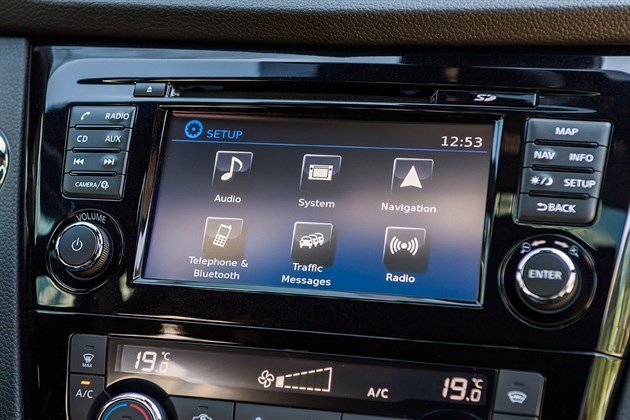 That's not the only handy technology on offer. Go for one of the top Tekna models and you'll get rear cross traffic alert, blind sport warning, alertness monitoring and park assist that will automatically steer the car into spaces. Come 2018, Nissan will start fitting the Qashqai with a semi-autonomous driving system, designed to make motorway journeys much more relaxed.
Nissan hasn't made any big changes in terms of practicality, but it didn't really need to. If you have kids, the Qashqai is very user-friendly, with easy access to the back row and plenty of space. Getting child seats in and out is straightforward, plus the boot is a good size and shape, with its 430 litres of capacity more than enough for a pushchair and some shopping.  
As before, there's a clever reversible false floor with one carpeted side and one covered in rugged plastic. That's handy if you have muddy garden waste or a dirty dog to carry around, since it wipes clean. If you have a bigger family then the X-Trail delivers a similar sort of experience, but with more interior space, a bigger boot and the option of seven seats.
The Qashqai has always been a great choice of family crossover and the latest tweaks reinforce that. But despite being excellent, the Qashqai still isn't quite as plush as a Volkswagen Tiguan, nor as good to drive as a SEAT Ateca. So, while it's still one of the best crossovers around, we can no longer say it's top of the class - even with the latest improvements.