Nissan Juke 1.0 DIG-T 2019 Road Test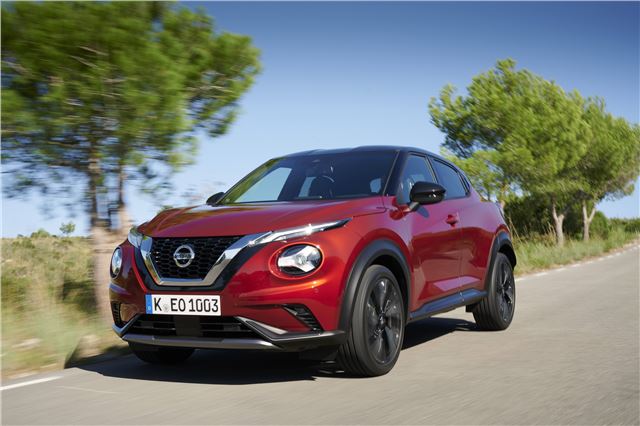 Alright, you know the stuff about the Nissan Juke by now. Started the whole compact crossover thing back in 2010, cheap interior, stupid looks, cramped, very badly packaged and inexplicably popular. 
To get to the obvious right off the bat, this one's better. Much, much better. Phew. Nissan identified three key ways that the first Juke was bad and has focused mainly on addressing those issues. 
Firstly, space. The Juke didn't have much at all. Now it does. Shown up these days by every subsequent compact crossover for practicality, the Juke now packs a 20 per cent bigger boot (422 litres large) and exactly 5.8cm more rear leg space. Those numbers don't sound like much but the bump is transformative – the twin-floor trunk has gone from the proverbial single berth tent to a marquee, while there's proper six-footer space beyond the rear doors. So far, so reasonable. 
The second issue was interior quality. And it's another significant improvement over the woefully plasticky and clumsily designed interior of the outgoing car. Again, whether this is a class-leading cabin is debatable, set against the neat sponginess of the Big VAG stuff (Arona, T-Cross, Kamiq), or even the fun of the Citroen C3 Aircross, but it's very nice. The basics of a highly adjustable driving position (a first for a Juke) and good visibility (the A-pillars are especially thin) are sorted. And the cleverly positioned swathe of soft-touch fabric stretching horizontally across the dash at least gives the illusion of quality.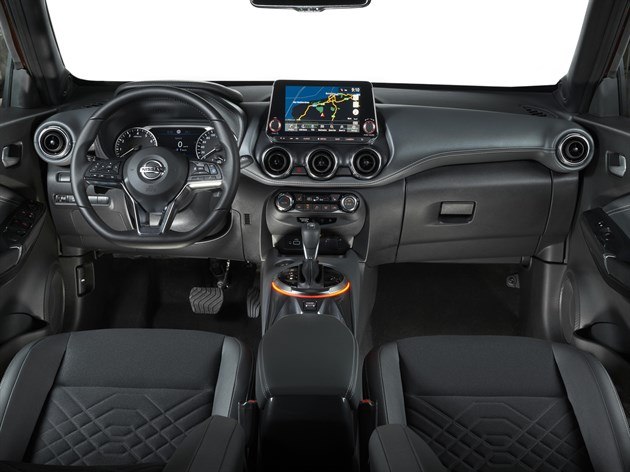 Plenty of interior storage too. Nothing groundbreaking, but you'll get your big eco-friendly bottle-for-life into the door pocket and a load of stuff into the notably deep glove box too. Things are getting better. This is going well. 
Until we reach the third thing. The drivetrain. Nissan all-but admitted that the Juke's 115PS 1.6 petrol engine was inadequate, and anyone with ears will attest to the aural agony of a Juke with a CVT automatic. And so now we get a 1.0 three-cylinder turbo with a tiny bit more power and torque (117PS and 180Nm), a seven-speed twin-clutch automatic gearbox and both driving a car that's a little lighter. In theory this is win-win-win: quicker, more economical and – bonus – much more character. Officially it'll return fuel economy of 45.6mpg and emit 118g/km CO2. 
It's the only engine you can have with your Juke for the foreseeable, too – there'll never be a diesel, and even though there probably will be both NISMO and hybrid versions of this (and possibly even fully electric) none of that is confirmed. Alas, when paired together this engine feels underwhelming and the gearbox sluggish. It's as though both have had their natural character engineered out: no snappy twin-clutch shifting and no three-cylinder mid range urge or distinctive growl.
This engine simply doesn't need seven ratios, and aside from the dopey nature of the gearchanges and lethargic throttle response, the main issue is that the gearbox always wants to put the engine into the higher end of the rev range where it's long since run out of puff. The result is noise and a frustrating lack of pace. For that reason the standard six-ratio manual gearbox is a much better bet, because it strangely makes the very same engine feel more powerful by allowing you to keep it away from the redline, and instead in the power band (such as it is) lower down. 
Either way the Juke's solitary engine feels like it could do with a few more horsepower, although it's probably fair to say that few buyers will be overly concerned about a power deficit; Nissan readily admits that the need for relatively low CO2 emissions pegged power in this case. And, to be fair, it's a decent enough engine – the auto gearbox is too, assuming all it's being asked to manage is a very light right foot. 
On that basis it's mostly very refined too, presenting very little engine noise and with ride quality that the more sensitive backside might occasionally construe on the firm side – as ever, bigger wheels are an issue, albeit an avoidable one – but is largely supple enough. Comfy, in fact. We'll have to caveat that for now though because of the glassy smooth Barcelona roads we've driven the car on.
Similarly we'll also reserve proper judgement on the noticeably high amount of wind noise bursting the refinement bubble at anything over 40mph. According to Nissan the cars we drove are pre-production and showroom models will have their door seals improved to address the issue. Time will tell – the pre-prod thing is the oldest excuse in the book, and given the noise seems largely generated by the Juke's MASSIVE wing mirrors, we're not sure new seals will eradicate the problem anyway. Hey ho, it's all perfectly adequate regardless. 
And therein lies the Juke's problem, if it has really one. Nissan has done enough to make this an easily justified purchase, sure – it's bigish, comfyish, and stylish…ish. It'll probably sell in bucket loads, again, and repeat customers especially will enjoy a far more agreeable experience. Sadly, having created the genre itself, the Juke no longer claims any USP: Nissan has scraped off the aesthetic Marmite and served up plain butter on white toast. Nothing much wrong with that, but also nothing to tingle the cerebrum in any way now.
The Nissan Juke is available to order now with prices starting from £17,400