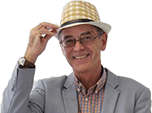 Mitsubishi Shogun Sport 2018 Road Test

The Mitsubishi Shogun Sport has returned to the UK to compete against other tough, 7-seat, ladder framed, off-road 4x4 SUVs with high towing weights. It's up against the new Ssangyong Rexton and, Toyota Landcruiser LC. And, to a lesser extent, the KIA Sorento and Hyundai Santa Fe that don't have its off road and towing credentials. At £47,000 plus, the LandRover Discovery, Audi Q7 and new VW Touareg have priced themselves out of this market.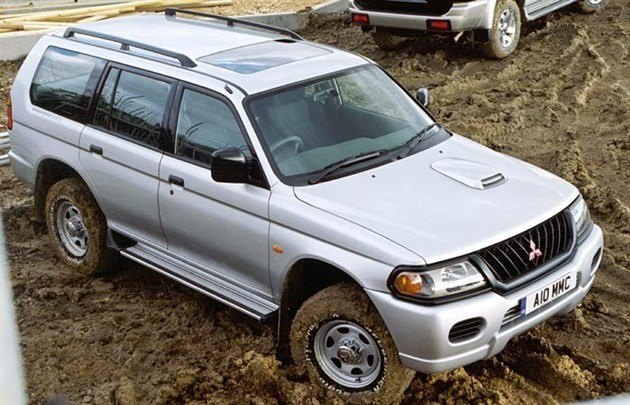 Some of us will remember the original L200 pick-up based Shogun Sport that has actually lasted very well. Of 18,500 sold in the UK between year 2000 and 2007, 12,000 are still on the road.
This doesn't surprise me at all because back in 2005 I visited the factory at Laem Chabang on Thailand's Eastern Seaboard and was very impressed with the heavy-duty robustness of the suspension. Every 4WD went through an extensive laser alignment at all potential axle articulations and that's why my brother, who didn't exactly hang about, got 55,000 miles out of a set of tyres on his L200.
The new Mitsubishi Shogun Sport takes these vehicles a step further. Like the similarly pick-up based Ford Everest, Chevrolet Trailblazer, Isuzu MU-X and Toyota Fortuner, rear leaf springs have been ditched in favour of a coil sprung, multi-link rear axle. Not as sophisticated as a Discovery, Q7 or Touareg, but effective and a lot tougher.
Ride quality and handling on the road are not up to Discovery standards, obviously, but, once you get used to the Shogun Sport you accept it for what it is. Selecting 4H puts it into automatic high range 4 wheel drive and paddle shifting the 8-speed box gives reasonable cornering speeds without any drama.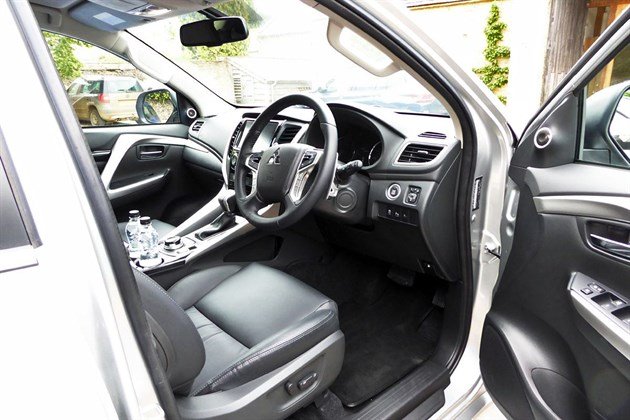 One disappointment is no standard factory-fitted Tom Tom, Garmin or even Samsung satnav. Instead you have to rely on a Smartphone App via Apple CarPlay or Android Auto which would be more acceptable if the screen wasn't so small and relatively dim. If the sun catches it the wrong way you can't see it well enough at a glance.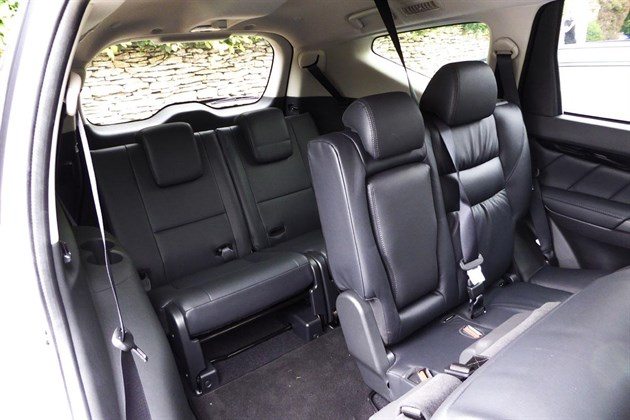 Inside there's plenty of room for seven adults. You don't have to be under five feet tall to sit in the rearmost seats. And because they are set quite high with more than a foot between them and the tailgate you don't have to worry about getting rear-ended.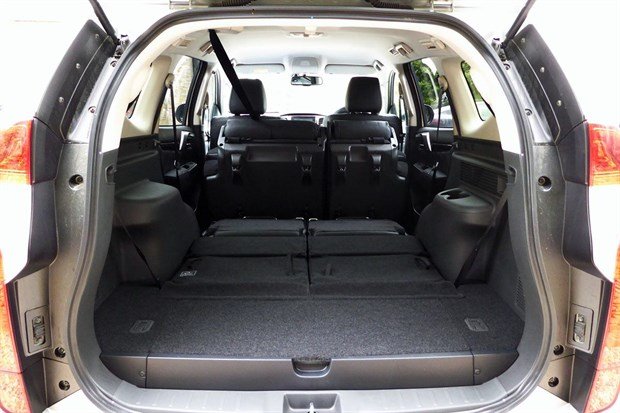 With all seats folded the load deck is 1,700mm to the load barrier formed by the double-folding centre seats. Soon there will be a Commercial version with no rear seats and a flat load deck extending to 1,827mm (that's 6 feet to Brexit voters).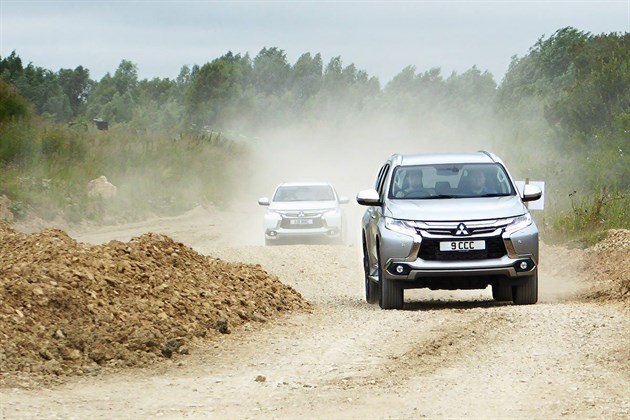 Naturally, since the Shogun Sport is a pukka 4x4 we were directed to a quarry to check out its credentials. The 'Super Select' knob offers 2H, 4H, 4Lc (locked centre diff) and 4LLc (locked centre and low range.) With the 8-speed auto, that's' sixteen gears in all. It also has a separate button to lock the rear diff when in 4Lc or 4LLc. As with a Discovery, you also get a 'Terrain Control System' for Gravel, Mud/Snow, Sand or Rock.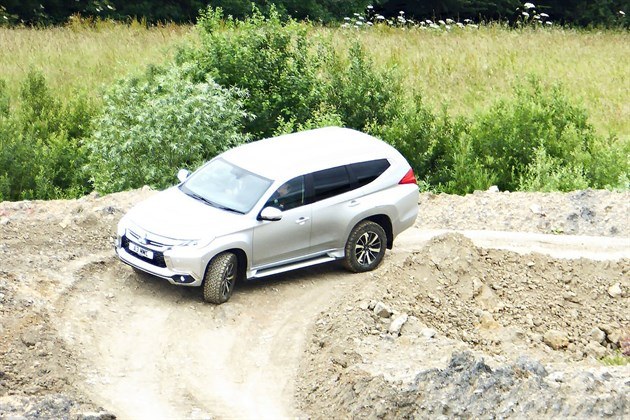 And on top of that a hill descent control and automatically releasing brake-hold for stopping on ascents or crests. At low speeds, the 360-degree view camera of the Sport 4 would enable you to see over crests if it wasn't so dim in bright sunlight.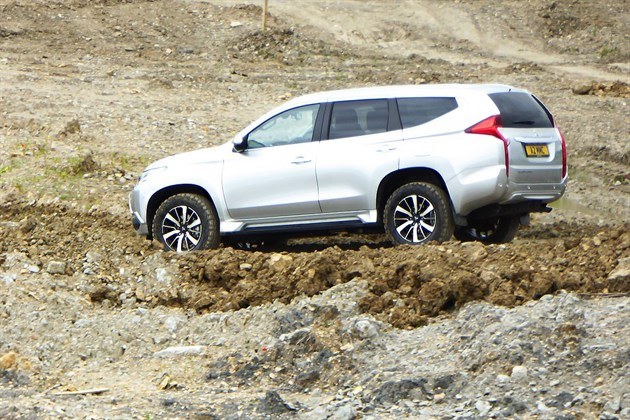 Of course, it all works outstandingly well. Better than a Rexton. After all, Mitsubishi has been at this game for years.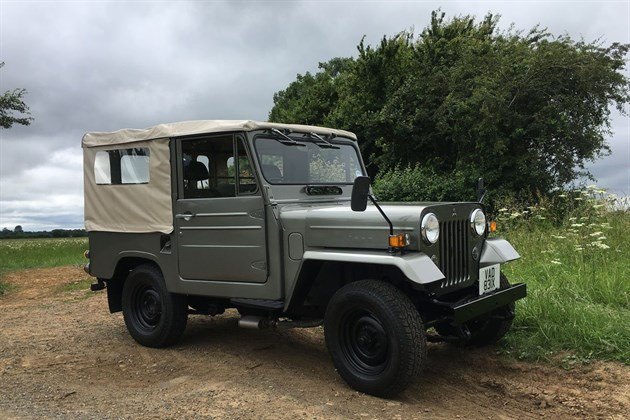 And in case you were wondering about the styling of the front of the Shogun Sport, it's shaped that way to part the waters while wading to take maximum benefit from its 700mm (27.5 inch) wading depth. It works, too. Instead of splashing over the bonnet, drowning the engine you make a speedboat-style bow-wave.
If tempted by the £37,775 OTR price of the Shogun Sport 3 it's worth pointing out that the extra £2,000 for the Sport 4 (still under the £40k luxury tax limit) brings Forward Collision Mitigation, Blind Sport warning, a system that prevents you driving or backing into obstacles at low speed, and a 360 degree camera.
The same sort of money gets you a top spec KIA Sorento or Hyundai Santa Fe that are better to drive on the road, but not off the road and can't tow as much. Or a top spec Ssangyong Rexton that's a lot more luxurious inside. Or a low spec Toyota Landcruiser.
But just think of that figure at the start. Of the 18,500 Shogun Sports sold between year 2000 and 2007, 12,000 are still on the road.
More at Mitsubishi-motors.co.uk