MINI Countryman PHEV 2017 Road Test

The UK allocation of MINI Countryman PHEVs is already sold out for 2017. Which is quite impressive for a Golf-sized plug-in hybrid costing £31,575 before you claw back the £2,500 Government grant.
Its main competitor is the VW Golf GTE, at £1,000 less money, a second slower to 60, but with a higher top speed. In the NEDC lab tests the Golf is a bit more economical and lower in emissions, but lacks the MINI's four-wheel drive system.
That differs from the standard Countryman ALL4 system by being primarily front wheel drive with drive to the rear wheels supplied by an 88HP synchronous electric motor and no driveshaft in between. (Remember the 60s Twinni-Mini with an engine in the front and an engine in the boot?)
Does it work? Put it this way, like all good all wheel drive systems, the harder you push it, the better it gets.
Between them the 134HP MINI Cooper engine and the 88HP electric motor put out 224HP, which is a Cooper S JCW level of power and gets the car to 60 in 6.5 seconds.
Alternatively, the eDRIVE toggle switch enables you to drive with only the electric motor if preferred: in MAX eDRIVE mode, the MINI Countryman ALL4 PHEV runs at up to 78mph free of local emissions. Driven more moderately, its maximum electric only range is 25 miles.
The energy required for this is stored in a high-voltage lithium-ion battery. It can be charged at a conventional household socket or, for increased power input and reduced waiting times, at a wallbox or public charging station. Charging takes between 2:15 and 3:15 hours.
The MINI Countryman ALL4 PHEV combines its progressive drive system with the versatile space and big 'MINI' look of the Austrian built Countryman. The battery is housed underneath the rear seat and flat load deck, minimising drawbacks to boot space and leg room. The luggage compartment volume is 405 litres, which can be extended to as much as 1,275 litres with the rear backrests folded down.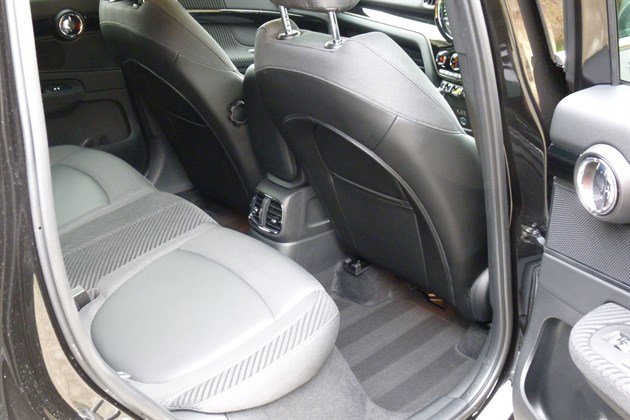 Like all MINI Countrymen, there's plenty of room inside. The back seat takes three hefty blokes across and the car is exceptionally easy to get in and out of.
But the dashboard is a mess. The big, circular satnav screen in homage to the original Minis central speedo is okay. Yet there are brightly chromed knobs all over the place, the i-drive control is a bit of a stretch, and the nasty plastic sequential fuel gauge is a real eyesore.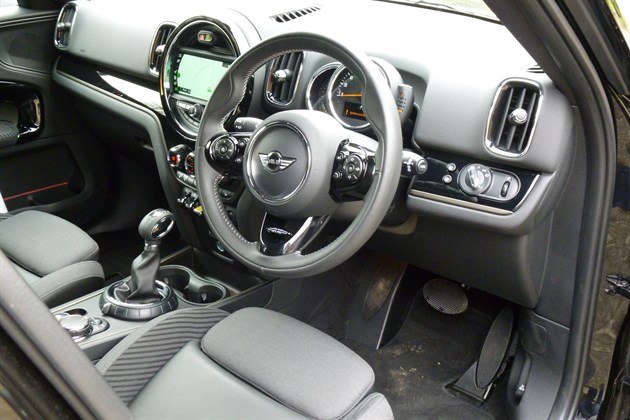 Quirky, maybe. After all, it's a MINI, not an Audi. And you can at least adjust the heating and ventilation without having to go into a touch screen menu.
Happily, the Countryman PHEV comes on sensible wheels and tyres. 225/55 R17s are meaty enough to absorb Britain's ruts and potholes and the ride is decent enough.
As emissions regulations tighten up, we're obviously going to see more of cars like this. Even Toyota has realised there's a market out there for hot hybrids.
So well done MINI (and VW) for getting in there first.
More at MINI