Mercedes-Benz S 500 Cabriolet 2016 Road Test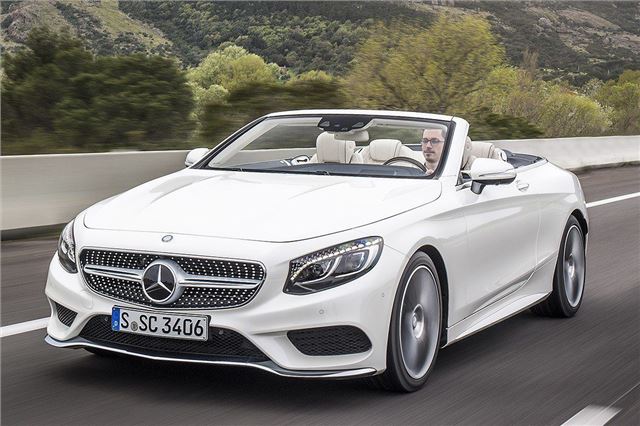 Mercedes-Benz is having a busy 2016 when it comes to roadsters and cabriolets, with a new C-Class Cabrio, revisions to the SLC and SL and now this – the S-Class Cabriolet. It's the first luxury four-seat drop-top the company has made since 1971. And it's safe to say it has been worth the wait, providing a wonderful level of opulence and understated class.
That's only if you're fortunate enough to have the money to buy one. With a starting price of £110,120, it's an expensive luxury. And that's for the 'basic' S 500 version. If you want an S 63 AMG or a range-topping, V12-powered S 65 AMG then you're going to need even more money – the top model costs an eye-watering £192,605.
It's a bit unfair to call the S 500 Cabriolet basic though. Its 4.7-litre V8 petrol engine produces 455PS and a huge 700Nm of torque, meaning 0-62mph is taken care of in 4.6 seconds. A big, heavy car with a V8 petrol engine can't be expected to be frugal, of course – the S 500 manages an official 33.2mpg and emissions of 199g/km.
The roof is fabric, folding up or down in around 20 seconds at speeds up to 30mph. There is barely any noise at all with the three-layer acoustic hood in place, even at motorway speeds. And it doesn't get much louder with it retracted - though the odd breeze will occasionally make its way into the cabin. This can be almost entirely eliminated by specifying the optional 'Aircap', which changes the air flow over the windscreen.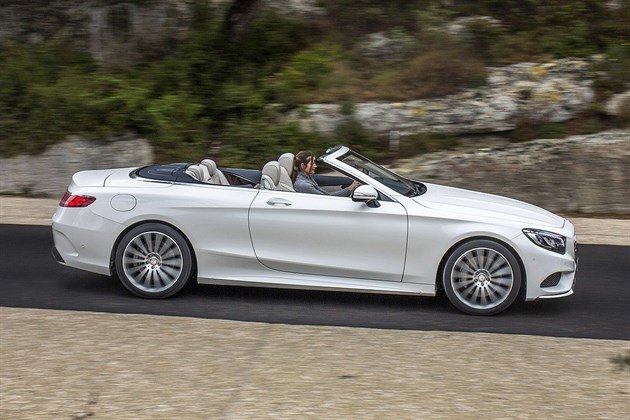 For gentle, relaxing drives the S 500 Cabriolet is effortlessly smooth, comfortable and almost completely silent. The standard air suspension irons out almost every lump and bump, while the nine-speed automatic gearbox changes up and down imperceptibly for the most part. That's not to say the S 500 Cabriolet is completely effortless to drive, though.
In town it's quite hard to escape its size. Obviously it's shorter than an S-Class saloon, but it's still very wide and has a long bonnet, so threading it through chaotic urban streets can be nerve-wracking – a kerbed alloy wheel is going to result in a steep repair bill. It's a heavy car, too – and you can really tell when changing direction suddenly – but conversely it's surprisingly nimble on a flowing country road.
The steering is nicely weighted and that silky-smooth air suspension does a great job of controlling body roll. Switching the drive mode to Sport or Sport+ changes the gearbox calibration, livening up performance. It also opens up a flap in the exhaust more readily, letting out a glorious, yet classily subdued V8 burble. It's no sports car, but it does a good impersonation when you feel like having some fun.
The S 500 Cabriolet is far better at a more sedate pace, though, which gives you the opportunity to enjoy the opulent and wonderfully-finished cabin. Almost every surface is covered in wood or soft leather, plus there is also a huge, modern central display for navigation, audio and climate, flowing seamlessly into a digital dashboard.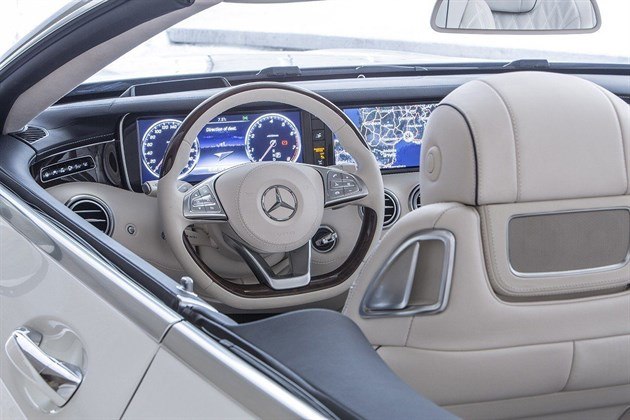 It looks and feels every bit as classy and luxurious as you would expect of a car at this price – and it's the same story in the back. There are two rear seats and, while they aren't meant for particularly tall passengers or long journeys, they are surprisingly spacious, comfortable and useable. Rear seat passengers will get buffeted bu wind a little with the roof down, though.
The boot has a capacity of 350 litres with the roof up – big enough for some travel cases – plus there is a ski hatch. Folding the roof down reduces load space to 250 litres, shaped a little awkwardly because of a load area divider. Fortunately, this divider doesn't need to be moved by the driver – it attempts to operate itself automatically with the roof mechanism.
Equipment-wise, the S-Class Cabriolet has plenty as standard including climate control that automatically adapts when the roof is raised or lowered, electrically adjustable seats, all-LED lights and COMAND Online infotainment. There are plenty of options too, including a more luxurious Nappa leather upholstery, night vision, keyless go and a 360 degree reversing camera.
It might be expensive, but for similar money almost every car is a two-seater or 2+2 with a sports focus, like the Porsche 911 Cabriolet. The only other car that is similar in terms of size, space and performance is the Bentley Continental GTC – which is significantly more expensive. That leaves the S 500 Cabriolet in a league of its own and, despite its high price, it feels like surprisingly good value.