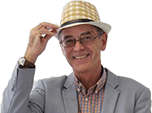 Mercedes-Benz GLC 2019 Range Road Test

The revamped Mercedes-Benz GLC for 2019 will eventually come in four environmentally friendly RDE2 compliant varieties, all with 4-MATIC four-wheel drive. First, a pair of 2.0 litre 4-cylinder heavily de-toxed 220 and 300 diesels; Secondly, 2.0 litre 4-cylinder petrol 48v EQ Mild Hybrid 200s and 300s; Thirdly a hydrogen-fuel cell pure electric GLC F-CELL that is also a plug-in hybrid.
Then, of course, there's the all-electric 408HP/760Nm torque 259-mile range Mercedes-Benz EQC 400, tested here.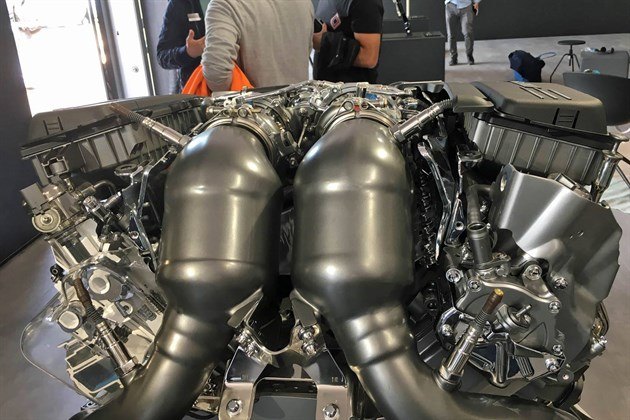 And lastly, a pair of truly climatic twin-turbo 4.0 litre V8 AMG 63s with 476 or 510 horsepower. 
Earliest to arrive are the RDE2 diesels, then the AMG 63s, then the 48v EQ Mild Hybrids, then the GLC F-CELLS. We drove the 300d on and off road, the 300 petrol mild hybrid and the AMG 63 510HP.
All are available in two bodystyles: SUV and the slightly longer and rather good-looking coupe that is less suitable for antique dealers to haul chest of drawers around in. Internal measurements in the dimensions section. And you can see the main differences between trim levels in the prices and specs section.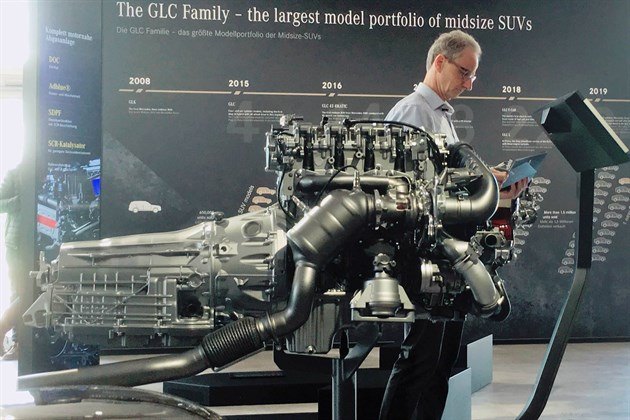 The GLC EQ 300 Mild Hybrid has a linked, electric motor and alternator with belt drive between them and the combustion engine. Combined power is 258HP with 370Nm torque. It's quite a noisy engine, sounding a bit like a diesel, but accelerates smoothly enough and has a close-coupled Petrol Particulate Filter to help keep the nasties out of the air we breathe. Without being a ball of fire, it goes well enough, though isn't the fastest accelerating thing on the autobahn. Handling is decently composed.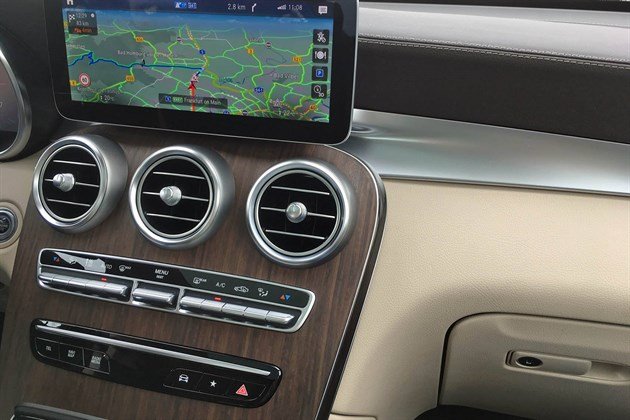 The choice of interior trim includes Artico seats and a curious Formica-like 'wood' effect on the console and door caps. All new GLCs come with integrated satnav and the voice-activated 'Hey Mercedes' MBUX system, so you have to be careful what you say. Don't mention "Mercedes" or the 'Hey' lady will ask what you want her to do for you.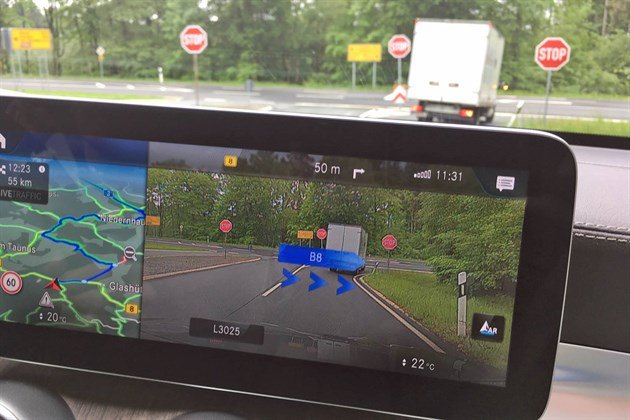 Like the new A-Class, the satnav includes directions superimposed over a real-life camera view of the road ahead, but these tend to arrive a little late, so it's best to go by the arrows on the 5.5-inch screen right in front of you and only follow the blue pointers on the screen when not 100% certain which exit to take.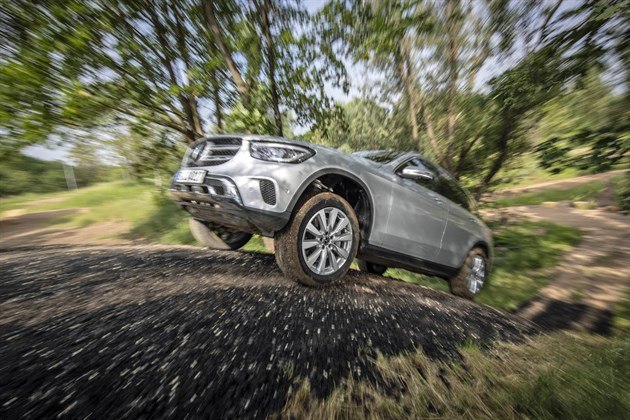 Next, a 300 diesel with air suspension on an off-road course made extra muddy and slippery because it had just rained heavily. (Photos taken before the rain.) The excellent twin turbo 1,991cc 300 diesel stumps up 245HP and 500Nm torque and exhales through a close-coupled catalytic converter, AdBlue injection swirl chamber, SCR and DPF, all clamped to the side of the engine. Just to make sure, there's a further SCR downstream of all of this.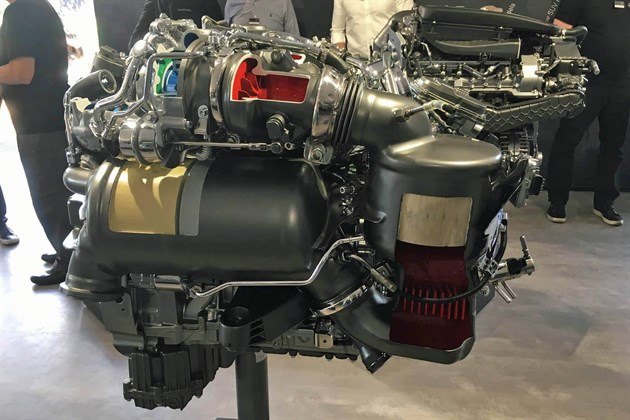 Off road capability is assured by an air-raised 245mm ride height, a 30.8 degree approach angle, a 24.9 degree departure angle, a 19.8 degree breakover angle, a 35 degree tilt angle, a 300mm wading depth an electronic rear diff and a clever braking system, all aided enormously by a 360 degree camera that can be set to show whatever obstacles you are passing over or through. It romped through the fairly challenging ADAC course with very little effort from me.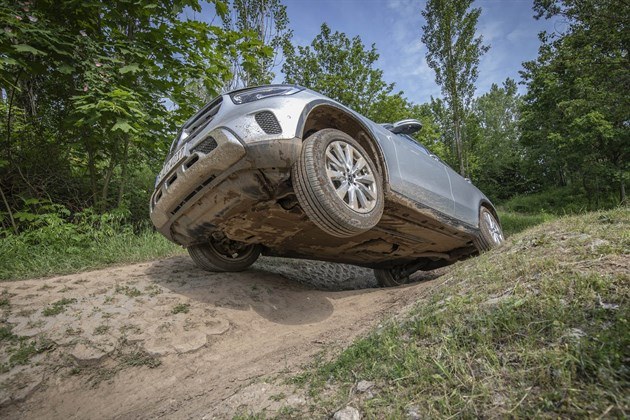 On the road, too, the GLC 300d showed a clean pair of heels to the 300 petrol Mild Hybrid, pulling to autobahn speeds much more rapidly at lower revs and thereby with less engine noise.
Lastly, the fire and brimstone 510HP, 700Nm torque GLC AMG 63 Coupe that is so powerful it requires a wet start-off clutch rather than a torque converter and full power gearchanges are so hard-core I wondered how long the transmission would last. (I know MB World instructors encourage a little bit of movement before nailing AMG 63s from a standing start.)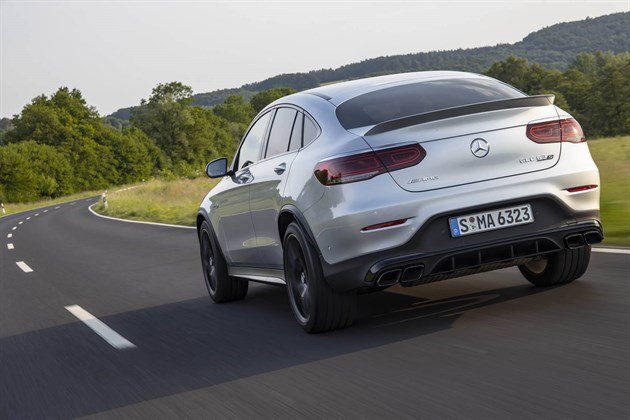 A brave MB driver got one of these around the Nürburgring Nordeschleif in 7 minutes 49 seconds. Impressive, yet still 9 seconds slower than the much nimbler Megan RS Trophy.
Autobahn traffic got a bit in the way of this one, so we didn't see any big speeds, but 0-60 in 3.6 and a top speed of 175mph would have to be enough for almost anyone. This one comes in at £90,845, but GLC AMG 63s prices begin at £74,500 for the 476HP SUV.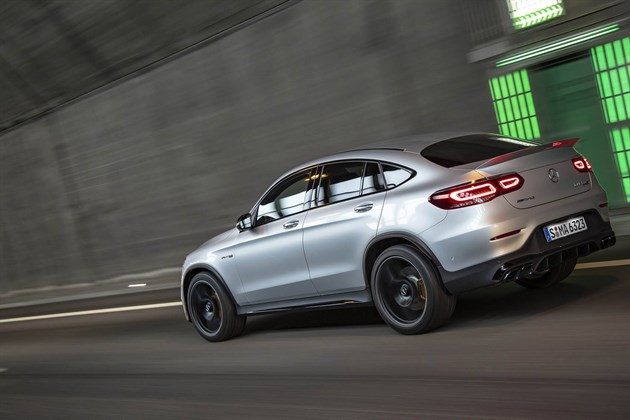 Impressive? Of course, especially the complex clean-up act on the diesels. All apart from the base level 220d Sport are over £40k, so you have to prepare to stump up £465 tax for years 2 to 6. But the competition of Audi Q5, BMW X3/X4, LandRover Discovery Sport and Range Rover Evoque/Velar are similarly priced.
I wouldn't buy any of these without driving the new GLC first.
More at Mercedes-Benz UK