Mercedes-Benz G 350d 2019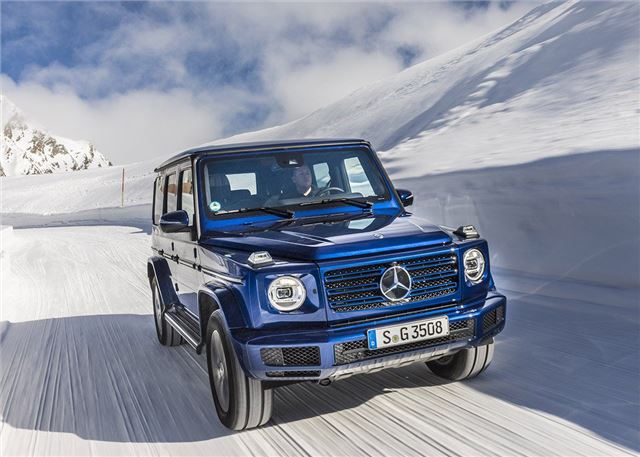 Tougher than a coffin nail and brilliant off-road, the all-new Mercedes-Benz G 350d remains true to the classic G-Wagen, while adding significant premium improvements when it comes to refinement and comfort. It still can't match Range Rover for outright luxury, but it'll leave it for dust when it comes to the 4x4 stuff that really matters.  
As a motoring icon, the Mercedes-Benz G-Class has always delivered a military grade off-road experience; however, while its go anywhere potential has earned respect (and orders) with armies all over the world the G-Class' tank-like road manners have always diminished its appeal with premium car buyers. 
Indeed, for an SUV that costs the best part of £100,000, the G-Class has traditionally felt like a farming machine with its slow and cumbersome handling requiring genuine skill and patience to master. The all-new 2019 G 350d eliminates these flaws by providing a true premium SUV experience. In fact we think it's the best G-Class ever, it's that good. 
From the exterior, you'd be hard pressed to tell this all-new G-Class apart from the outgoing model; the design is broadly the same with the practical upright box design providing high ground clearance and short overhangs for heavy duty off-roading. However, there are some subtle changes, with the 2019 car being 53mm longer and 121mm wider to provide more head and legroom across both rows of seats.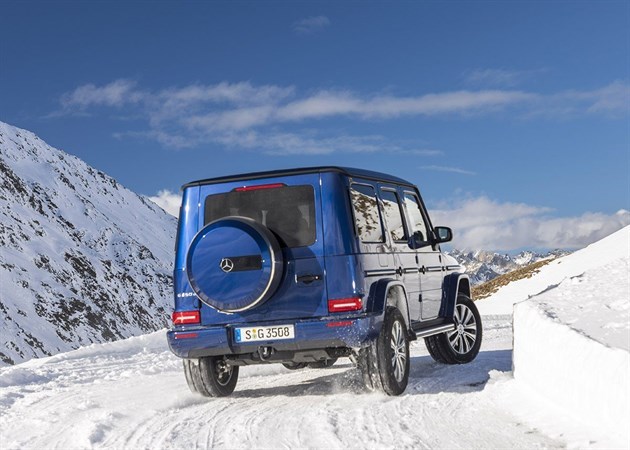 Under the metal the G 350d retains the traditional ladder frame chassis, but the double-wishbone front suspension is now directly mounted to improve control while the high attachment points on the frame provide better ground clearance when off-road. At the rear, in contrast to the old car, the rigid axle is controlled by four trailing arms on each side and a Panhard rod to provide a firm but comfortable ride quality.  
The result is a G-Class that's much more pleasant and predictable to drive on the road. Unlike the old car, corners can be taken with confidence and speed, with the weighted steering and composed body control providing a good base to find the car's limits. The set-up feels more balanced too, which means you can even push the G-Class along without fear of it suddenly giving up mid-corner and sliding you into the local scenery. 
The burbling 2.9-litre six-cylinder turbodiesel is mated to a nine-speed 9G-Tronic transmission and produces 286PS, with 600Nm of torque flowing from 1200rpm to 3200rpm. This means you get a genuine kick when you hit the throttle, with the G-Class raising its nose and galloping from 0-62mph in a respectable 7.4 seconds. The throttle response and damping can also be tailored towards comfort, performance or economy, with Dynamic Select fitted as standard, which means you can gear this gargantuan SUV to match your mood. 
At the business end of things, the G 350d remains a true off-roader. Ground clearance between the axles has been increased by 6mm (now 241mm) while the fording depth has been bolstered to 700mm. Accessing the G-Class' rich array of off-road tech is easy with single touch switches on the dashboard activating the rear, centre and front differentials. Mercedes-Benz has also optimised the four-wheel drive system, so almost 100 per cent of drive torque can be sent to any one wheel.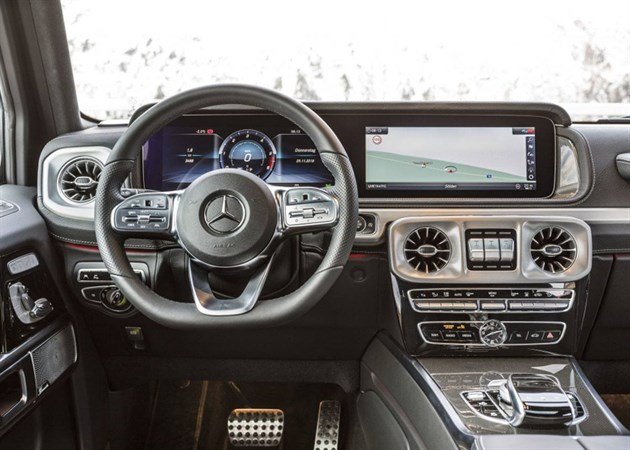 Off-road, the G 350d is hugely accomplished, with the combination of high ground clearance and huge torque making it near unstoppable in the snow. And if the going does get tough, you can call upon 'G-Mode' to activate the low range gears to climb up steep slopes or navigate down slippery terrain. 
As you can tell, we're big fans of the G 350d. And given its projected £94,000 price tag, it could be argued that the G 350d should deliver on all fronts. And for the most part it does, but there are some shortfalls that will dampen its appeal with premium SUV buyers. 
The cabin, for example, is plush but smaller and no match for similar priced SUVs from Audi, BMW or Range Rover. The dashboard of the G 350d gets the same widescreen HD display as the E-Class, which gives the retro styled G-Class a modern feel. But quite a lot of the interior plastics feel rather hard, scratchy and van-like - Chelsea tractor buyers will undoubtedly take issue with this. 
That said, the G 350d is a fantastic 4x4 SUV and a huge improvement on the classic G-Wagon on which it is based. Easy to drive, classically styled and a tour de force off-road, it's our new favourite thing. It's just a pity that few will be able to afford its juggernaut delights with prices expected to starting north of £90,000.
The Mercedes-Benz G-Class G 350d goes on sale January 2019.