Mercedes-Benz E350 d All Terrain 2016 Road Test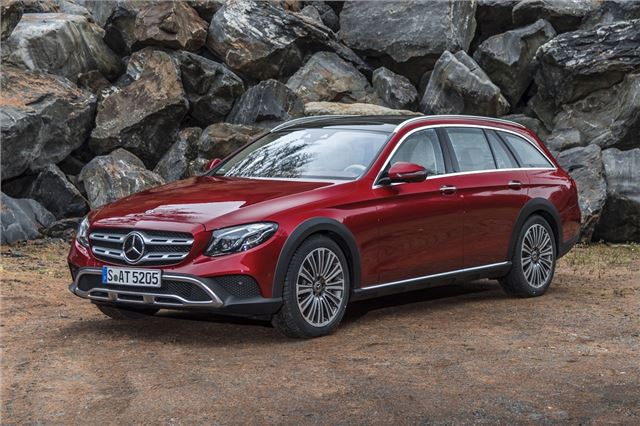 There is one major surprise with the Mercedes E-Class All-Terrain - the amount of time it has taken for the German firm to come up with a rival to the Audi A6 Allroad. Why? Simply put, Mercedes didn't think there was much need for this type of car until recently, when the seemingly insatiable appetite of buyers for all things SUV-cum-crossover convinced it otherwise. 
So what of the competition? Well the cheapest A6 Allroad comes in at £46,000 and there's also the new Volvo V90 Cross Country on the way, expected to be priced from around £40k. Mercedes-Benz says the All-Terrain is likely to cost at least £55,000 when it goes on sale in summer 2017, although prices have yet to be confirmed.
That is a hefty price to pay for what looks like an E-Class wagon with some plastic cladding around the wheelarches, chunkier bumpers, a new grille and some sill protectors. However, there's a good deal more going on under the All-Terrain's skin, including a unique set-up for its Air Body Control suspension.
By using air to cushion the blows from the road, it allows the All-Terrain to sit higher off the ground in normal conditions. When things get sticky, you can raise the car up - giving a maximum of 156mm ground clearance - by selecting the All-Terrain mode on the Dynamic Select menu.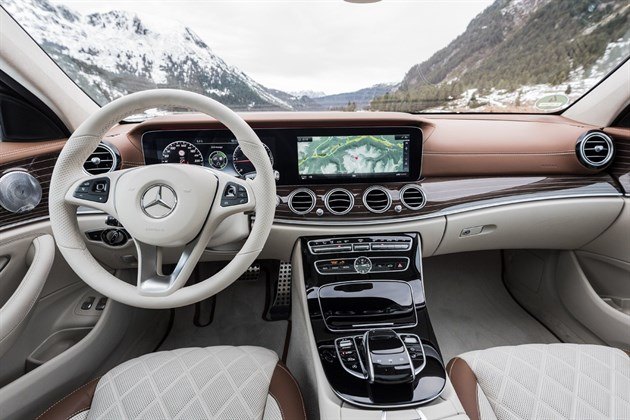 While driving on rough roads, the Mercedes will maintain this highest ride height at up to 19mph. Beyond that, the suspension settles back to its normal distance from the surface, but when the pace drops back under 19mph the car hitches up again to full ground clearance. 
We tried the All-Terrain setting on ice-covered roads and unmade forest tracks, where this mode raises the threshold for ESP intervention. It lets the wheels scrabble a little more so the chunkier tyre treads can find grip. On these types of road, it works very well and you'll certainly have no trouble reaching a ski chalet. For more serious off-road work, ground clearance will still be the limiting factor.
Back on more usual roads, the E350 d All-Terrain behaves very much like its standard Estate sibling. Hardly surprising when they share the same 3.0-litre V6 diesel engine with 258PS and 620Nm of shove. There are no official performance figures as yet but, for comparison, it feels very much on a par with the Estate model fitted with the same engine. Expect acceleration, economy and emissions to trail only slightly behind the standard wagon's.
Power passes through a slick nine-speed automatic gearbox, with 31 percent delivered to the front wheels and 69 percent to the rears in UK-bound cars. This is different from European versions, where 45 percent heads to the front and 55 percent to the back wheels.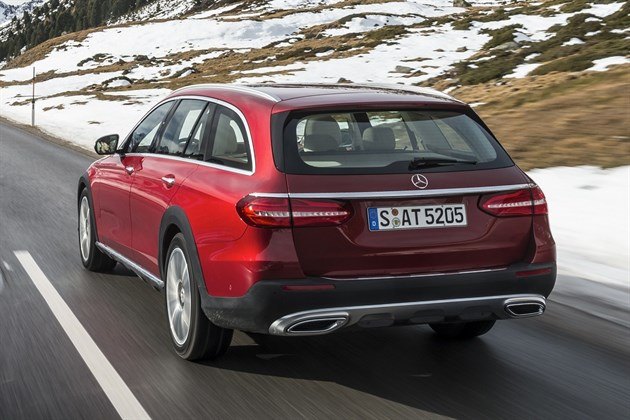 On the Euro-spec cars we tried, the E350 d's handling was as neutral and stable as the standard estate. In other words, there's plenty of grip with a tendency for the front end to run wide in corners when pushed harder, though few owners are likely ever to treat their Mercedes in this fashion. The car discourages such behaviour anyway, with steering that's direct but muted in its feel. There's a similarly understated manner to the suspension, which is ideal as it isolates the car's occupants from all but the most sudden ridges in the road. 
Other crucial areas where the Mercedes outstrips its Audi rival are passenger and load space. The driver enjoys masses of head, leg and shoulder space, as well as an electrically adjusted and heated seat with leather upholstery. All UK All-Terrains will come with a single top-end spec similar to AMG Line, so you get the 12.3-inch COMAND infotainment screen with navigation and all the connectivity you could ask for.
In the back, there's generous room for three children or even a trio of adults, while the boot offers 640 litres of cargo capacity. This can be extended by dropping the 40/20/40 split and tip rear bench to free up to 1820 litres of luggage space. That's more than the A6 Allroad or V90 Cross Country can muster.
We'll have to wait until April 2017 for Mercedes to confirm prices and specifications for the E350 d All-Terrain. Based on the hinted price of £55,000, it puts this new soft-roader at the upper end of a very exclusive class. That's no surprise, but there will be raised eyebrows at Audi that it now has a very serious rival to the A6 Allroad.