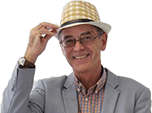 Mercedes-Benz E-Class Cabrio 2017 Road Test

The new Mercedes-Benz E-Class cabriolet initially comes with a choice of two petrol and two diesel engines. I really wasn't expecting to find myself plumping for a diesel, but more about that later.
First a description of the car and what makes it significantly better than the previous E-Class cabrio.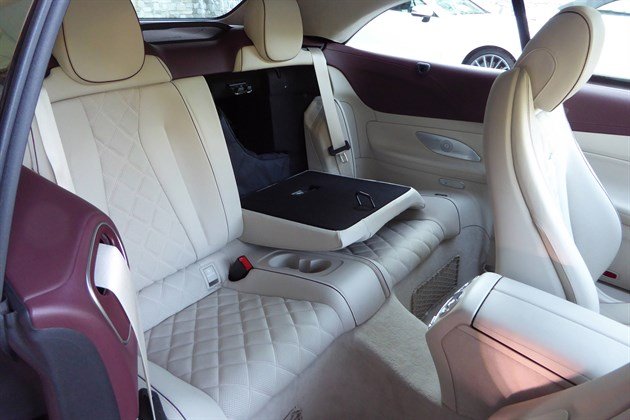 Its wheelbase is 113 mm longer, and it's 31 mm taller, which means more legroom for rear seat passengers and a little more headroom (adequate for me with my hat on), though the seatbacks themselves are as vertical as in a double cab pick-up. However, those seatbacks do fold down 50/50, allowing through-loads for things like water skis up to 1,900mm long.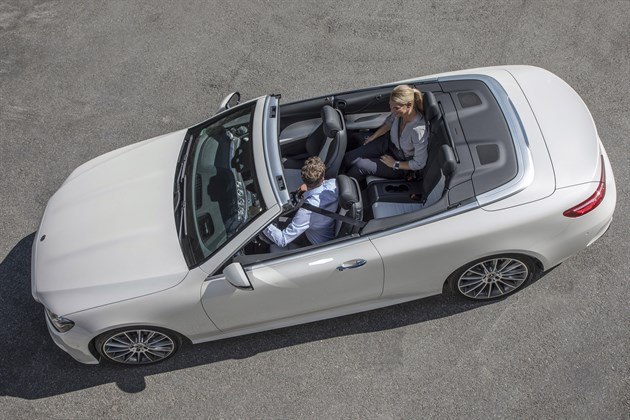 The thoughtful design includes hollowed-out trim behind the rear wheelarches to accommodate golf bags up to 1,370mm wide.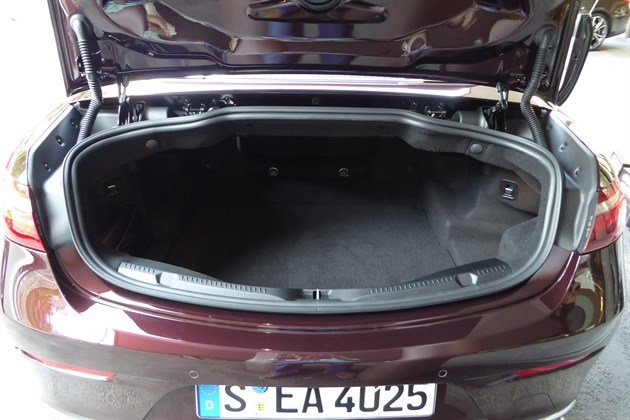 The trunk itself takes 385 litres, or 310 litres with the top down.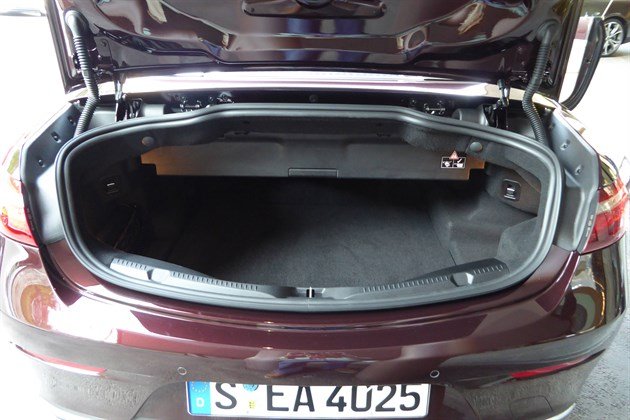 The box that holds the top can be lowered into place with the top up so you know how much space you'll have to play with if you lower the top half way through a journey.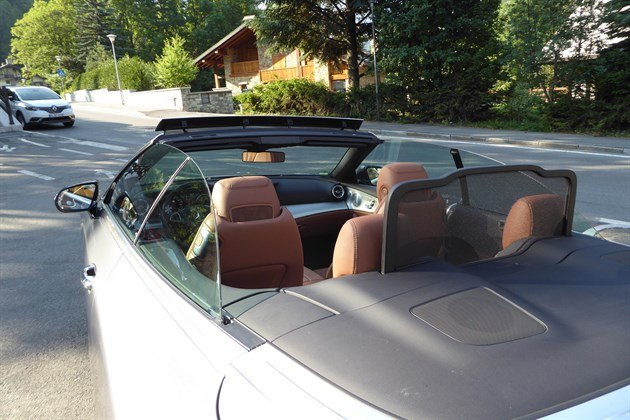 All new E-Class cabrios for the UK come with an 'air cap', which consists of a deflector that rises over the top screen rail and a diffuser grating that comes up between the rear pair of head restraints. While this doesn't do a lot for the driver and front seat passenger it will be welcomed by the kids in the back seats who no longer have to contend with hurricane-like winds and flies in their teeth. They won't get drenched with screenwash either because this hits the screen on the downstrokes of the wipers rather than the upstrokes.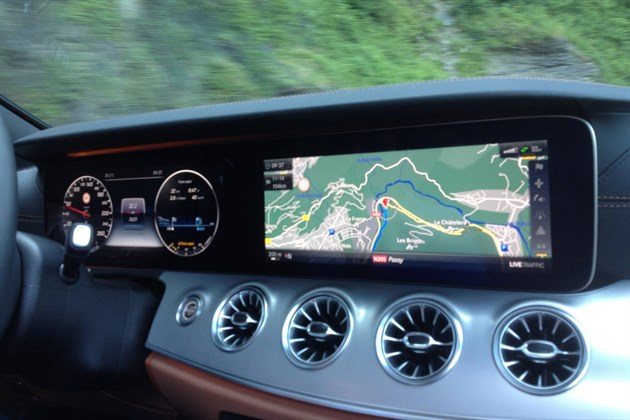 There's a lovely, panoramic one-piece dash, customisable according to the information you require, with a wide satnav screen, though this is operated by Mercedes 'Command' system rather than by touching it. Air vents sprout beneath, just where the original aftermarket air-con used to sit in luxurious cars in the 1960s.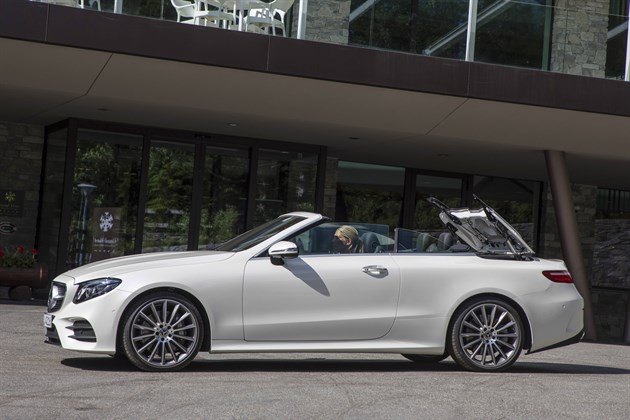 The convertible top can be raised or lowered on the move at speeds up to 30mph.
Driving the cars required re-familiarisation with the way Mercedes Benz lays out its controls. The parking brake is a switch on the lower left of the dash. And there are more stalks on the steering column than there are on the average tree.
Some, like the cruise control and speed limiter, are completely hidden behind the steering wheel. As is the stalk that controls the height and reach of the wheel itself. And something else on the right that I've now forgotten about. But the car still features MB's incredibly simple automatic transmission control: down for Drive, up for Reverse, press for Park.
Downsizing of engines by BMW and Mercedes means that a 330i, and in this case a 300E, are now 2.0 litre four cylinder turbos instead of three litre sixes. And, while 245HP with 370Nm torque seems okay on paper, it's actually no more than average and not a lot to haul 1,830 kilos along.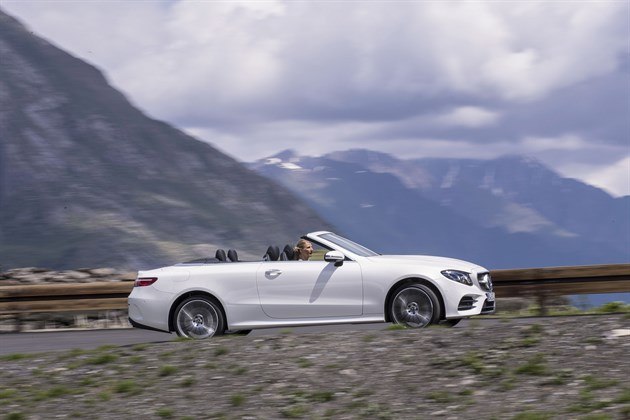 So, while its nice to enjoy glorious sunshine and Alpine scenery, the car itself doesn't exactly stimulate the senses. And all the cars were on ridiculous 20-inch wheels with 30 profile rear tyres. Apparently, "designers like them", but, of course, tyre manufacturers rub their hands in glee at the potential for tyre damage and expensive replacements. That said, the suspension made up for them and the ride wasn't too bad. The car is astoundingly solid with not a hint of flexing or scuttle shape, to the extent I didn't even think about that until afterwards, though it's hardly the kind of thing you miss.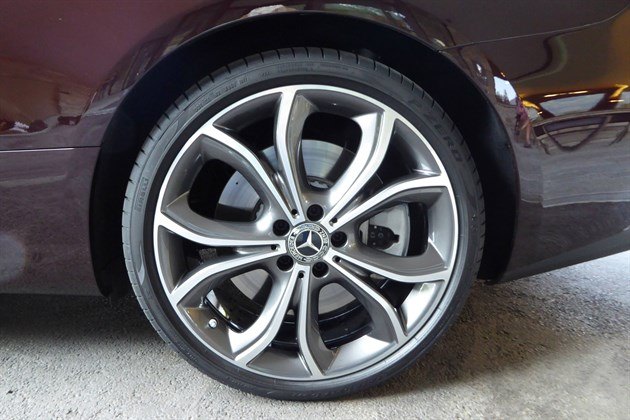 The Command system allows you to select Comfort, Sport or 'Dynamic', or to personalise them so you get the combination of steering, damping and gearchanges you prefer. We went for Sport steering and damping with Comfort gearchanges for a relaxed drive that left us in control. However, the experience was still a little underwhelming. Maybe if we'd snagged a 6-cylinder 400E with 4-Matic four wheel drive it would have been better. But the Americans nicked them all.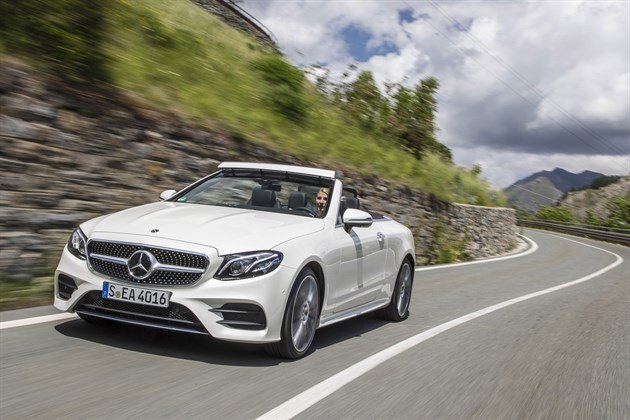 Another day, another car. Before I drove the E220d Cabrio I always thought a luxurious coupe convertible or roadster with a 4-cylinder diesel engine to be oxymoronic. Someone seeking status by buying a stylish, expensive car, then telling everyone what a pennypinching skinflint he really was whenever he started it up.
But Mercedes new 2.0 litre diesel in the E-Cabrio isn't like that at all. Firstly, you can hardly hear it. And secondly, it performs so much better than the 2.0 litre E300 turbo petrol engine, it's the natural, obvious choice.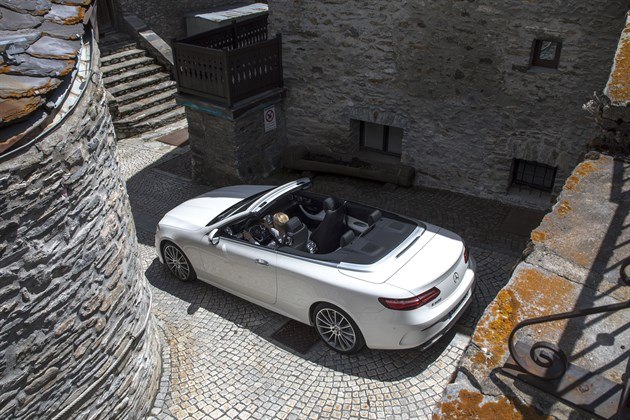 It does this partly because the number of ratios in the 9-speed transmission make up for the short-lived diesel power band, so the car is always, uncannily on song. (That said, maximum torque is developed from 1,600rpm.) And, secondly, because this is a genuinely economical diesel (skinflints, please note). While we only got a miserable 25.45mpg out of the E300, the 220d managed a creditable 47.88mpg for the same sort of motoring over the same type of roads.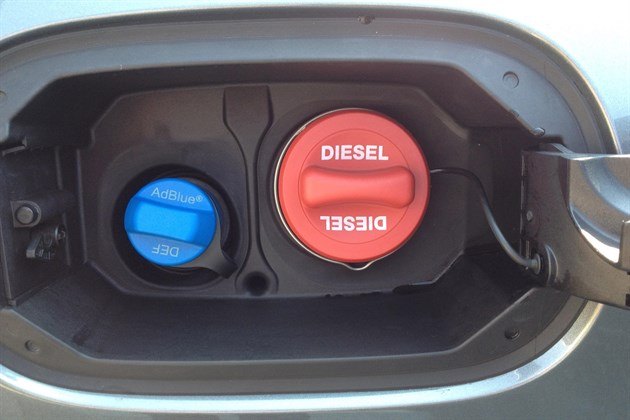 It's also a very clean diesel. Pop the bonnet and there's almost as much DPF and SCR kit as there is engine. And, even though you have to Add Blue, a CO2 of 126g/km is remarkable for such a big, heavy car.
There aren't a lot of choice of proper 4-seater convertibles in the £35,000 - £60,000 bracket. Cheapest, of course, is the Ford Mustang with its much meatier steering. Then there's the Audi A5 cabrio available with power outputs from 252HP to 354HP. The BMW 4-Series Coupe Cabrio hasn't gone away. And there's the £50,000 Range Rover Evoque Cabrio. But there's still something a bit superior about a Mercedes E-Class convertible.
With first deliveries in November, best to hope for a sunny 2018.