Mercedes-Benz E 350 d All Terrain 2018 UK Road Test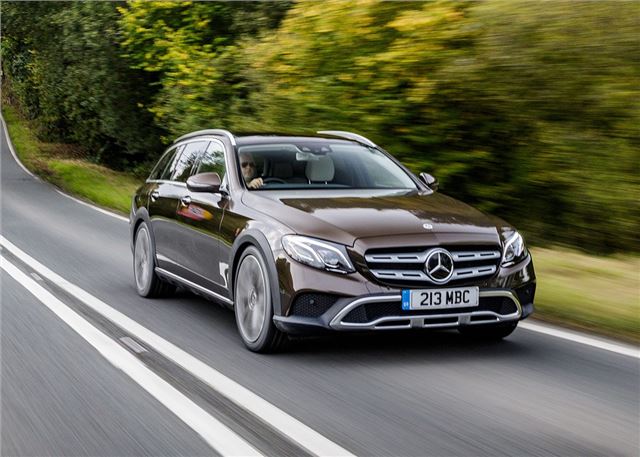 The laziest way to introduce the E-Class All Terrain is to call it Mercedes-Benz's posh answer to the Volkswagen Passat Alltrack. There, we said it.
So what we're looking at here is an E-Class Estate that's raised a bit and has a four-wheel drive system of sorts – 4Matic simply apportions torque appropriately across front and rear axles depending on grip conditions – ergo giving it limited off-road capability and improved towing ability. We know these things to be true because during our UK road test here (we drove a left hand drive All Terrain back in December 2016) we towed a one-tonne horsebox up a quite steep and very muddy hill.
We were using normal road tyres too, making the feat all the more impressive and giving you an idea of the sort of market Mercedes-Benz is pitching this car at: horse owning countryside types, but narrowed down to those who don't necessarily need the do-it-all, foliage dispatching might of a proper 4x4, all locking differentials and that.
Instead, this is an E-Class Estate whose ride height is 29mm higher than standard, and which will raise a further 20mm upon selecting the 'All Terrain' setting of the (also standard) switchable air suspension. It does that at speeds of up to 19mph, above which it'll lower itself on the go, presumably to prevent the car bouncing around the streets like a runaway Swiss ball.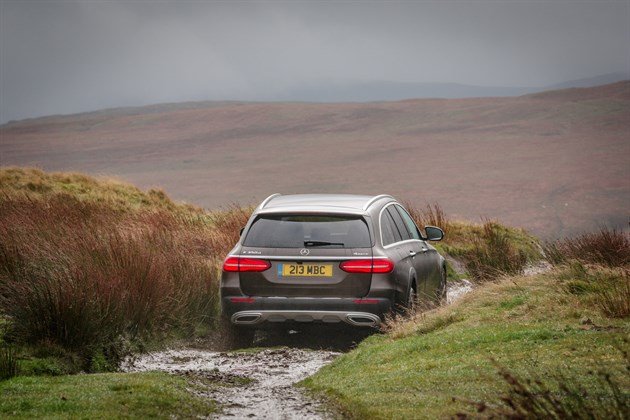 There's nothing on the inside to distinguish the All Terrain as anything other than a very well specced E-Class, though on the outside you'll notice the model-specific three-piece rear bumper, as well as, perhaps, the thicker sidewalls of the tyres – that's where a good half of the extra height comes from, as it happens.
Aside from its on-mud maneuverability and its Samson-like towing capacity (up to 2,100Kg) the All Terrain is an E-Class Estate-as-per-usual, meaning it's one of the most refined, most spacious and most generally pleasing executive cargo carriers on the market.
And it's a very well specified one at that; you can only buy the All Terrain with one engine and in one trim level, and they're both of the top-end persuasion. The engine is the 3.0-litre V6 turbo diesel badged E350 d and packing 258PS, while the specification appears to have been finalised by an over-enthusiastic product planner brandishing an options list, a biro and a large bottle of something potent.
The upshot is a £58,880 list price, a good ten grand more than an E350 d AMG Line Estate and roughly the same as a E43 AMG Estate proper. Ouch.
Still, this feels like one very plush and capable estate, with no loss of practicality over the standard car (as you'd expect) and a feeling of real quality throughout. This V6 diesel is a stunner - quick and quiet, no matter where you are in the rev range – and while the standard 9G Tronic automatic transmission might have as many gears as Chris Froome's company wheels, it always seems to find the right one. And smoothly.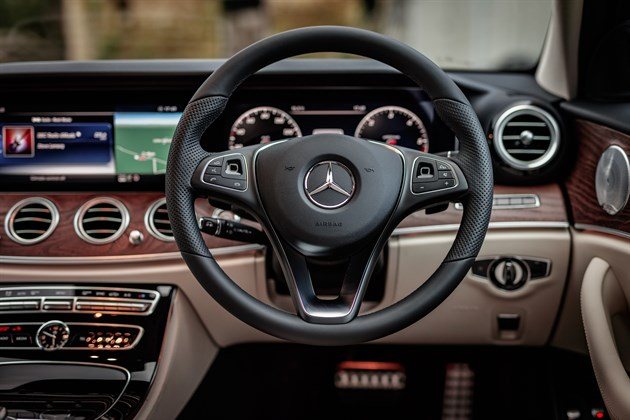 The specification includes all the stuff that turns the E-Class from a nice car into a truly luxurious one, including twin 12-inch colour displays, the one nearest to you acting as a digital instrument panel, as well as a top end Burmeister surround sound system, proper LED headlights, and a panoramic glass sunroof.
It's all probably too posh to be shoving your Labrador into the back of before heading to the stables as the crow flies, but then again, that's a big part of its charm. The vast majority of the time, when you're not doing the over-the-hills-and-faraway stuff, this is a beautifully composed estate that has mastered of all the trades it's a jack of.
Thanks to its selectable driving modes it both rides like a luxury car and can make a decent fist of being sporty; it's quick (0-62mph in 6.2 seconds, but more importantly, 620Nm of torque); it's spacious and practical (the boot is 640 litres and a 40:20:40 split folding rear bench is standard); and it looks lovely.
But, again, it's outrageously expensive, which causes a few problems. For a start, the Audi A6 Allroad has a wider choice, with the range kicking off £10,000 or so below this, while the Volvo V60 Cross Country might feel old now but can be yours for around half the price. As can the Volkswagen Passat Alltrack. Or even, if you're a hardcore countrysider, a Subaru Levorg. 
The E-Class All Terrain is the newest, plushest and the best of the bunch, but with such a prohibitively high cost it's likely to be a little more exclusive than Mercedes-Benz would probably like it to be. Shame. 
The Mercedes-Benz E-Class All Terrain is on sale now.