Mercedes-Benz CLA-Class 2013 Road Test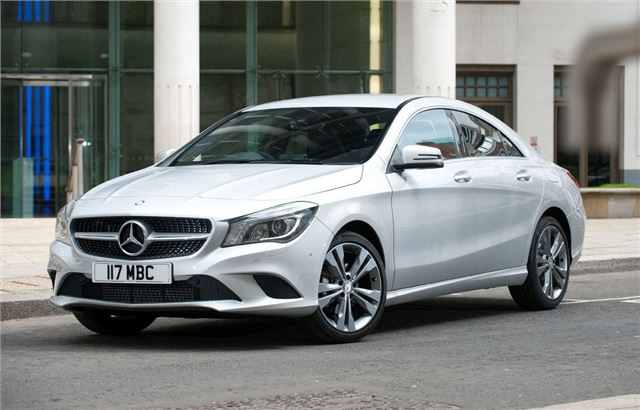 Mercedes-Benz has given the A-Class a CLS-style makeover and in an instant small saloons have just got sexy. Without a saloon option for the latest generations of Focus and Astra, buyers looking for a small car with a boot haven't had much choice and the Volkswagen Jetta has pretty much had the market to itself.
But the Jetta, for all its qualities, doesn't have the cachet of a Mercedes-Benz, Audi or BMW. And this is why the CLA is particularly noteworthy. It's the starting gun for small saloons from all three of the premium German manufacturers.
The CLA itself is pitched as a having the look of the larger CLS, but without the price tag. There is certainly a resemblance there, with a distinctive, rakish rear that blurs the line between saloon and coupe. As it stands, there's nothing like it on the market, so Mercedes-Benz is pretty confident that it will fly out of showrooms – even priced at £24,355 for the Sport and £26,555 for the AMG Sport. That's a couple of grand less than a C-Class, but still a hefty premium over an A-Class hatchback.
Being based on the A-Class means front-wheel drive and four-cylinder engines. It's a limited line up from launch, with just the CLA 180 petrol and CLA 220 CDI diesel on offer. Later in 2013 comes the CLA 200 CDI and CLA 250, as well as the headline-grabbing CLA 45 AMG with 355PS. Mercedes-Benz's 4MATIC four-wheel drive system is offered on the continent and could make it over here in time for Winter 2013, competing with Audi's quattro and BMW's recently-introduced (to the UK anyway) xDrive system.
As ever with Mercedes-Benz, the badge on the boot doesn't necessarily reflect what's under the bonnet. In the CLA 180's case, it's a 1.6-litre petrol with 122PS. With 0-62mph coming in 9.2 seconds, it certainly isn't that quick, but it does offer decent economy (on paper at least). The combined figure is 50.4mpg and it emits 126g/km CO2. That's pretty good for a car of this size. Not only does it mean cheap road tax, but up against larger saloons it will look good on company car lists too.
But the one that most buyers will opt for is the CLA 220 CDI. As its name doesn't suggest, it's a 2.1-litre diesel with 170PS and gets from 0-62mph in 8.2 seconds and onto a top speed of 143mph. It's an engine that we like: punchy, flexible and with 350Nm of torque available, it doesn't hang around when it comes to overtaking. Emissions are pretty good too, at 117g/km and official economy is 62.8mpg. In the larger C-Class, owners report in our Real MPG section that the figure for this is engine is up to 93 per cent of the official figure.
The CLA 220 CDI gets Mercedes-Benz's 7G-DGT seven-speed automatic gearbox as standard. It's not a bad gearbox and changes are generally swift and smooth, though in situations where you need to change several gears quickly, it can feel as though it has been caught out.
One area where the new A-Class has come in for criticism is in the way it rides – it's too choppy, too firm and often downright uncomfortable. So it's no surprise that Mercedes-Benz has brought in a few changes to improve comfort, including revised damper settings, specially-calibrated shock absorbers and an entirely new rear suspension subframe.
And, to a degree, it's worked. While it remains a firm riding car, it's far smoother at higher speeds and can now be specified with Comfort or Sport suspension. Comfort gives a better blend of ride comfort and dynamics and is standard on CLA Sport models.
The CLA doesn't offer a particularly engaging or rewarding driving experience when compared to the likes of the Audi A3 or BMW 1 Series. Body control could be better, especially when it's being pushed, but the steering is nicely weighted and gives a reasonable amount of precision.
For those looking for outright speed, there's the petrol-powered 211PS CLA 250, but don't expect to get your hands on it until later in the year. Until the CLA 45 AMG puts in appearance, this will be the fastest CLA, with a 0-62mph time of 6.7 seconds and a top speed of 149mph. In reality, it lacks excitement and feels much slower than that and the C220 CDI – despite being slower on paper – has so much more usable power. Neither does it offer particularly impressive economy: 46.3mpg and 142g/km. For outright power we'd wait for the CLA 45 AMG or opt for the C220 CDI which offers a better blend of both.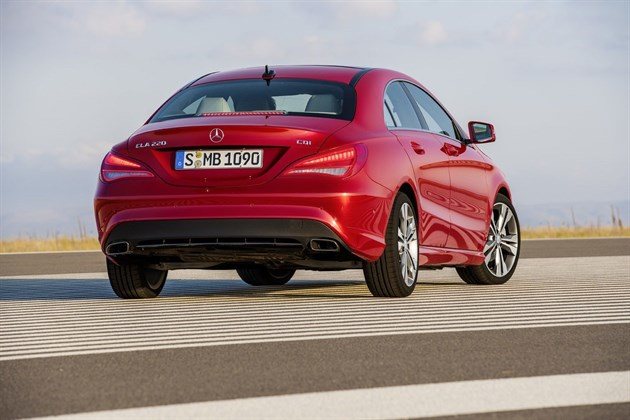 For many people, knowing that this is the most aerodynamic car you can buy (the Cd figure is as low as 0.22) will bring little more than shrug of the shoulders. But it's worth mentioning as it's not just Merc engineer showboating – it brings tangible benefits to fuel consumption. For every decrease of 0.04Cd, there's the same fuel economy saving as dropping the kerbweight by 100kg. A couple of tricks that the CLA uses to enhance its slippery shape are a front grille with shutters that close at speed, specially-shaped door mirrors, fins in the rear lights and vents in the wheel arch linings.
Where that slippery shape doesn't help is in the back of the car. While the two front passengers have plenty of head and leg-room, that's not the case in the rear. Headroom is tight, very tight in fact, and is the big giveaway that this has been developed from the A-Class rather than the C-Class. Although there are three seats, it's a real squeeze for two in the back and the sloping roof line means many adults will find their heads hitting the rooflining. If you're only going to occasionally use the rear seats, you can probably get away with it, but if you have older children and expect to be using the rear regularly, it may well be enough to put you off the CLA altogether.
Up front, it's very similar to the A-Class with very upmarket-looking controls that have a top quality feel to them. It also has an iPad-esque tablet mounted to the dash. It's standard and is how many of the car's functions, including the stereo and sat nav, are accessed. Right now it looks smart and is an innovation, but with the current pace of technological advances, you can't help but wonder whether it will start to look rather dated in a few years' time.
The boot is impressive. At 470 litres, it's 130 litres more than an A-Class and and just five litres short of a C-Class. It opens at a good height, too, so it's pretty easy to load and unload. Unusually for a saloon, it gets split-folding rear seats as standard, which lends it a little extra practicality.
Overall the CLA offers a new spin for buyers whose default choice may previously have been an Audi A3 or BMW 1 Series. The looks won't be to everyone's taste, but those who like the coupe-like look or have previously fancied a CLS, but haven't had the cash, will not just like it, but will love it.