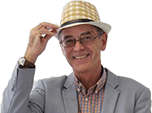 Mercedes Benz A Class W177 2018 Range Road Test

The 2018 Mercedes-Benz A-Class W177 looks similar to the previous A Class, but is, in fact, a completely re-engineered car on Mercedes new 'MFA2' small car structure. Under the bonnets are an all-new 1,332cc 163PS turbo petrol engine, a new 1,991cc 224PS petrol engine, or an updated 1,461cc 116PS belt cam diesel. All engines meet EU6d Temp emissions standards.
All come as standard with 7G-DCT dual wet clutch automatics: the 1.3 A200 with a Getrag box capable of taking up to 280Nm torque and the 2.0 with Mercedes own much more substantial (actually a huge) DCT that can handle 400Nm torque. A 6-speed manual transmission option will come later. The new M282 1.3 petrol turbo engine is a co-development with Renault and the 1.5 diesel is basically Renault's 1.5DCI with a lot of improvements.
The big new thing about the cars is the MBUX multimedia system operated by a central touch-screen in all models, whether 7-inch in basic cars or 10.25 inch in higher-end equipment packages.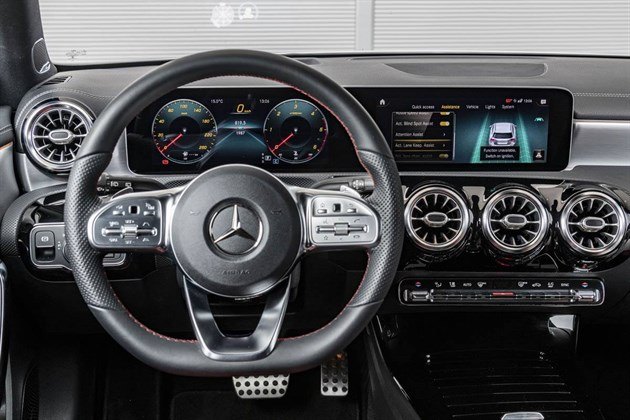 This is graphically very attractive, particularly in twin 10.25 screen format, which stretches across behind a continuous clear screen. It's also reasonably intuitive. No complex menus within menus within menus like a BMW. No ridiculous 'gesture controls'. You just slide your finger across the touch screen and get to whatever function you want. Or you talk to it, waking it up with the words. "Hey Mercedes" and giving it voice instructions.
You have to be precise, especially with satnav commands, and it doesn't understand requests to increase the volume of satnav instructions, but otherwise it works remarkably well and can get you out of a hole if you get lost without having to stop or take your eyes off the road to key things in.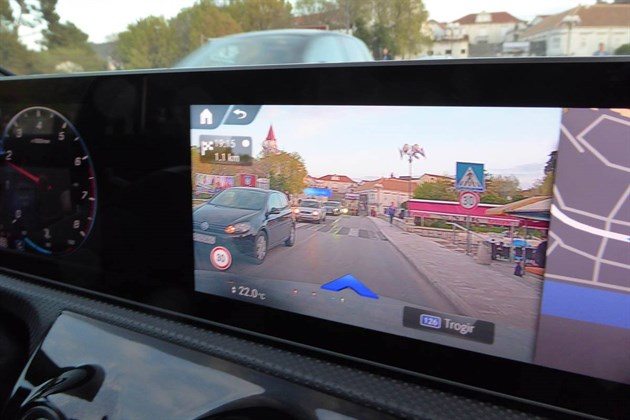 An unusual feature is 'Augmented Reality Navigation Display' (in conjunction with Exclusive, Premium or Premium Plus equipment lines). This uses a forward camera to provide a real-time overlay of the street in front, together with the satnav arrow so you can see exactly where to go.
We drove all three engines, starting with the M282 1.3 (which Mercedes exaggeratedly calls a 1.4). All the cars were on 19-inch wheels with 225/40 R19 tyres, so what impressed immediately was the refinement of the car and the quality of the ride.
An enormous amount of work went into achieving this. Unsprung weight in the front suspension is reduced by 1.5kg each side and a lighter twist beam rear axle in the 200 and 180d. (The 250 gets a revised multilink rear suspension with extensive used of aluminium.) The structure of the car is considerably more torsion ally rigid. And advanced aerodynamics including electric radiator shutters and a full underbody shield, result in a Cd as low as 0.25.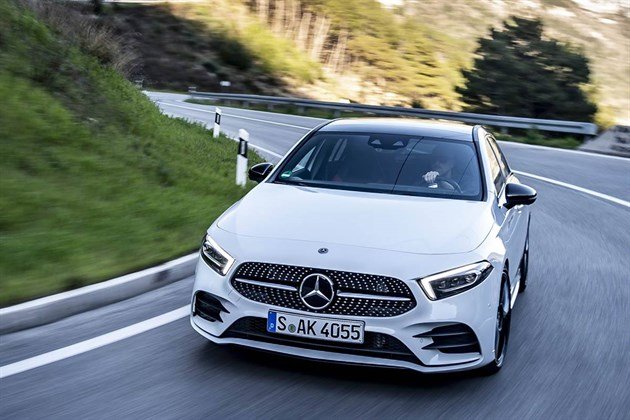 Changes to the OM608 belt cam 1,461cc diesel engine include a new cylinder head with integrated inlet manifold, close coupled emission control system using AdBlue SCR, an electronically controlled VTG turbocharger and a water-cooled intercooler. The M260 1,991 petrol chain cam petrol engine features 'CONICSHAPE' honing of the bores, 'Cationic' engine timing on the inlet camshaft and partially integrated inlet and exhaust manifolds. The new M282 1.3 chain cam petrol engine has 'NANOSLIDE' cylinder coatings, a delta shaped cylinder head, cylinder shut off and an electronically controlled turbo. To meet EU6d Temp, both petrol engines have petrol particulate filters.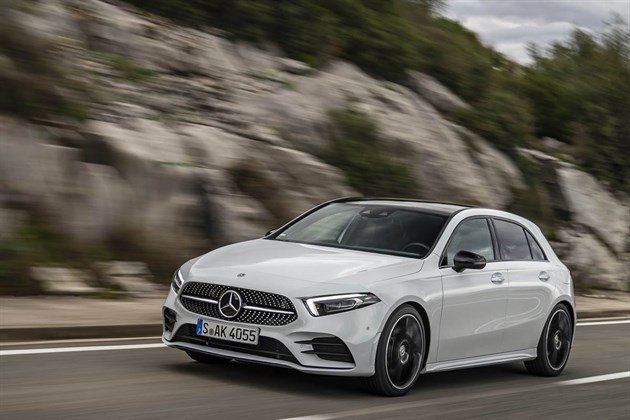 With 163PS and 250Nm torque in an, aerodynamic car the A200 is smooth and quick enough, if not dramatic. Handling is okay and steering precise, though feeling a little over-light. The A180d is a bit slower, but astonishingly refined for a diesel-powered car. It simply doesn't feel or sound like one. From outside the A250 strangely does sound a bit like a diesel. But out on the road, its combination of 224PS and 350NM torque and the multilink rear axle make it a very satisfying driver's car to which the A200 and A180d pale in comparison. 224PS isn't an outstanding output for a 2.0 litre turbo petrol engine these days, but 350Nm torque is.
Driver assist systems include 'Active Blind Spot Assist' that can take over the steering of the car fairly aggressively to avoid collisions. We were in the nearside lane of a motorway when another car driving much more quickly overtook and the system forced us over to the left. So we switched that off. 'Active Lane Change Assist' also affects the steering making it feel distinctly unnatural, so we switched that off too, which, happily, is very easily done. 'Active Emergency Brake Assist', however, is worth leaving on because after warning of an impending collision it will actually stop the car before that happens.
The new A Class is basically top of the class in this size of car. It's very solid, rides well and you get the very strong impression that everything has been thought through, pondered, discussed and then thought through again until a very high standard was reached.
Sure, it's a little more money. But you get what you pay for.
More at Mercedes-Benz