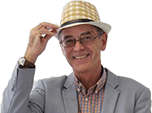 Mercedes-Benz A-Class 2005 Road Test
Wed, 19 Jan 2005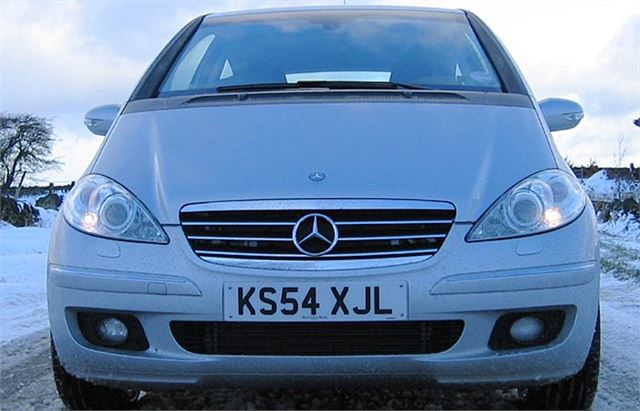 The first big improvement of the 2005 A Class is the feeling of heavy, Germanic solidity. There's nothing flimsy about it. The plastics are thick. The pile of the upholstery and carpeting is deep. Even the feel of the rear seats as you fold them is reassuringly over-engineered.
Unlike the original, it's a proper Mercedes in miniature rather than just a small car with a Mercedes badge.

It drives and handles like a larger, heavier car too. It's quiet, refined and smooth. You could step out of an old W123 E Class or a W126 S Class into a new A Class and feel the cars were made in the same factory by the same people (even though they aren't). If you had driven a company Mercedes for the last 20 years of your working life, a new A Class would be the perfect retirement car. All the quality, without the length.

I drove to the launch in Mercedes new small trendy car, the Smart ForFour. And the contrast could not be greater. The Smart is chic and cheerful, not really a Mercedes at all. The new A Class is altogether much more grown-up.

It needs to be, because it certainly isn't cheap. Though prices start at £13,655, and that's actually a few pounds less than the old base-level A Class, the money asked soon escalates and especially if you start adding extras. The A170 Elegance 5-door is £17,305 for starters, before you add the goodies on the test car that took it up to a cool £20,345. While the A200 Avantgarde SE 3-door starts at £18,120 yet the extras on the 7-speed CVT 'Autotronic' I drove lifted it to a jaw-dropping £26,170. Way above many C Class and even more than the cheapest E Class.

So what do you get for this hefty outlay, apart from Mercedes ambiance, quality and status? The answer is quite a lot of basic spec.

All new A Class come with 'Parameter' electro-mechanical speed-sensitive power steering, just like the larger cars. And the steering does have big car 'feel'. As well as adaptive front airbags there are head-thorax side airbags for driver and front passenger with active head restraints. A multi-function steering wheel is standard across the range, together with a trip computer display. The five-door body has a unique double height rear load area enabling you to achieve a flat, sill free floor with the back seats down. All come with a factory fitted integrated radio and CD player. All have bigger, better, very comfortable seats for five. All have new 'spherical parabolic spring' rear axles. All, including the diesels, are Euro 4 emissions even without the maintenance-free particle trap fitted. A transponder recognises if a rear-facing child seat is fitted in the front and automatically deactivates the passenger airbag, reactivating it again when a forward facing passenger uses the seat. There is even an indicator to tell the driver if a rear passenger has not buckled up their lap/diagonal seatbelt.

Petrol engines are a 95bhp 1.5, a 116bhp 1.7, a 136bhp 2.0 litre and, arriving in autumn 2005, a 193bhp 141mph 2.0 litre turbo. Diesels are all 2.0 litre 4 cylinder with 82bhp and 180Nm torque from the 160CDI, 109bhp and 250Nm torque from the 180CDI and, coming in a few months, 140bhp and 300Nm torque from the 200CDI. Transmissions are 5-speed manual with the smaller petrol engines, otherwise 6-speed manual or a new 7 selectable ratio CVT 'Autotronic' automatic.

From my brief drives I can tell you that the A170 5-speed manual is very pleasant and rides well with none of the choppiness of the old A Class and more benign steering. It feels designed from the outset to be reassuringly stable, rather than redesigned with a lot of complex electronics as the original A Class had to be. It's a proper, high-quality car.

The new 'Autotronic' transmission in the 2.0 litre C200 3-door I also drove feels a bit alien at first because it slurs more than the CVT-7 in the Honda Jazz. Once in 'Drive' you can easily select lower or higher ratios by wagging the standard Mercedes fiddlestick left or right, or press the 'Sport' button to hold ratios a bit longer, or, of course, use the kickdown. I took the car up into the January snow above Chesterfield to check it out in severe conditions and it didn't put a wheel wrong. Then, after having taken a few photos, I got back into the car to find I had adapted my driving style to it. I easily set the optional satnav to take me back where I had started from and enjoyed a very pleasant, quiet, refined return journey. On the motorway, 7th is so long legged it gives about 35mph per 1,000 rpm so 70 comes up at just 2,000 rpm.

So should you buy one? It's undoubtedly an ideal retirement car for the moderately affluent or even for wealthy people who simply don't want or need a big car. It's imposing in a manner Mercedes should be (which the old A Class never was) so your status need not suffer. And, with no door sills and high seats, it's very easy to get in and out of.

Mercedes is also hoping that the car's versatility, particularly with the EASY VARIO PLUS removable rear seat squabs and folding passenger seat packages will appeal to younger buyers. Maybe it will, just as long as they don't add too many options. After all, a Golf GTi is now £20,000 and the new A Class could be seen as a sensible, responsible alternative for status conscious young mums and dads who see no point in a 'performance cars'.


Reader Report by Stuart McTavish

"I bought a new Mercedes-Benz A200 CDI Avantgarde 6 speed manual in July 2005 and it has just had its first service - B service - at 18000 miles. (I know you would have recommended an earlier one.) I have been very pleased indeed with the car. I find it extremely comfortable - I'm 6ft, 16 stone and nearly 60 - and enjoy the high driving position and ease of getting out. As expected, the ride quality is susceptable to road surface and the cornering reminds you it is tall car but both are completely acceptable for sensible driving. The performance on long or short journeys is tremendous. Mid range acceleration especially is impressive and reassuring. I like the 6 speeds and being able to flick between 5 and 6 on the motorway to maximise performance. Consumption, too, is very pleasing. A recent Scottish holiday of 1600 miles averaged out at 56 mpg. An 80 mile trip recently on motorways achieved 64mpg. There were one or two minor door trim faults on delivery but Mercedes of Tonbridge dealt with them well. I had to have a new windscreen after a stone chip. The company doing it was pleasant but did not understand about replacing rain sensors and after much fruitless to-ing and fro-ing it had to go back to the dealer for recoding. I hope to keep the car for a number of years and so far I shall be very happy to do so."