Mercedes-AMG GLB 35 2019 Road Test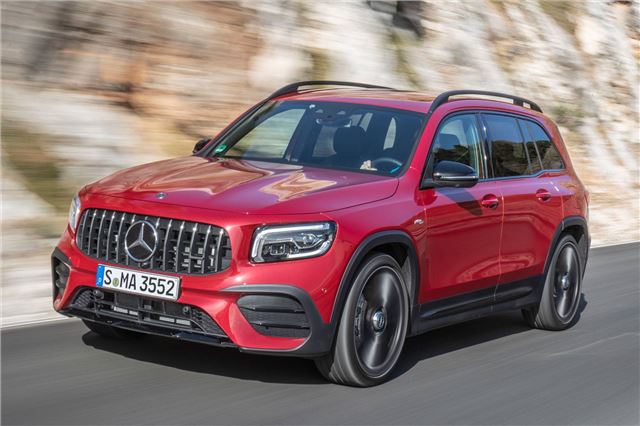 The Mercedes-AMG GLB 35 is an entertaining SUV oddity. In fact there's nothing else quite like it, and it's executed in the usual Mercedes-Benz way - with a quality interior and entertaining driving experience. Its biggest catch, however, is going to be the price which is expected to be in the region of £50,000.
Of course, there are more sensible models available. Diesel buyers are catered for with the 200d and 220d (the former available with two- or four-wheel drive, the latter solely as a four-wheel-drive), while there will also be an entry-level 200 petrol. Prices for the sensible GLB models start at £34,200, making it a slightly expensive rival to the Land Rover Discovery Sport and Volkswagen Tiguan Allspace.
Back to the AMG, which uses the same turbocharged 2.0-litre petrol engine as the A 35 hatchback. It produces 306PS and takes the GLB 35 to 62mph in 5.2 seconds. That's half a second slower than the A 35 thanks to the GLB's extra mass and boxier dimensions, but the same as the five-seat Cupra Ateca.
It certainly feels quick, although we sense that there's a little left in reserve for a hotter GLB 45 model. Whether that'll happen, we're not sure. As much as we'd like to see it, it'd be an even more niche derivative of an already niche model. While the 35 sounds pretty good, it's fairly artificial (as per most hot four-cylinder petrols…), and we wouldn't mind a bit more drama in the aural stakes.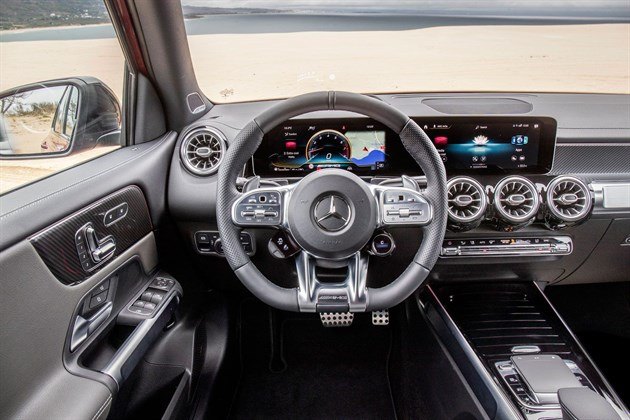 The eight-speed dual-clutch gearbox is excellent, providing seamless shifts and kicking down quickly when required - we prefer it to the seven-speed gearbox used in the hot A-Class. There's the usual mix of driving modes, ranging from Eco to Sport Plus, changing parameters like gear selection and air suspension settings.
Talking of which, the suspension is noticeably firm - especially on the huge 21-inch wheels of our test car. We've only driven it on the smooth roads of Spain, so it'll be interesting to see how it copes with bumpy British roads.
There's an enormous reserve of grip available and, despite the GLB's higher centre of gravity compared to a hot hatch, your passengers won't sway around too much during enthusiastic cornering. Not that most buyers will bother - more importantly, its relatively compact dimensions means it's easier than a full-size SUV to thread through town, while it's also quite settled and refined on the motorway.
The interior is a class act, with an abundance of soft-touch materials and a cool and contemporary feel that'll be familiar to anyone who's driven the latest A-Class. There's also Mercedes-Benz's excellent MBUX infotainment system, comprising of a 10.25-inch touchscreen display and a 10.25-inch virtual cockpit. We particularly like the augmented reality navigation, which will display graphics over an image of the road ahead to make it clear which direction you need to go in.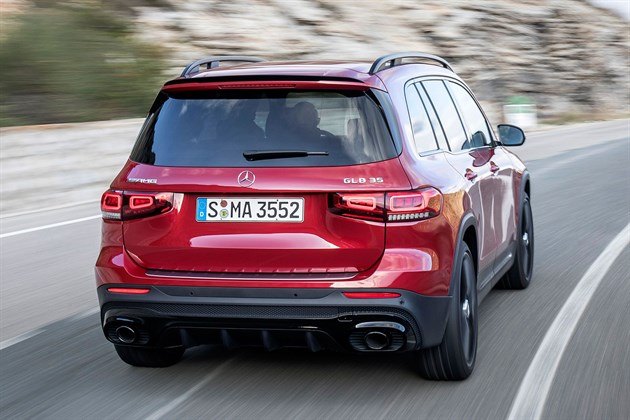 The wheelbase is 100mm longer than the A-Class, meaning it's a relatively spacious cabin - for the front and middle seats, anyway. The third row of seats are definitely for occasional use only.
Children will enjoy the challenge of climbing into the back, but once there they'll find a pair of cup holders. There's even ISOFIX child seat mountings, although we're not sure how easy it would be to actually fit a child seat. Adults will just about fit, but there's not much legroom (even with the middle row slid forward) and headroom is limited.
With the rearmost seats in use, there's practically no boot. But they're easily dropped, and when used as a five-seater the GLB is a practical little SUV. There's 570 litres of boot space, usefully wide with little in the way of a lip for hoisting heavy objects over.
If you're looking for a family car that's entertaining to drive, has an upmarket interior and you don't need the space of a 'proper' seven-seater, the AMG GLB 35 is an excellent choice. It's certainly a niche model, but that only makes it even more desirable.