Mazda CX-5 2.0i petrol automatic 2019 Road Test

The Mazda CX-5 2.0i 165 Skyactiv G automatic is a new model for the UK. Up until recently demand here dictated diesel. But now, at last, Mazda is starting to import the 2019 model CX-5 with both a petrol engine and its excellent 6-speed torque converter automatic transmission.
The huge advantage, of course, is to drivers who want the benefits of a mid-size automatic SUV (albeit two wheel drive only), but don't want the downsides of diesel. Economy over 500 miles recorded on the car averaged 36.7mpg, which is about the same as a 2.0 litre torque converter diesel automatic. It's priced reasonably decently, too, at £26,295 for the SE-L Nav+ or £29,795 for the Sport Nav+. (That little + sign after the name indicates that the cars are fully compliant with the new WLTP emissions requirements that became mandatory from September 2018.)
The 2018 CX-5 2.2 150 diesel manual is covered in a road test here; in the carbycar entry here; and in Dan's long-term test here. As before, there's lots of room inside and a feeling of real rather than merely superficial quality. And the successful restyling makes it a more homogeneous, nicer looking car than the original.
Though well-equipped in standard SE-L Nav + form, you get a lot more for the extra £3,500 you are asked to pay for the Sport Nav +. See the specification section for the details, but the extra goodies include 19-inch wheels with 55 profile tyres, though 17-inch wheels with 65 profile tyres are a dealer option. (And you can now get Michelin Cross Climate SUV tyres in 225/65 R17.)
You also get a sunroof.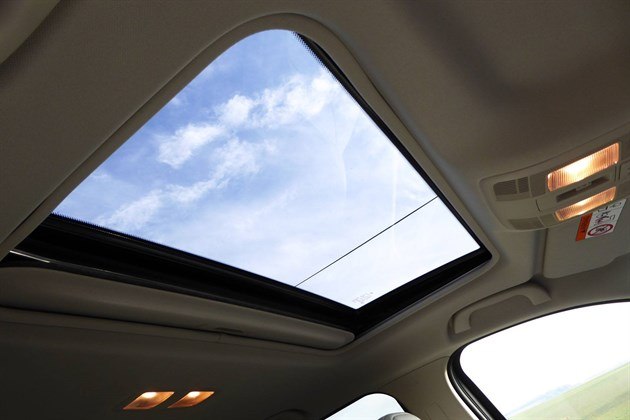 Leather upholstery (though Stone White leather is £200 more.)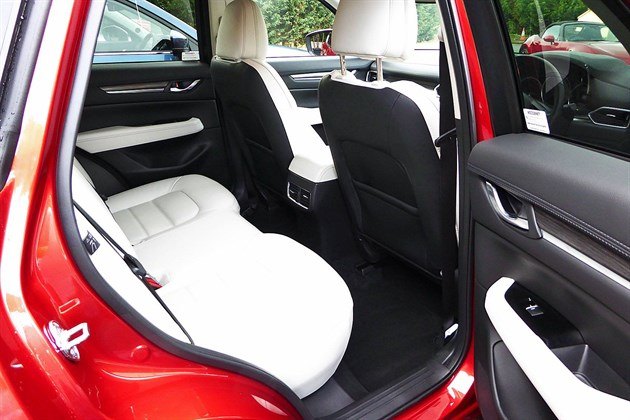 A 360 degree parking camera.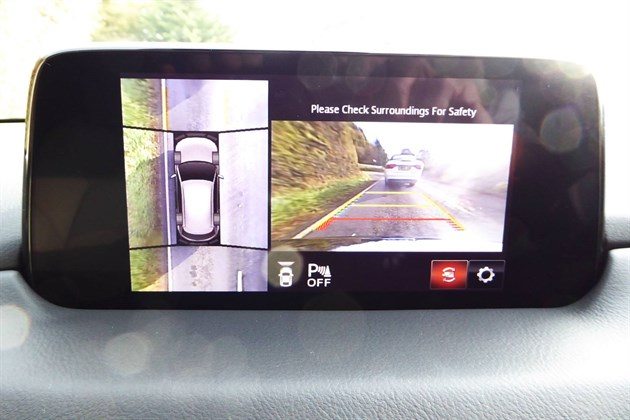 And a line-of-sight head-up display projected in the windscreen.
To drive, it's uncannily quiet, smooth and limousine-like. I think it beats an Audi Q5 in that respect. It's very pleasant indeed.
However, with only 165HP, no turbo, and a mere 213Nm torque (less than a Peugeot 1.2 Puretech 130), it's no ball of fire. Hard acceleration is met with a significant increase in noise levels as the engine and transmission try to cope. For most drivers, and particularly those who like to drive smoothly, this will not be an issue. And if they want to tow, the CX-5 2.0i 165 automatic is rated at 2,000kg.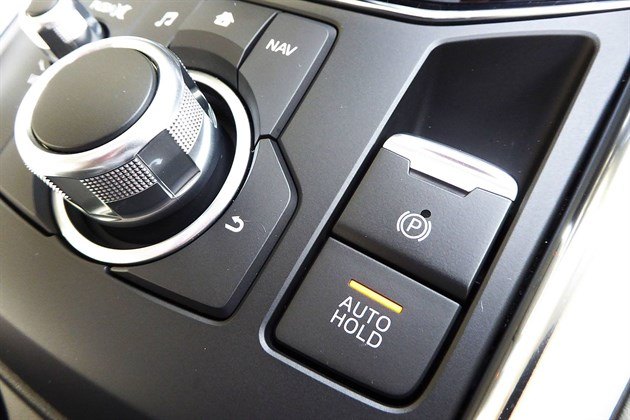 Many drivers rue the lack of a lever type handbrake, but the CX5 has a separate brake hold function that hold the car in place when you lift off the brakes and quietly release when you want to move off again. Mazda also kindly allows you to move the selector from D to N and back to D without having to press the brake pedal.
Any criticisms? Though well-placed, the satnav screen is quite small by today's standards.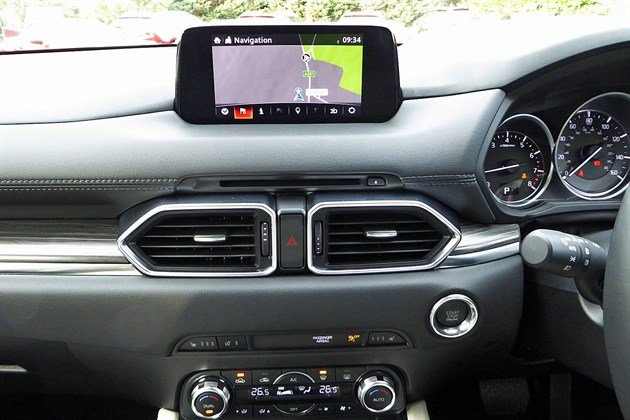 There's not a lot of steering feel through the 225/55 R19 tyres and a clumsy exit from a side-road can result in some wheel scrabble.
The driver's seat squab does not seem to tip upwards at the front to provide more thigh support.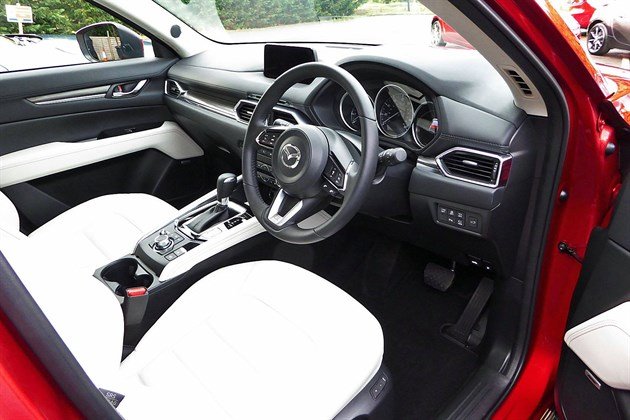 There are no paddles behind the steering wheel to manually change gear (though you can with the lever in the logical forwards to change down, back to change up).
There's mo standard spare wheel; not even a spacesaver (you can get one as an extra).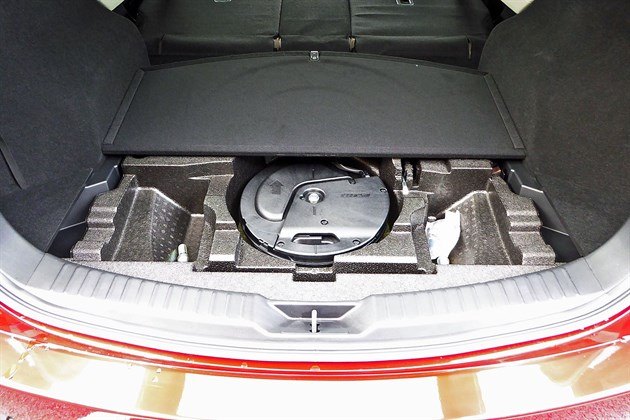 But that's it for the downsides. Spec for spec, both CX-5 trim levels are extremely well equipped for the money. And, at a time when almost everything else is a CVT or a dual clutch automatic, it's a real pleasure to enjoy a smooth, vice-free, proper torque converter petrol automatic.
More at Mazda