Mazda CX-30 Skyactiv-D 2020 Road Test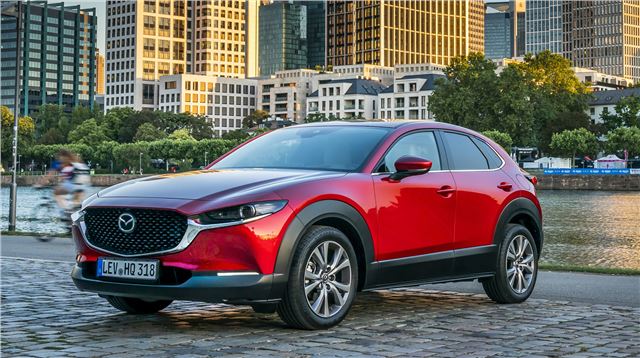 Mazda tends to accompany the launch of its new vehicles with a lot of marketing bluster. And the new CX-30 is no different: SKYACTIV-this, KODO-that, JINBA-ITTAI-the-other. It doesn't matter. What matters is this is, essentially, a Mazda 3 turned into a family crossover.
Interesting. The Mazda 3 is brilliant in many ways – we've given it a five-star review and it currently holds the HJ Family Car of the Year award – but if it lacks anywhere it's in practicality terms. It's not bad, but held under the spotlight shone by the family crossover segment, this family hatchback – and most of them, to be honest – seems to lack space and versatility. Problem solved with the CX-30 then, right?
Right. Good. If it looks a slightly bizarre decision on paper to give the CX-30 a shorter wheelbase than the 3, you'd never really tell on the road. The CX-30 feels every bit as tall and spacious as any other Nissan Qashqai-type family crossover. It strikes that nice balance of tall airiness in the cabin but compact movability on the road. There's plenty of rear legroom, good headroom all around (obviously) and a decent sized boot – albeit one that lacks the practicality flourishes of, say, a Volkswagen T-Roc.
So, not much by way of hooks and nets and twin-level boot floors although few will find that a deal-breaker, plus there's plenty of in-cabin storage. And the CX-30 really does excel in its sense of overarching interior quality and solidity – every version gets a high-grade infotainment screen, a big and clear semi-digital instrument panel, soft touch surfaces all over the shop, and all designed with a well-honed balance between aesthetic minimalism and useful intuitiveness.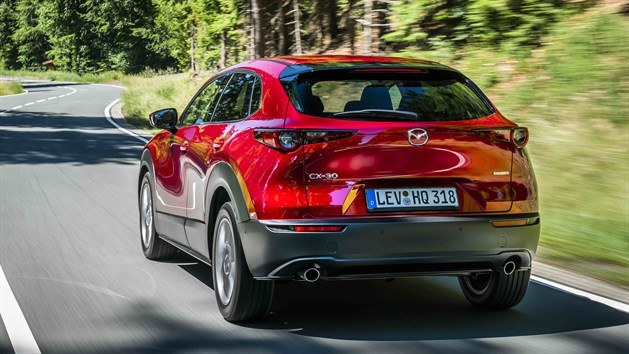 It's the most engaging crossover to drive too, probably. It seems that way for now at least, after only a few hours on Germany's unblemished roads - and the Peugeot 3008 aside - possibly. Either way, the most surprising thing about the CX-30, perhaps, is how little it loses dynamically to the Mazda 3 on which it's based. Same sort of unflustered body control from corner to corner – albeit with a little more roll, naturally. And while it's not the most cossetting crossover for that reason, few will find it uncomfortably firm.
It's as refined as can be too, with very little mechanical noise, wind bluster or tyre roar to burst your wellness bubble. Again, in these respects it feels class leading, assuming the class doesn't contain the 'proper' premium stuff. You know the ones.
Of course you'll pay for all this, and while prices aren't confirmed at time of writing, we're told to expect a £2000 to 3000 premium over an equivalently graded Mazda 3 – the engine and trim lineups will match almost exactly. That gives the CX-30 a starting price in the £24,000 region, which is a lot given a Qashqai can be picked up for less than £20,000. It's about on par with the Peugeot 3008 though.
If the CX-30 has a real weakness it's the engine line-up, weak partly because of Mazda's refusal to follow the downsizing/turbocharging trend. Instead, the company has developed a compression combustion petrol engine that in theory combines the positive torque and efficiency characteristics of a diesel with the refinement of a petrol -  the so-called Skyactive-X, a world first in a production car.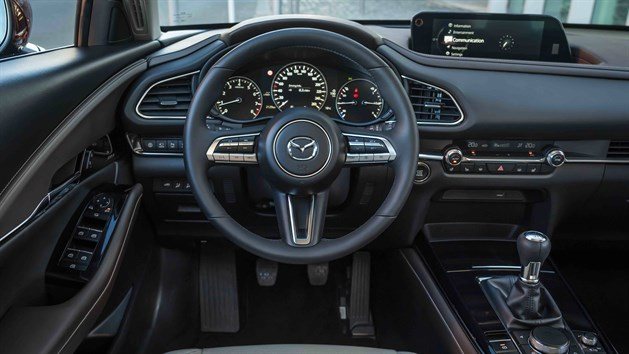 It's an impressive technical achievement and an absolute win-win in principle. Very simply put, it uses a supercharger to help create a very lean air-fuel mix that can be combusted via compression, like a diesel engine. But it still has spark plugs and can fire the cylinders using those, like a standard petrol engine. The immediacy of compression combustion gives diesel engines their low rev torque characteristic, but where a diesel would usually hit a hard limit at fairly low revs too, the SkyActive X has a higher limit, like a petrol. Best of both worlds, right?
Not right. Unfortunately the engine still feels sluggish, almost ponderous from the mid-range and ultimately nowhere as near as punchy as its 180PS claimed peak power suggests it will be. It's quiet, but it also has an occasional lumpiness - that being the only suggestion that this is anything other than a standard, mid-level and slightly depressing naturally aspirated petrol engine. As in, the sort that the CX-30 already has in the 122PS SkyActiv-G.
Therefore we'd suggest the diesel is the best bet. it's not as refined but it's genuinely punchy and usefully more economical than both petrols. You can have this with four-wheel drive too, if you like, albeit a torque-apportioning clutch type that's meant less for off-roading and more for improving all-weather traction. You can probably do without it.
Ultimately it's a shame that the overall quality of the CX-30 experience – dynamic, aesthetic and craftsmanship – isn't mated to a more befitting petrol engine. If it were, this would be an easy recommendation. As it stands, that's a significant caveat.
The Mazda CX-30 goes on sale December 2019.