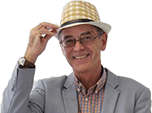 Mazda BT50 2010 Used Truck Test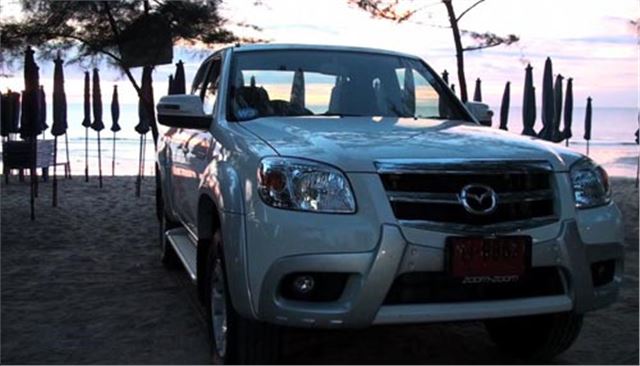 We tested the current upgrade of the Mazda BT-50 pick up in Croatia in October 2008. Now we're testing the run-out model as a potential used truck buy in its home territory of Thailand.
The model tested is two-wheel drive with Freedom cab, 143PS 2.5 belt cam engine, five-speed transmission and 245/70 R16 tyres.
I though I'd take it down to Cha Am on a Sunday, in the company of two friends who just happen to be Royal Thai police undercover cops, frequently involved in drug busts. "Meet us on Sukhumvit at Pra Khanom BTS station at 3.00 o'clock in the morning," they said. "Avoid the traffic."
Cha Am is 200 kilometres south. And while Bangkok's main thoroughfares hum and bark with engine sounds all night long, the A4 is largely traffic free at that time. So we made progress, cruising at 120 – 140kmh, rarely exceeding 2,000 – 3,000rpm, and though I still rate the 2.5 I-TEQ in the Isuzu D-Max my favourite pick-up engine, the BT-50's 2.5 is a pleasant enough companion.
It's surprisingly good to drive in Bangkok traffic, which is either snarled up in what the Thais describe as a 'rhot tit' (traffic jam), or freely flowing at up to 80kmh, which is the speed limit in town.
That requires a nice slug of mid range acceleration, and the BT-50 has a truckload. It also has very direct and accurate steering on those balloonish 245/70 R16 Michelins. So it slims itself down, threads through gaps and avoids the wasp-like swarms of 125cc motorbikes very nicely. It's better than a D-Max in that respect.
We got to Cha Am as dawn was breaking, and I was shooting on HD both in the Sony and the Flip. This explains the quasi Top Gear mood shots. I got half my film done there and then, before the crowds descended. Demo of the useful Freedom cab rear hinged doors (like the RX-8's and the first of their kind on a pick-up). Mention of the high 1,219 kilogram load limit (our D-Max is only 1,000kg). 4WD versions can tow 3,000kg.
In the early afternoon, a very attractive young lady showed up in a Honda Brio and parked alongside, giving me a chance to see what they looked like on the street. It was completely brand new, still with the protective seat covers. I guess she might have been a Honda salesperson. The Thais have no qualms about employing female car sales people, and they are very effective.
3.30pm. Time to go. We shot the street scenes. I did the wrap up. Then back to Bangkok in much heavier traffic than the outward journey.  My police friends had enjoyed Cha Am, finding it friendlier and much cheaper than resorts like Bang Saen and Pattaya, which are, of course, closer to Bangkok. Though the bottle of whiskey they drank on the beach might have had something to do with it.
A last minute comfort stop, involving some heavy braking into a fuel station, revealed the limits of the BT-50's handling prowess. But the tactile controls, good steering and easily modulated brakes saved the day. This is a pick up that, despite the weight and bulk, doesn't go out of control and turn into railway engine.
We eventually got back safely, only for me to sit in yet another Sukhumvit traffic jam for the best part of an hour. Yet even then the BT-50 as a good friend, ambling down to 1,000rpm, and when it got a break, accelerating from 30 to 50 in third very rapidly indeed (for a truck).
I got to see a lot more of Sukhumvit the next day returning the truck, because they'd closed the Shell station and valet service at Thong Lo (presumably to build yet another hotel), so I had to double back and use Caltex in order to hand back the BT-50 in at least as good shape as it had been handed to me.
Assuming the truck has been brimmed before I took it over, we averaged 35.77mpg, over 249 miles, which is actually better than the EC average despite the traffic jams and the high speed running.
I preferred this particular truck on its 245/70 R16 Michelins to the BT-50s we drove in Croatia in 2008. So tyre sensitivity must be part of the equation.
Inside, whether in the four-door, 5-seat double cab or the 4-seat Freestyle cab, you're treated to decent shaped seats, height adjustable steering wheel, instruments that are nice to look at and, by virtue of its umbrella handbrake, a useful double compartment centre storage box. There are can or bottle holders in the door pocket and the centre console ahead of the gearlever, and a fifth can holder in a well on the console behind the gear lever.
The new BT-50 is a long time coming. Expect a test about November time. In the meantime, a discounted current shape BT-50 is not to be overlooked. While a second hand BT-50 could be just the truck you need at the right sort of price.
For business and commercial towers, all current BT-50s are compatible with digital tacographs.
More at Mazda