Mazda 6 Skyactiv 2018 Road Test

For its third revamp, the 2018 Mazda 6 has been very comprehensively updated. So, in addition to the features covered in our 2016 test, it now boasts a suite of safety equipment, luxury and other improvements that virtually lift it into a higher class.
There are two new engines: a smooth 194HP 2.5 litre petrol four with cylinder deactivation, and a twin-turbo 2.2 Skyactiv D with 184PS and a thumping 445Nm torque. All Skyactiv diesels now feature SCR using AdBlue and all engines, petrol and diesel, are certified to the new EU6d TEMP / WLTP emissions standard.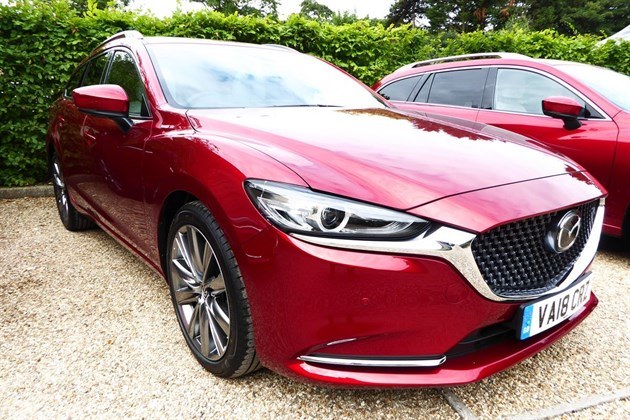 The cars are subtly but appreciably smartened up with an improved frontal treatment involving new headlights and a tidied up rear where the twin exhaust tail pipes sit very slightly further out.
There are also new colours: Machine Grey Metallic and a new twist on Soul Red, now an even deeper Soul Red Crystal Metallic. For an extra £200 in the leather-clad cars you can specify gorgeous Stone Leather.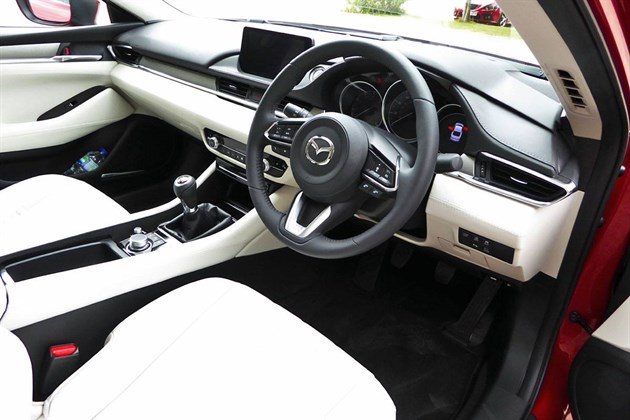 The cars are all extremely well equipped. Fitted across the range, Mazda Radar Cruise Control (MRCC) measures the relative speed and distance to the vehicle ahead and automatically controls the engine and brakes to maintain the appropriate vehicle speed and optimal following distance. The updated MRCC uses both the millimetre-wave radar of the previous system as well as a forward-facing camera. This reduces its minimum operating speed from 19mph down to 0mph. And on Mazda 6 automatics, the system works at all speed ranges and can follow the car in front even from a standstill. Alongside MRCC, Intelligent Speed Assist (ISA) is a speed-limiting system that works in conjunction with Traffic Sign Recognition (TSR) to help keep drivers from exceeding the speed limit unintentionally or because they failed to notice a speed limit sign.
Every new Mazda 6 has a Head Up display in the windscreen featuring traffic sign recognition, vehicle speed, turn by turn navigation and the radar cruise control set distance from the car in front.
To say the cars are loaded is an understatement.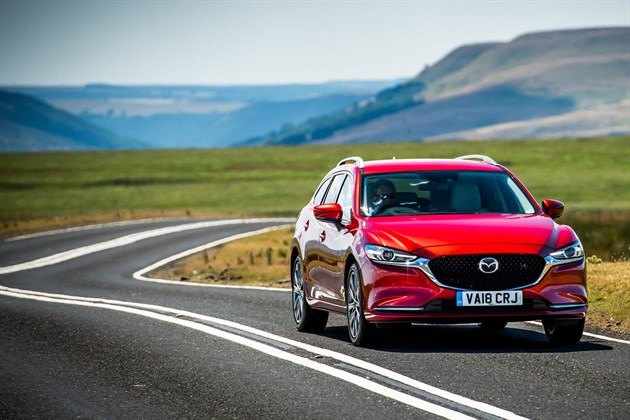 We took out two: a top spec 2.5 litre 194HP petrol Sport Nav + 6-speed automatic Tourer and a 2.0 litre 165HP petrol Sport Nav manual saloon, both on 19-inch wheels with 225/45 R19 tyres.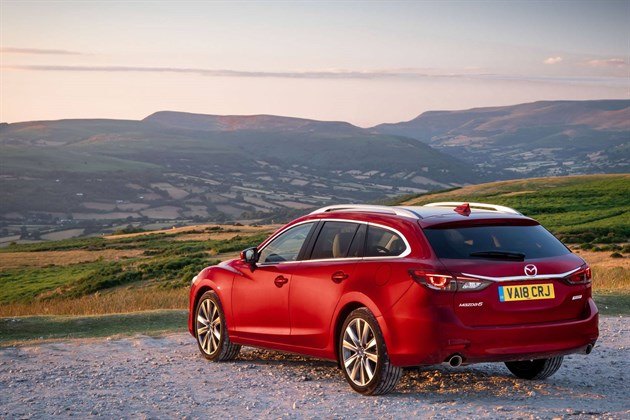 There's no doubt the new 2.5 litre engine is a smoothie, with plenty of power and torque for a non-turbo. It's also very lively, holding its gears at the merest prod even in comfort mode. And, though feeling the road surface through the 45 profile tyres is inevitable, long gone is the tyre noise that readers complained about in first generation Mazda 6 Skyactivs. We averaged 37mpg on the dash: not far off the WLTP figure of 42.2.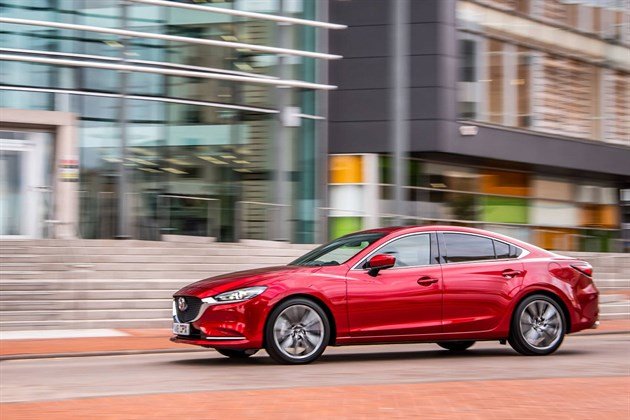 Next, the £5,000 cheaper 2.0 GT Sport Nav+ manual saloon and, despite the lower gearing I immediately felt at home in the car. The gear ratios are right. It's punchy enough. The steering and handling are that great Mazda 6 combination (only briefly lost at first facelift). And we saw an excellent 46mpg on the dash, which is exactly what it achieved in the new, longer WLTP lab tests.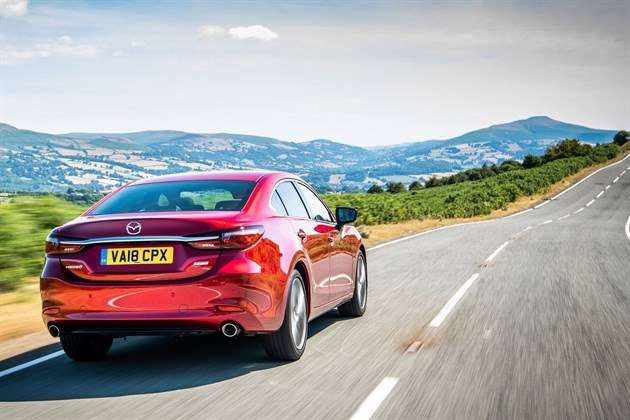 No diesels were on offer. But anyone with a caravan is bound to appreciate the considerably greater torque of the new twin-turbo.
At the end of the day, Mazda had some news for us. The latest Skyactiv X petrol engines for the forthcoming new Mazda 3 are now bettering 120g/km in WLTP equivalent testing.
80% of the world's electricity still comes from fossil fuels; 50% from fossil fuels in the UK. If you extrapolate oil well to tailpipe figures, that means a 'zero emission' electric car actually emits the equivalent of 120g/km CO2 from the generation of its electricity: no better than the new Mazda Skyactiv X.
Bears thinking about.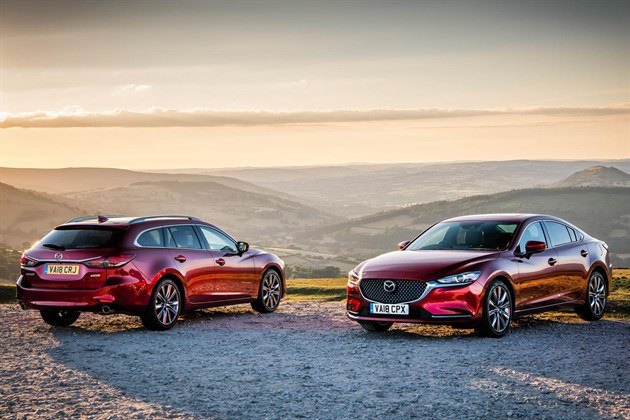 More at Mazda
ENGINES/TRANSMISSIONS
2.0 litre (1,998cc) chain cam petrol: 145PS at 6,000rpm; 213Nm torque at 4,000rpm.
2.0 litre (1,998cc) chain cam petrol: 165PS at 6,000rpm; 213Nm torque at 4,000rpm.
2.5 litre (2,488cc) chain cam petrol: 194PS at 6,000rpm; 258Nm torque at 4,000rpm.
2.2 litre (2,184cc) Low Power chain cam diesel: 150PS at 4,500 rpm, 380Nm torque from 1,800 rpm to 2,600rpm
2.2 litre (2,184cc) High Power twin turbo chain cam diesel: 184PS at 4,000 rpm, 445Nm torque at 2,000rpm.
6-speed manual or 6-speed automatic (2.5 petrol 6-speed auto only)