Mazda 3 Skyactiv-X Saloon 2019 Road Test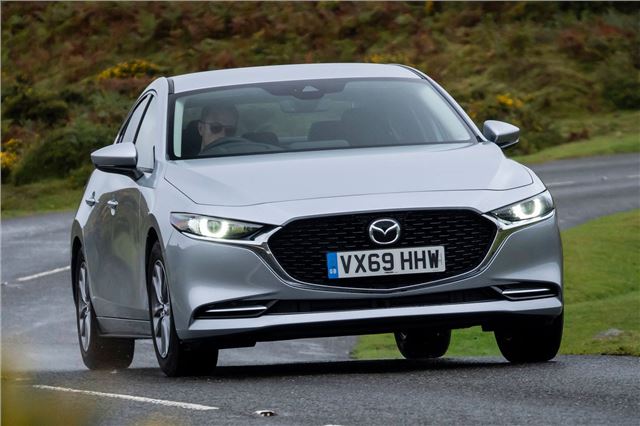 The Mazda 3 is one of our favourite family hatchbacks on sale today thanks to its stylish looks, upmarket cabin and enjoyable drive. Mazda claims its Skyactiv-X petrol engine is so efficient that there's no need for a diesel - so the Skyactiv-D engine has now been scrapped. Is the clever new petrol engine truly a replacement for diesel power?
While rival manufacturers pursue low running costs and effortless performance by fitting their cars with small, turbocharged petrol engines (such as the 1.0-litre EcoBoost used in the Ford Focus), Mazda subscribes to what it describes as 'rightsizing'. It prefers to use engines big enough to power a car without the need for forced induction, claiming this is more fuel efficient in the real world. You can visit Real MPG to see how successful it is.
It goes a step further with the Skyactiv-X. Without wanting to go too deeply into the technicalities of this clever engine, it can switch between spark and compression ignition. The benefits are that the fuel burn is much leaner than in a conventional petrol engine - meaning it combines the qualities of a petrol engine with diesel-like fuel economy. Or that's the idea.
Mazda's so confident of this, it's now removed the diesel from the Mazda 3 line-up. That's a bold move in a type of car that appeals to company car drivers who cover lots of motorway miles and want something as frugal as possible - traditional diesel buyers, in other words. It's also a bit disappointing as we actually think the 1.8-litre Skyactiv-D engine briefly used in the Mazda 3 suits that car very well with plenty of low-down torque and impressive refinement levels.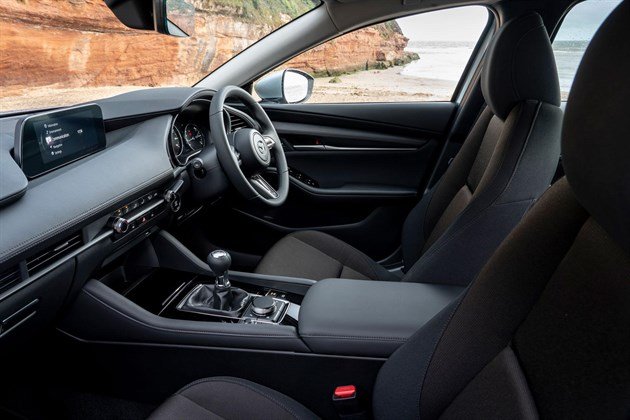 Alas, the world is changing and demand for diesel is dropping. But we're not entirely convinced this new engine is the answer.
Despite having 180PS and an official 0-62mph acceleration figure of 8.2 seconds, it still feels hard work compared to turbocharged rivals. There's a distinct lack of torque low down in the rev range, meaning you have to cling onto revs in an effort to build up speed. Doing this noticeably hampers refinement while also ensuring you'll see far-from-diesel-like economy. We struggled to see 30mpg on our (admittedly very twisty and hilly) test route in the Yorkshire Dales.
Engine aside, the Mazda 3 is a really good car to drive. Its six-speed manual gearbox is lovely, with a gear change that's as satisfying as the one in the MX-5 sports car (and that's saying something). It handles really well, too, with little in the way of roll in the corners and plenty of feedback through the steering. Around town, its steering is light and decent visibility means it's an easy car to thread through traffic.
The saloon model we're testing here is a pretty unusual offering in a car of this size. Despite having the same distance between the front and rear wheels as the hatch, the saloon is 200mm longer and shares only the windscreen and bonnet with the standard car. It's got a bigger 444-litre boot (and the rear seats can be dropped easily), but access is difficult thanks to a fairly small opening. Unless you really want a saloon, we'd stick with the hatch.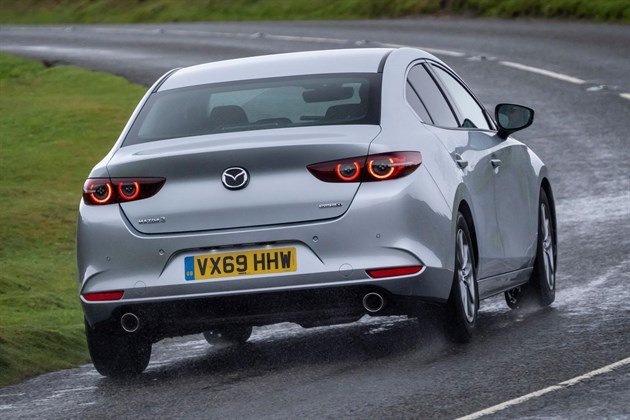 As well as a saloon model, Mazda's now offering the 3 with four-wheel-drive. Like the saloon, we suspect this will be fairly niche, as most drivers simply won't need expensive (and fuel-sapping) four-wheel-drive. If you're worried about snow, a set of winter tyres goes a long way. Mazda has, of course, done its market research - but we find it a bit baffling that it thinks there's demand for saloon and four-wheel-drive versions of the 3, but not a diesel engine.
Anyway, the interior is fantastic. Not as spacious as a Honda Civic or Skoda Scala, but distinctly premium with lots of soft-touch materials. There's a slim infotainment screen on top of the dash, which looks oddly flat at first - but is perfectly positioned for glancing at while driving. It's not a touchscreen, controlled instead by a rotary controller between the front seats. We think this works really well and, in fact, using touchscreen systems in other cars afterwards feels frustrating in comparison.
The Mazda 3 is also very well equipped. The saloon starts at £23,555 in Sport trim, with standard features including LED headlights, 18-inch alloy wheels and DAB radio with Apple CarPlay/Android Auto. Music fans might want to consider spending the extra on the GT Sport model with its excellent Bose surround sound system.
So, we have mixed feelings about the new Mazda 3 Skyactiv-X. The car itself is easy to recommend thanks to its superb interior, high levels of standard equipment and stylish looks. It's good to drive, too, while the Skyactiv-X is marginally more satisfying than the underpowered entry-level petrol. But we're going to take more convincing that the new engine is better than turbocharged alternatives or more efficient than a diesel. With Mazda continuing to sell the diesel Mazda 3 elsewhere in the world, we wouldn't be surprised to see it returning to UK price lists in the future.
The Mazda 3 Skyactiv-X is on sale now with prices starting at £23,555.