Mazda 2 2015 1.5 Automatic Road Test

The new Mazda 2 is the fourth new Mazda to benefit from Skyactiv technology and 'Kodo Soul of Motion' design.
What that means is slightly bigger engines than the class average that nevertheless benefit from excellent fuel economy, low CO2 and no need for Add Blue or Nox filters to meet EU6 emissions standards.
It's a pretty little car, like the previous Mazda 2, and not quite as gawpy at the front as the CX-5, Mazda 6 and Mazda 3.
Significantly, it has the best satnav of any car in the World with the most up to date mapping and an included European update subscription for the first three years. We put it to the test in Spain where constant changes to the road system have most satnavs sending you down wrong turns and getting lost. Yet with this system, over more than 200 miles of twists and turns, we never put a wheel wrong. It's also compatible with smartphones, yet, unlike other systems, doesn't depend on them. Control is by touch-screen when stationary or by an intuitive rotary knob when on the move. It even has a topographical display showing, for instance, that you are on a road along the side of a ravine or in a tunnel. Do not order a new Mazda 2 without the indispensible satnav.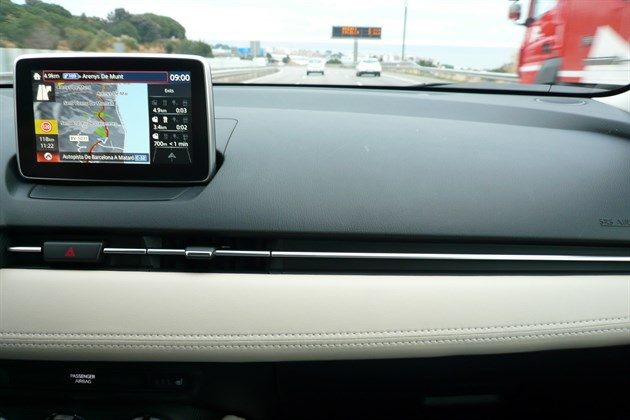 Under the bonnets are either the 1,496cc petrol engine first seen in the Mazda 3, in three states of tune offering 75PS, 90PS or 115PS. Or an all-new, low-compression, manifold-in-head 1,499cc turbodiesel offering 106PS and 220Nm torque. All engines are chain cam.
Gearboxes are 5 or 6-speed manual or a lightweight 6-speed torque converter automatic available only with the 90PS 1.5 petrol engine.
Tyres are relatively deep profile: 185/65 R15s or 185/60 R16s, helping to give a comfortable ride.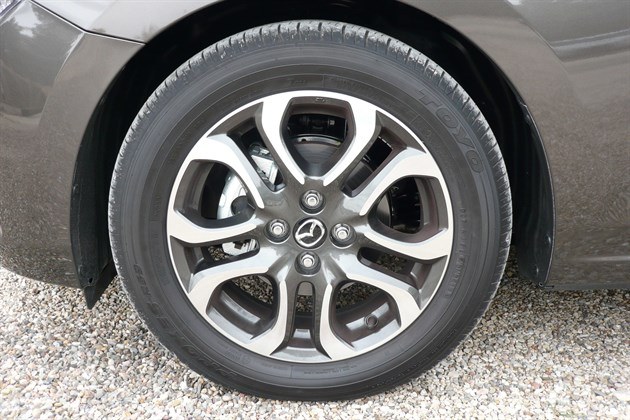 The lowest price of £11,995 looks high compared to starter prices for competitors, but the entry level model is far from base spec and, once you jump a couple of levels, prices are competitive with everything else from the Fiesta through the new Fabia and Corsa to the Polo, and lower than the Audi A1.
We got to try the 90PS automatic in top-level Sport Nav auto trim on 16" wheels with the 185/60 R16 tyres, and also a 90PS petrol SE-L Nav with 5-speed manual transmission.
The diesel wasn't available for testing, but will be in March when we will cover that too.
Our first impression was excellent refinement on smooth surfaced Spanish Autopista, though tyre noise did start to feed through on coarser surfaced roads.
The steering has come in for a bit of criticism from other sources and in truth it doesn't feel as connected to the front wheels as in the old Mazda 2 that put sportiness before refinement. It's okay. Better than a new Fabia. Not as good as a current Fiesta.
Gearing worked out at 30mph per 1,000rpm either in 6th in the auto or in 5th in the manual. But the manual struggled a bit on steep Autopista inclines, requiring a change down to 4th.
The Mazda 2 auto comes with standard paddleshifts and a 'sport' mode. Forget 'sport' auto. That just has the engine revving the nuts off its crankshaft. For decent control on a twisty mountain road or in a town with steep inclines, you're up the creek without the paddleshift. That gives you all the control you need for a smooth drive. But on the level, in town, just leave it in auto and it's fine. Our test showed 6.3 litres per 100 kilometres that translated to 44.5mpg, which isn't bad considering that a lot of the route was on mountain roads.
Driven sensibly over distances, both the manual and the auto 90PS petrol versions should give 45-50mpg.
Fit and finish of the new Mazda 2 with the optional £800 leather upholstery was excellent, seats reasonably comfortable for a small car, ride quality absorbent, but rear knee room and luggage capacity was not as good as the Fabia. A sore point is no spare wheel, just a useless tyre repair kit that we all know rarely works, but at least standard TPMS gives plenty of warning of any problems.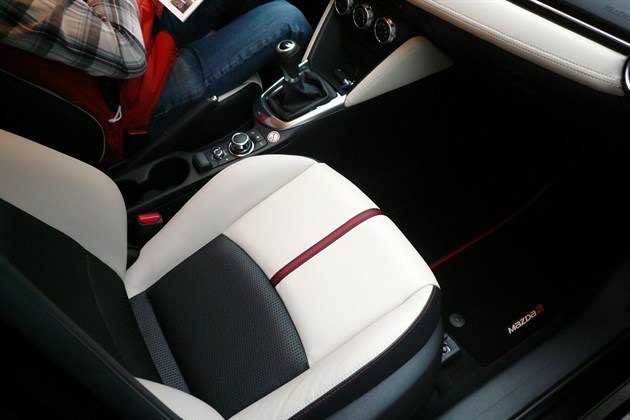 There's a special Mazda 2 Sports Launch Edition that adds some useful kit, but deletes others (see the specs section). Importantly it includes the excellent satnav and also metallic, mica or pearlescent paint that would otherwise add £530 to the price. So at £14,995 it's worth a look.
In addition to that you get a £750 deposit contribution to Mazda's 42month PCP at 5.9%, with a generous 'bubble' payment at the end that aims to leave buyers with 15% equity in the car to kick off a subsequent PCP.
Check the monthly payments carefully and compare. Mazda will also contribute £500 deposit to other Mazda 2s bought on its PCP. Alternatively it offers 0% APR finance over 3 years with a 50% deposit, or a 0% deposit Conditional Sale over 5 years at 5.9% APR.
Even if you normally like to buy your cars outright, PCPs are increasingly becoming the way to go because they encourage buyers to get out of their cars just before they have to start forking out for replacement tyres, brakes and other parts.
Always make sure you fully understand the conditions of any finance deal before committing yourself.
More at New Mazda 2