Lexus UX 250h 2019 Road Test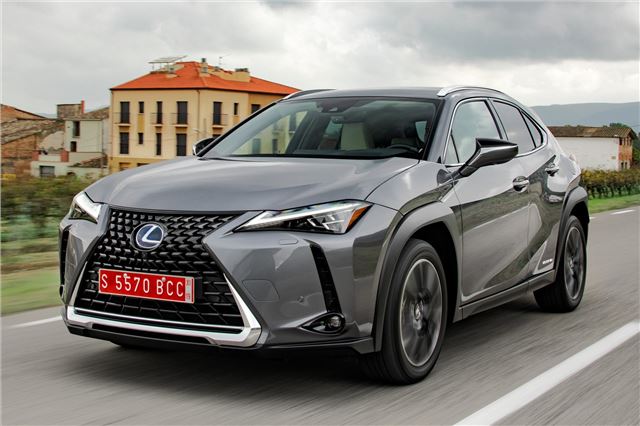 Compact premium SUVs like the Volvo XC40, Audi Q3 and BMW X1 are all hugely popular thanks to their combination of style, practicality and affordability. Surprisingly, though - while they are all available with a combination of petrol and diesel engines, there are no hybrid options.
That's likely to change in the near future but, for the time being, Lexus is making its move in a bid to exploit the current anti-diesel climate. The new Lexus UX is a small crossover of the same ilk of those cars mentioned above, but will only be sold with a 'self-charging' petrol-electric powertrain in the UK. It combines a 2.0-litre, four-cylinder petrol engine with an electric motor positioned on the front axle.
There's a four-wheel-drive model, badged the E-Four, with an extra electric motor powering the rear, but Lexus is expecting the majority of UK sales to be front-wheel-drive. The advantages of using a hybrid setup are clear. You don't need to worry about being snubbed by your neighbours for buying a diesel, while there's no need to plug it in like the upcoming Volvo XC40 plug-in hybrid.
There are perks for company car drivers too - they'll pay BIK tax of 22 per cent, saving around £5000 over three years compared to diesel alternatives. It's also very efficient. Officially the standard model will return upwards of 49.6mpg depending on spec, and we were seeing around 47.0mpg with little effort during our mountainous test drive in Spain.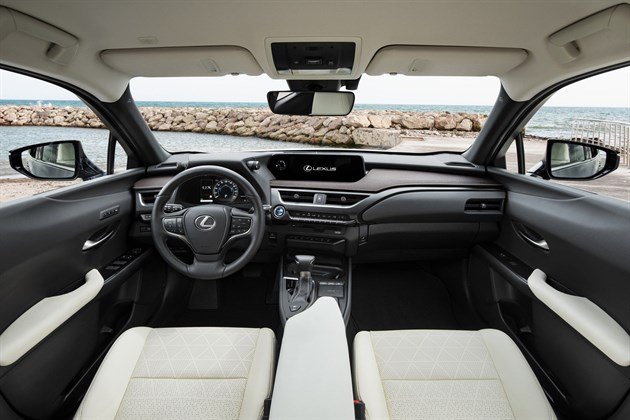 Unfortunately, facts and figures aside, the Lexus UX is an easy car to pick faults with. The interior is functional rather than a technofest and it has too many scratchy plastics for a car intending to take on the premium cars of this world. There are buttons everywhere and the infotainment is all a bit Windows 1995. You can't even mirror your phone's screen using Apple CarPlay or Android Auto - a bugbear of ours.
Lexus claims that the hybrid system doesn't impact boot space, but that doesn't make sense because its boot is the smallest in its class - 320 litres, compared to the BMW X1 at 505 litres. We probed further and were told it's because there's no room under the bonnet for the standard 12v car battery so they've had to put it under the boot floor, along with the power control unit for the second electric motor four-wheel-drive versions. That means the E-Four model has an even smaller boot than the two-wheel-drive model - and, of course, there's no room for a spare wheel, space-saver or otherwise.
Then there's the CVT automatic gearbox. Everyone loves to hate a CVT gearbox. It makes a loud, droning noise when you accelerate hard. It's unpleasant if you're used to conventional or dual-clutch automatic gearboxes, but it does have its advantages. It helps fuel economy (partly because you soon learn that there's little point in trying to speed up quickly) and it's actually quite good around town. Pause for a junction before accelerating, and there isn't the same hesitation you get from many automatic gearboxes.
A CVT gearbox isn't a ticking time bomb in terms of reliability, either. Which brings us to a very important point about the Lexus UX. While it's easy to snub the UX because, on face value, it just isn't as pleasant as cars like the wonderful Volvo XC40 and near-perfect Audi Q3, as a car you'd actually want to own for a lengthy period of time, the Lexus UX comes out on top. Lexus is regularly in the top five manufacturers in our Satisfaction Index, and it boasts one of the highest MoT pass rates.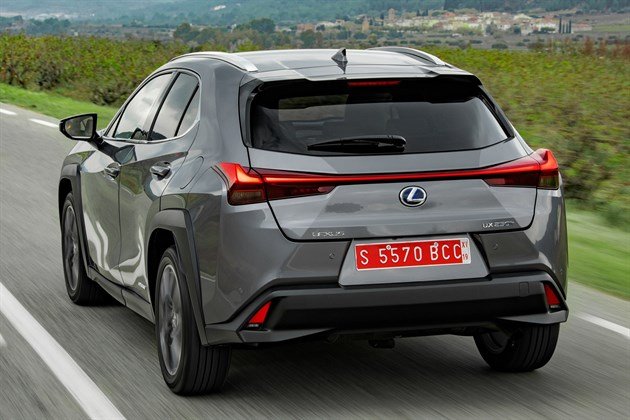 Once you're used to the gearbox, it's not a bad car to drive, either. The steering is direct and the car doesn't lean too much in corners. It's very refined, although wind noise is noticeable at higher speeds. This is partly because the engine's so quiet when you're cruising along, however.
All models come with Lexus Drive Mode Select. If there's ever a car that proves driving modes are pointless, this is it. You'll be best to keep in 'Normal' mode most of the time - Eco restricts performance in an irritating manner, while Sport makes the steering pointlessly heavy. Opt for the Adaptive Variable Suspension and you get a total of five drive modes, with a Sport S+ function firming up the dampers for a sportier ride. We haven't tried it, but the standard car rides very well.
Boot space and cluttered dashboard aside, the interior is pretty good, too. The seats are very comfortable, with a high-up seating position even in their lowest setting. Adults in the rear will have a lot of headroom, although legroom is a bit on the tight side. Dropping the rear seats, meanwhile, is easy - and they fold properly flat, giving plenty of space for bulky items as long as you don't mind leaving the kids at home.
Has Lexus got a hit on its hands with the UX? No, but it's not expecting it to become a huge seller overnight. The manufacturer has got a strong army of loyal fans and the UX's unique position of offering a hybrid setup in a popular segment ought to bring some new buyers in, too. It's frustrating that a little more effort hasn't been concentrated on giving the UX an extra sprinkling of showroom appeal but the development budget has clearly been spent on producing a car that's well built and will be very cheap to run.
The Lexus UX is on sale on March 22 with deliveries from that date.