Lexus RX450h and RX200t 2016 Road Test

The 2016 Lexus RX 450h arrives at a time when the only way to make a big sports utility vehicle environmentally friendly is to fit it with a hybrid powertrain.
Audi has done it with its Q7 plug-in diesel hybrid. Volvo has with its XC90 turbocharged and supercharged plug-in petrol hybrid. Now Lexus fights back with its fourth generation RX, but without the plug.
So, while at less than 50g/km on the NEDC plug-in hybrid cycle, the Q7 and XC90 enjoy freedom from the London congestion charge and (temporarily), no annual VED, you have to stump up £20 to take the RX450h into London and fork out either £30 or £110 in annual tax.
The reason for going cordless, according to Lexus, is that most owners of Plug in Prius don't actually to plug them in. They enjoy the tax and congestion charge benefits but can't be bothered with the faff of using the cable. So while the original Lexus RX400h was the first big SUV to be allowed the Freedom of the City of London, the rules have changed and the latest, plugless RX450h won't be.
However, CO2 emissions of 120g/km (or 127g/km with 20" wheels) still beats any big diesel SUV and the NOx emission of 0.17g/km is less than 25% of the EU limit of 0.8g/km. A 40% taxpayer running a £49,995 Lexus RX450h on the company will only get stung £3,943 a year in tax in the Benefit in Kind.
The 3.5 litre V6 engine transmission and front electric motor are all new and, as well as emitting less than their predecessors, are a bit more powerful. The rear electric motor that sits where a differential would normally be is the same as before. The combination offers enough power, torque and engine braking to tow 2,000 kilos, out of a field if necessary.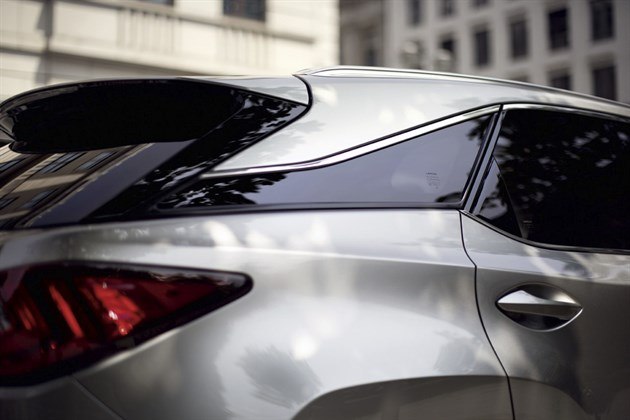 Lexus is very proud of the car's complicated styling, which does at least have the benefit that if you crashed one the damage would be difficult to spot. Inside is equally unusual with unique touches such as the laser etched wood inlay on the centre console, a Wi-Fi hub, a wireless smartphone charger and a triple depth can and bottle holder, so tall coffee cups won't topple over. Sequential LED turn signals are not a novelty. They are much easier seen than conventional flashing indicators.
Some of the trim combinations are a bit odd. One car we drove had a mix of brown and cream leather, a bit like a milk and white chocolate Neapolitan with an edible looking steering wheel.
The standard 'spindle' grill is a massive slatted affair, like a closed French blind, while the F-Sport gets a more intimidating honeycomb. The F-Sport also gets goodies underneath which include an active anti-roll system and adaptive variable suspension.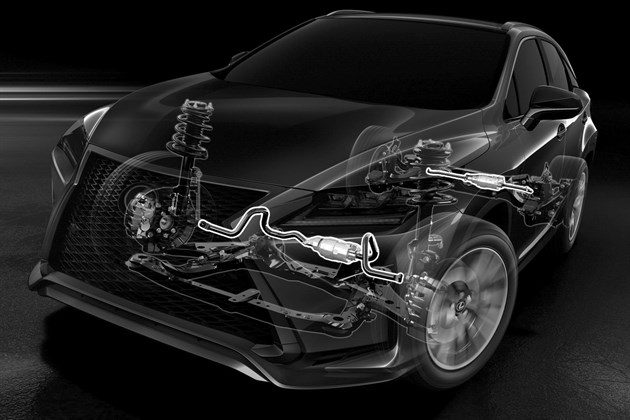 There's a lot to get your head around, but the gentle nature of the RX450h powertrain puts you at ease as you set off silently in EV mode. Then, in the F-Sport model, you have a choice of Eco, Normal, Sport, Sport S and Sport S Plus, which hold the gears to increasingly high revs. You also get paddles behind the steering wheel to select gears if you want to, though I'm not sure why you would want to.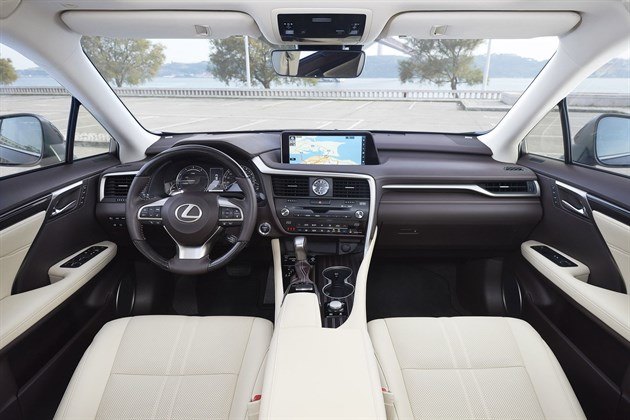 Despite all this and 20" wheels with 235/55 R20 tyres, the essence of the car is luxury. While it handles and grips competently, there is nothing for keen drivers to get excited about. It's no Porsche Macan or Range Rover Sport in its road manners and eventually rocks at the front and understeers if you push it too far. Better to enjoy the multipally adjustable, supportive and comfortable leather-covered seats and the Mark Levinson sound system than pretend you're a rally driver.
As a less expensive alternative, Lexus is offering the RX with a 2.0 litre four cylinder turbocharged petrol engine and front wheel or four wheel drive. It actually starts at £7,000 less than the cheapest 450h for the 2WD version with a lower spec, and is £4,000 cheaper spec for spec.
It's not bad. Nicer to drive than its smaller brother, the Lexus NX. Curiously, the Luxury 4WD version we drove lacked the paddleshifts it needed but the 450h F-Sport didn't need. It uses a conventional 6-speed torque converter automatic transmission, so has none of the disconcerting CVT effect of the engine overtaking the car that you sometimes feel in the 450h. Like the 450h it employs Atkinson cycle at low revs, but unlike the 450h it switches to Otto cycle as the revs rise. It's more conventional, has reasonable power and torque, and at 35-36mpg and 189g/km is on a par with diesel SUVs like the Mercedes GLE 350d, yet, with no 3% diesel supplement, comes in at lower annual BIK. Lexus expects that less than 10% of RXs will be sold in the UK with this engine.
So, should you buy an RX, or order one as your next company car? The main arguments in favour are lower BIK and much lower NOx than a diesel, yet a generally higher level of luxury and equipment than the same money buys in a diesel.
An interesting dilemma.
More at Lexus